This post discussed by MiniTool Software Limited mainly introduces six easy-to-operate and quick methods to help you open the Local Security Policy in the newest Windows 11 system. Just read the below content for details!
The local security policy (LSP) of an operating system (OS) is a set of information about the security of a local computer. It contains these items:
The domains trusted to authenticate logon attempts.
Which user accounts may access the system and how they access, via a network or as a service, for instance.
The rights and privileges assigned to accounts.
The security auditing policy.
The Local Security Authority (LSA) saves the local policy info in a set of LSA Policy Objects.
#1 Open Local Security Policy Windows 11 Through Search
First of all, you can launch the Local Security Policy by searching in Windows. Click on the magnifier in the taskbar and type "Local Security Policy". In the search result, click on Local Security Policy to launch it.
#2 Launch Windows 11 Local Security Policy Using Command
Secondly, you can make use of one of the command platforms in Windows to start Local Security Policy application like command prompt (CMD), PowerShell, or Windows Run. Just input secpol.msc into the platform and press Enter.
#3 Start Local Security Policy by Windows Explorer
Thirdly, you are able to trigger the Local Security Policy within Windows 11 File Explorer. Simply, key in "secpol.msc" into the address bar and press Enter.
#4 Open Local Security Policy in Windows 11 in Task Manager
Next, you can rely on Task Manager to trigger Local Security Policy for yourself.
Click File > Run new task from the top left.
In the new popup, type msc and click OK.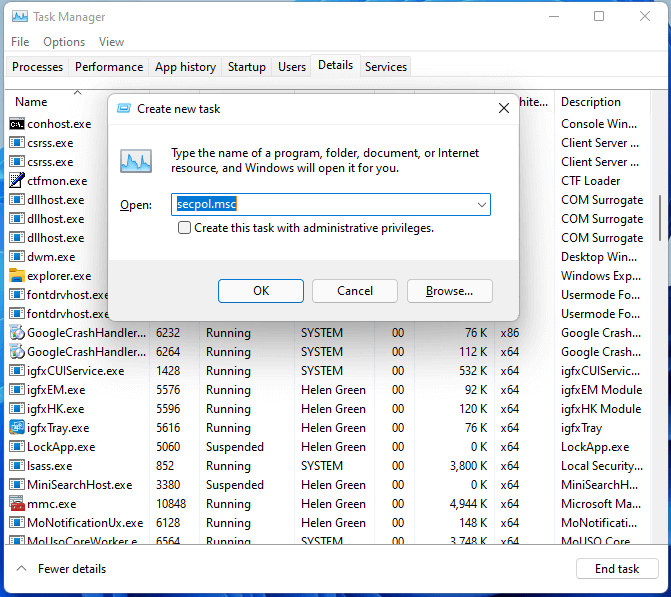 #5 Trigger Local Security Policy via Windows Settings
Besides, you can start Local Security Policy from the Settings app.
Click on Start and select All apps in the popup.
Scroll down the app list, find and choose Windows Tools.
In the next Windows Tools window, find and open Local Security Policy.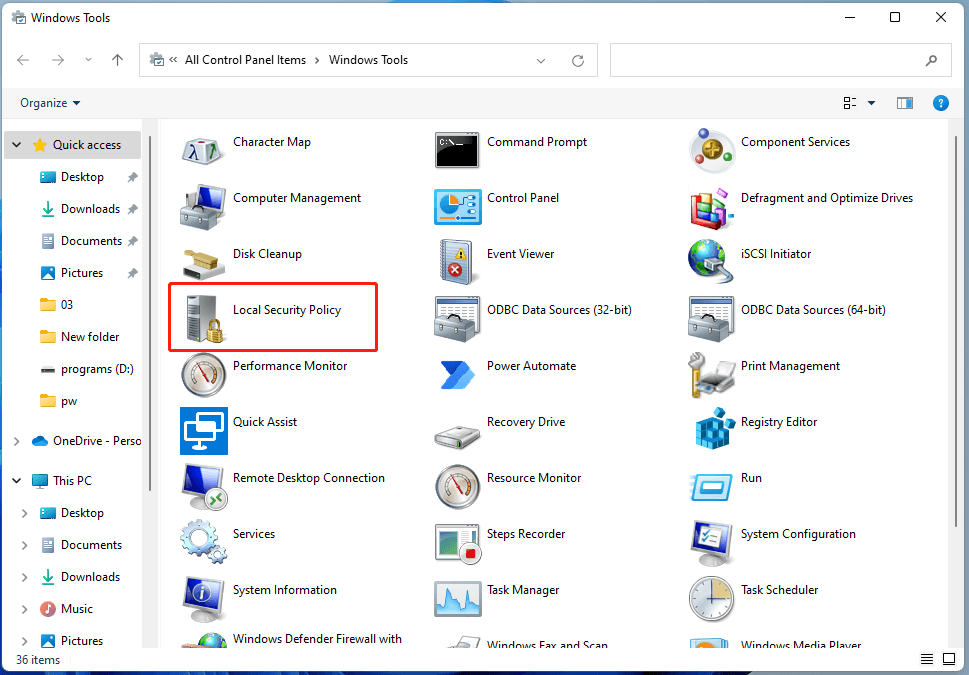 #6 Launch Local Security Policy by Creating Shortcut
Finally, you can create a desktop shortcut to help you open the Local Security Policy.
Right-click on your desktop and select New > Shortcut.
In the pop-up window, fill in msc and click Next.
Specify a name for the new shortcut and click Finish.
Windows 11 Assistant Software Recommended
The new and powerful Windows 11 will bring you many benefits. At the same time, it will also bring you some unexpected damages such as data loss. Thus, it is strongly recommended that you back up your crucial files before or after upgrading to Win11 with a robust and reliable program like MiniTool ShadowMaker, which will assist you to protect your increasing data automatically on schedules!
Also read: