It's annoying to encounter the issue that overseer.exe is still running in the Task Manager after uninstalling Avast. Now, you can read this post from MiniTool to know what overseer.exe is and how to remove or get rid of it from your PC.
What Is Overseer.exe
What is overseer.exe? Overseer.exe is an issue that appears after you uninstall the Avast software. Overseer.exe is not essential for Windows. You can find this application at C:\Program Files\Common Files\AVAST Software\Overseer.
According to Avast, it has its release schedule and will be updated automatically. Overseer.exe receives updated definition files from the Avast server.
If you don't find that it is running as a service or presenting in Task Manager, then, it's safe to delete the Avast software subfolder and the Overseer.exe folder. 
How to Remove It
Disabling or deleting overseer.exe will not affect Avast functionality. But if the overseer.exe issue appears, its content still exists because the file is still in use. Now, it's time to get rid of it, and then, I will introduce how to remove it on Windows.
You can follow the steps below:
Method 1: Remove Overseer.exe in Control Panel
Step 1: Type control panel in the Search box to open the Control Panel application.
Step 2: Navigate to the Programs and Features part and click it.
Step 2: Then, you need to find the Avast software and right-click it to choose Uninstall/Change to uninstall it. After that, you just need to follow the on-screen instructions to uninstall it.
Step 3: Now visit C:\Program Files\Common Files\AVAST Software and delete the overseer.exe folder.
Now, you should not see overseer.exe in Task Manager. If it still exists, you can try the next solution.
Also see: 7 Ways to Fix Control Panel Not Opening in Windows 10
Method 2: Remove Overseer.exe in Services
If the above methods don't work, then you can try disabling wermgr.exe. Follow the steps down below:
Step 1: Press the Windows key + R key to open the Run dialogue box. Type services.msc and click OK to open the Services screen.
Step 2: Navigate to Avast, then right-click it and choose Properties.
Step 3: Under the General tab, you should change the Startup type from Automatic to Manual.
Then reboot your system and you should no longer be able to see overseer.exe in Task Manager. 
How to Fix the Overseer.exe Issues
Overseer.exe can also cause some issues. Thus, it's recommended to run SFC and DISM to fix it. Here are the steps to fix it:
Step 1:  Input command prompt in the Search box. Then right-click Command Prompt and select Run as administrator to open the command window.
Step 2: Type the command sfc /scannow and then press Enter.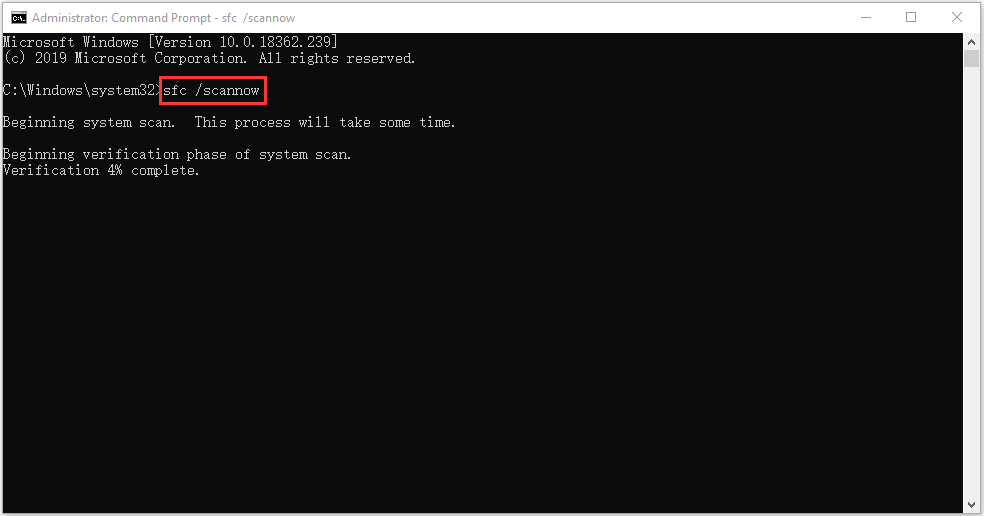 Wait patiently until the verification process 100% complete. Then reboot the computer to see whether the Overseer.exe issue still exists.
If sfc /scannow command is unable to fix overseer.exe issues, you can run DISM to fix the Windows system image. So, in order to solve this DISM error code, please type the correct command.
Dism /Online /Cleanup-Image /CheckHealth
Dism /Online /Cleanup-Image /ScanHealth
Dism /Online /Cleanup-Image /RestoreHealth
After that, you can check whether you still encounter the issue.
Final Words
After you read this post, you may know the information on overseer.exe. Hope this post will be very helpful for you. If you have any related issues, you can comment on our post to let us know.