Screen tearing in Overwatch might negatively impact your overall gaming experience because it will be more difficult for you to aim or spot opponents when gaming. If you are bothered by this issue at this moment, follow this guide on MiniTool Website to reduce screen tearing Overwatch step by step.
Overwatch Screen Tearing
Screen tearing and flickering is a common issue in video games and this issue is extremely apparent in Overwatch 2. An old monitor, an outdated graphics card driver or a mismatch between FPS and the monitor's refresh rate can all trigger this issue. If you are also experiencing it, the following solutions might help you out.
How to Fix Overwatch Screen Tearing on Windows 10/11?
Fix 1: Turn on V-Sync
V-Sync enables you to reduce the overall latency in Overwatch 2, but it can also contribute to screen tearing issues in some cases. Some players reported that they have managed to fix screen tearing in Overwatch 2 by turning on this feature, so you can also have a try. There is one point you need to notice that turning on this feature will add input latency in gaming.
Step 1. Launch the game and go to the in-game Options menu.
Step 2. In the Video tab, toggle on V-Sync.
Fix 2: Lower In-Game Settings
Overwatch screen tearing appears when a player's frame rate is lower than their monitor's refresh rate. If you are averaging 120 frames per second on a 240Hz monitor, you need to lower some in-game settings to increase the frame rates.
Fix 3: Update Your Graphics Card Driver
You may forget to update your GPU driver in time and outdated graphics drivers are the major cause of Overwatch screen tearing, flickering or black screen issues. Follow the steps below to check if there is an update available:
Step 1. Press Win + S to open the search bar.
Step 2. Type Device Manager and hit Enter.
Step 3. Expand Display adapters to see your graphics card and right-click on it to choose Update driver > Search automatically for drivers.
Fix 4: Disable Game Mode & Fullscreen Optimization
Windows Game mode and fullscreen optimization can also lead to Overwatch screen tearing issues. Therefore, you can disable them to see if it works.
Move 1: Disable Game Mode
Step 1. Press Win + I to open Windows Settings.
Step 2. Go to Gaming and toggle off Xbox Game Bar under the Xbox Game Bar tab.
Move 2: Disable Fullscreen Optimization
Step 1. Right-click on the shortcut of Overwatch on the desktop and choose Properties in the drop-down menu.
Step 2. Under the Compatibility tab, check Disable fullscreen optimizations.
Step 3. Click on Apply & OK to save the changes.
Fix 5: Change Resolution and Refresh Rate
The culprit of screen tearing issues in game is the refresh rate of the monitor or incorrect resolution, so you can try to modify them.
Step 1. Go to Windows Settings > System > Display.
Step 2. In the Display tab, scroll down to find Advanced display settings and hit it.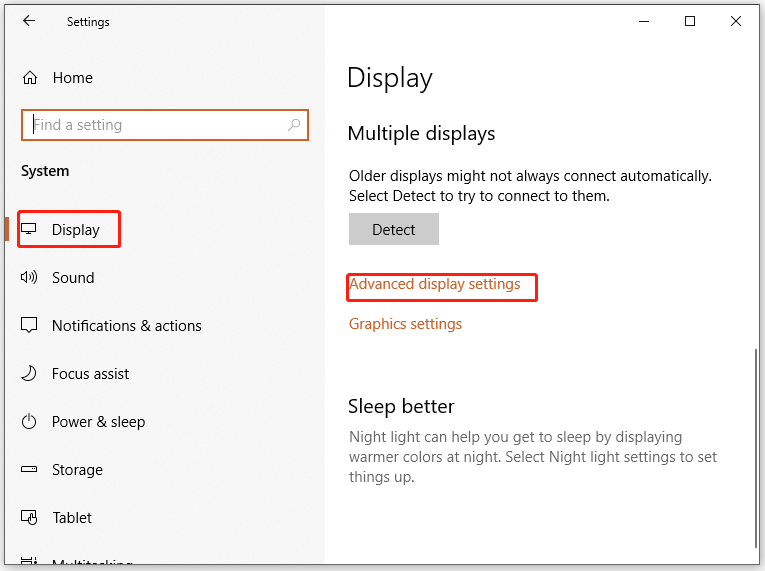 Step 3. Click on Display adapter properties for Display 1 to configure your current display settings.
Step 4. Under the Adapter tab, hit List All Modes and then choose another valid mode.
Step 5. Hit OK to save the changes.