The Roblox error code 110 issue always happens to your Xbox One. This issue will stop you from playing games normally. Why you receive this error code? Do you want to get rid of it? If yes, you can read this MiniTool article to get the answers.
Roblox error code 110 is really an annoying issue that you may encounter when you are playing games using Xbox One. If you are bothered by this issue, you will want to know why this error happens and how to fix it to make your device back to normal.
You come to the right place. We will tell you the answers you want to know in the following contents.
Top Reasons for Xbox One Error Code 107 Roblox
We collect three common causes and show them as follows:
The Roblox servers' issue: most of you should know that the Roblox servers are not so good and become faulty suddenly. They randomly generate errors like Roblox error code 110. This needs you to maintain the servers frequently to fix the bugs or glitches. The servers may also block the internet connection and cause Roblox error code 279.
Internet connection issue: if your internet connection is kept connected and disconnected, you may also encounter the error code 110 Roblox. Since the internet connection is unstable, you need to go to check whether there are some issues with the internet connection and then take measures to fix the issue.
Content restriction: to protect your privacy, you may set your Xbox One to stop receiving and sharing content on the device. But you forget it. So, if you encounter Roblox error code 110, you can go to check whether you have made such a setting. If yes, you can disable the content restriction setting to fix the issue.
Now, you know what may cause Roblox error code 110 on your Xbox One. Next, it's time to fix it. In the following part, we will show you some solutions that are proved to be effective.
Solution 1: Check the Status of the Roblox Servers
This is the first thing you should do. You can check whether the servers are working normally like this:
Open your computer and access a web browser.
Go to this page: https://downdetector.com/status/roblox/, and then check whether the servers are running properly. If the servers are working normally, you can see a message saying No problems at Roblox. While, if there is something wrong with the servers, you will see an error message as Possible problems at Roblox. The servers can be closed temporarily to fix the issue.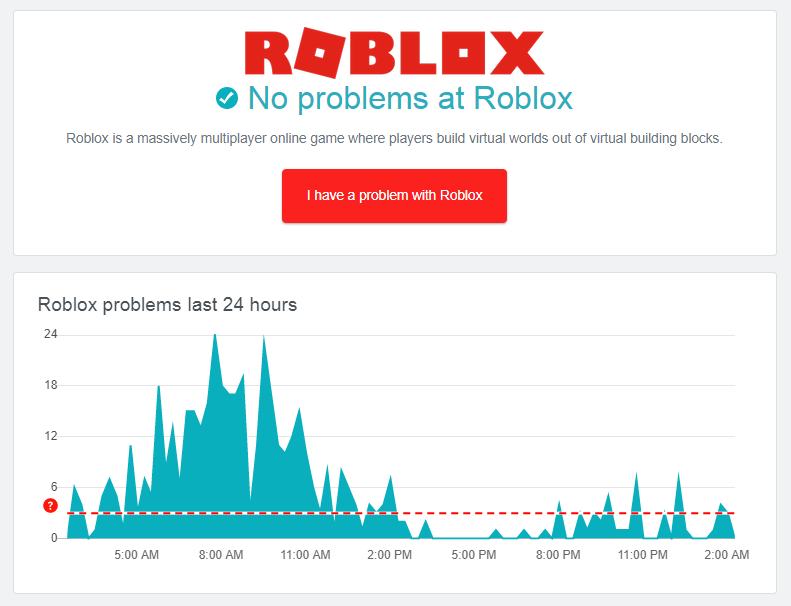 However, if the servers are functioning normally, you will need to try the next solution to solve the issue.
Solution 2: Disable the Content Restriction
You can go to check whether the content restriction is enabled. If yes, you need to disable it to have a try.
Here is a guide with detailed steps:
Press the Xbox button on the controller to open Settings.
Highlight Gear and press A to select this option.
Highlight All Settings and press A to select this option.
Press Right from the joystick on the Account tab in the next screen.
Highlight Privacy and Online Safety and press A to select it.
Highlight Xbox Live Privacy and press A to select it.
Select View details and Customize.
Scroll down and select Game Content.
Use your Joystick to move to the right and highlight You Can See and Share Content. Then, press A to open the menu.
Select Everybody.
After these steps, you can press the Xbox button to go back to the home screen and then open the game to check whether the error code 110 goes away.
Solution 3: Ask a Professional for Help
If the Xbox one error code 107 Roblox still persists, the issue may be a little difficult. You can't fix the issue by yourself. Alternatively, you can ask a professional for help. For example, you can send the device to an official store and let the expert fix it.
We hope these methods can help you solve the Roblox error code 110 issue.