What is the file system of the drive? This post teaches you how to check the file system of a drive with detailed steps. To manage your hard drive partitions or recover data from hard drive, MiniTool Software offers professional data recovery program, disk partition manager, etc.
The file system is the way that different devices utilize to store and organize your information. Windows 10 supports FAT, FAT32, exFAT, NTFS, ReFS file system. Different files systems have different properties. For instance, FAT32 has the maximum file size of 32GB, while exFAT supports file size larger than 32GB.
If you want to find out what file system a hard drive is formatted with, you can easily check it by following the simple steps below.
How to See Drive's File System on Windows 10
Step 1. You can click This PC on your Windows 10 computer to open File Explorer.
Step 2. Next right-click the target drive and choose Properties.
Step 3. Under General tab in Properties window, you can check the file system of the drive.
How to Check File System in Windows 10 with Diskpart
Step 1. You can press Windows + R, type cmd, and press Ctrl + Shift + Enter to open elevated Command Prompt.
Step 2. Type diskpart in Command Prompt, and press Enter to open DiskPart command-line utility.
Step 3. In Diskpart, type list volume, and press Enter to get the list of all drives. Then you can find the file system of each drive detected by your Windows 10 computer.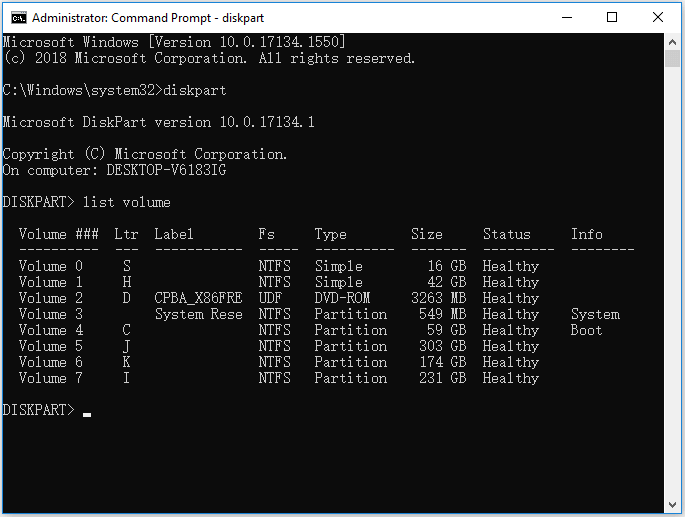 How to Check File System of Hard Drive with Disk Management
Step 1. You can press Windows + X, and select Disk Management to open Disk Management on Windows 10.
Step 2. Then you can see the file system of a drive under File System column.
See Drive File System with PowerShell
Step 1. Press Windows + X, and select Windows PowerShell (Admin) to open PowerShell utility on Windows 10.
Step 2. In PowerShell, you can type get-volume command and press Enter. Then you can check the file system type of each hard drive detected by your computer.

Best Free Hard Drive Partition Manager
MiniTool Partition Wizard is a top free disk partition manager compatible with Windows. It lets you easily create/resize/extend/format/wipe partitions to better manage your disk storage space. It allows you to easily convert file system format like convert FAT to NTFS. You can also use it to check and fix file system errors, check bad sectors on selected partition. Disk Benchmark and Space Analyzer feature are also included in this tool. Extremely easy-to-use tool.
How to Recover Data from Corrupt Hard Drive
Hard drive could be corrupt or damaged and data on it may be at risk. If some data on your hard drive is missing, you can try a top free data recovery software like MiniTool Power Data Recovery to easily restore data.
MiniTool Power Data Recovery lets you easily recover lost or deleted files from computer internal or external hard drive, for example, external HDD/SSD, USB flash drive, SD card, memory card, and more. Only in 3 simple steps, you can recover your data. Connect the drive to your computer and use MiniTool Power Data Recovery to scan the drive, then check needed files after scanning and click Save button to store recovered files to a new destination.
For Mac users, a top Mac data recovery software is needed.