When downloading a new game or updating your current game, you might meet Steam game download stuck at 100%. What measures will you take to solve this issue? If you have no idea at the moment, follow this post on MiniTool Website to get more easy fixes!
My Steam Download Is Stuck at 100%
Steam is famous as one of the biggest gaming platforms which has an immense community around the world. However, Steam downloads can stop at a certain percentage for some unknown reason. This is usually the case with large downloads or updates.
Fortunately, you can refer to some easy fixes to solve problems like Steam download stuck at 100% in the following content. Without further ado, let's check how to fix it quickly!
How to Fix Steam Game Stuck at 100 Download?
Fix 1: Change Downloading Region
Steam will automatically detect your region and connect you to a server located in a region near you to provide you with the best gaming performance. Even if the server in this region seems the best choice for you, it will also have some problems at times. Therefore, you can change another download region to see if Steam download stuck at 100% disappears.
Step 1. Open Steam and go to Settings > Downloads.
Step 2. Under Download Region, select a different region to see if it helps you out.
Tips:
You can try several regions or even regions in different countries to test if this method is helpful.
Fix 2: Clear Download Cache
If there are some problems with the data of download cache, clearing download cache is also a good choice for you.
Step 1. Launch Steam and hit Steam on the top-left side of the screen.
Step 2. Select Settings > Downloads > CLEAR DOWNLOAD CACHE.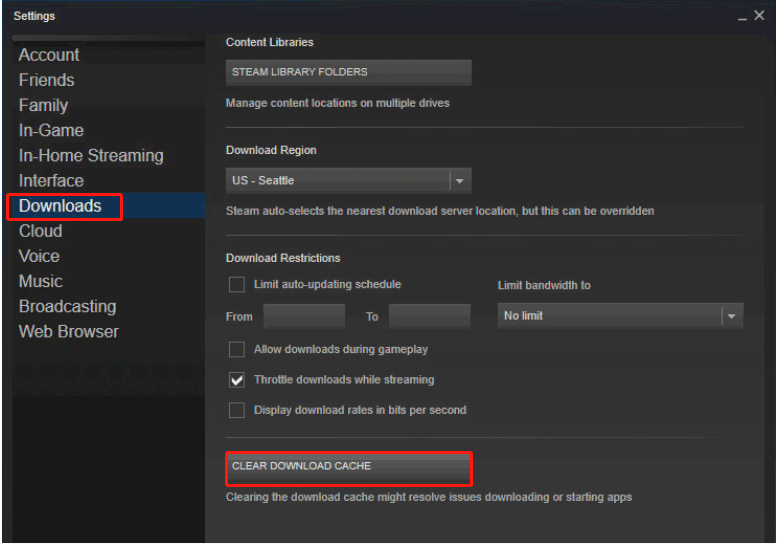 Fix 3: Check Internet Connection
Chances are that your internet connection may not work properly all of a sudden. Here's how to check it:
Restart your router/modem.
Reconnect your network cable or relog in to your wireless network.
Disable proxy or VPN
Fix 4: Reinstall Steam
If you have fast internet, reinstalling Steam also deserves a shot.
Step 1. Press Win + I to open Windows Settings.
Step 2. Go to Apps and you can see a list of apps in Apps & features.
Step 3. Scroll down to look for Steam, hit it and press Uninstall.
Step 4. After the uninstalling process is complete, reboot your computer.
Step 5. Click here and hit INSTALL STEAM to install the latest version of Steam.
Fix 5: Disable Windows Defender
Any antivirus software like Windows Defender might interfere with the downloading process of Steam. So, you can disable your antivirus software during the downloading process to see if you download the game successfully.
Fix 6: Verify Integrity of Game Files
Steam update stuck at 100% can also indicate that it's unpacking the game files to start the installation process. However, if it is stuck for quite a long time, this glitch could be related to the integrity of game files. You can verify it in Steam.
Step 1. Launch Steam and go to Library.
Step 2. Go to the game that is stuck at 100% and right-click on it to choose Properties.
Step 3. Go to LOCAL FILES and hit VERIFY INTEGRITY OF GAME FILES.
Fix 7: Move the Game Folder
The last solution is to move the game folder to another available location.
Step 1. Go to Steam > Settings > Downloads.
Step 2. Hit Steam Library Folder under Content Libraries.
Step 3. Press the + symbol next to the library folder, select a location from the drop-down and then hit Add.
Step 4. Check the game that you need to move and hit Move.
Step 5. Choose the newly created location and hit Move again.