The Tap-Windows Adapter V9 is a virtual network interface. It provides the functionality needed by various VPN clients to facilitate a VPN connection. If you want to learn more about Tap-Windows Adapter V9, you can read this post from MiniTool.
What Is TAP-Windows Adapter V9?
As a special network driver, TAP-Windows Adapter V9 is installed by most VPN programs. After the VPN client's initial installation, this adapter will appear in your Device Manager. Most, if not all, VPN suites use this adapter as an alias to connect privately to the Internet.
There are two different versions of Windows TAP drivers depending on your Windows version.
NDIS 5 driver (tap-windows, version 9.9.x) – on Windows XP.
NDIS 6 driver (tap-windows, version 9.21.x) – on Windows 10/8/7/Vista.
How to Remove TAP-Windows Adapter V9?
You might find that the adapter will re-appear inside Device Manager every time your system boots up. This situation occurs because some VPN programs have a startup service that checks for missing drivers and installs any needed driver automatically that is missing.
Here is how to remove TAP-Windows Adapter V9:
Step 1: Go to Program Files and find Tap-Windows, double-click uninstall.exe.
Step 2: Then, follow the on-screen prompts to remove the driver from your system.
The driver will return at the next startup or the next time you open the VPN software if you stop at this step. Then you need to remove the software that needs it. Here are the steps:
Step 1: Press the Windows key + R key to open the Run window, then type appwiz.cpl and click OK to open the Programs and Features window.
Step 2: Then, navigate to the VPN client and uninstall it from your system.
Tip: If you tried multiple VPN solutions before, ensure you remove every client until there's no software that will need to reinstall TAP-Windows Adapter V9.
How to Reinstall TAP-Windows Adapter V9?
If you are unable to connect to a VPN network, you can check if the Tap adapter is installed correctly and if you find signs of corruption, you can reinstall it. Here is how to reinstall TAP-Windows Adapter V9:
Step 1: First you should terminate the VPN connection and close the associated VPN program.
Step 2: Then, open the Device Manager.
Step 3: Then navigate to Network adapters and expand the drop-down menu.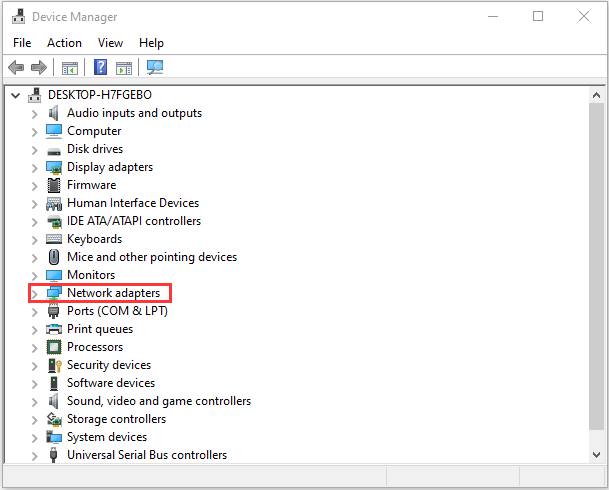 Step 4: Next, find Tap-Windows Adapter V9 and see if it has an exclamation mark on the icon associated with it. If it does, you should right-click the driver and select Uninstall device.
Step 5: Then open your VPN client again. It will prompt you to install the missing Network Driver or it will install it automatically without asking depending on the VPN software you use.
Then you can return to Device Manager to check if the yellow exclamation icon is removed.
Final Words
Here is all the information about TAP-Windows Adapter V9. You can know what is TAP-Windows Adapter V9 and how to remove or reinstall TAP-Windows Adapter V9 through this post. I hope this post can be helpful for you.