Unreal Engine 4 crashing is a common issue that can happen on your PC when trying to launch this game engine. If you are bothered by it, are there any troubleshooting tips to fix it? Take it easy and you can refer to this post to find some effective fixes given by MiniTool.
Unreal Engine Crashes on Startup
Unreal Engine is a popular and widely-used game engine developed by Epic Games. It was initially designed for first-person shooters and now it has great integrated tools, for example, platformers, fighting games, and more.
Recently, Unreal Engine 5 has been released and many users reported the crashing issue. In addition to the new version, sometimes Unreal Engine 4 keeps crashing on startup in a PC. Perhaps you are also a victim. The common reasons for the crashing problem of this game include the conflict from the third-party programs or other applications, outdated video card driver, and more.
Fortunately, the annoying issue can be fixed if you try these troubleshooting tips below.
Unreal Engine 4 Crash Fixes
Update Unreal Engine 4
Developers keep releasing new updates or patches to fix some known issues including crashes on startup. So, you can try to update this game engine.
Step 1: Run the Epic Games launcher and click Unreal Engine on the left side.
Step 2: Go to Library and you can see the version of this game engine.
Step 3: Click the small down arrow to make sure you have installed the latest one. If there is a new available version, choose the new update and click Install to begin the process.
After installation, check if Unreal Engine can run properly. If this won't work, try other fixes.
Upgrade Your Graphics Card Driver
If there is an old or damaged graphics card driver, Unreal Engine 4 crashing may happen and a GPU driver update can be a good solution. To do this work, you can go to Device Manager, right-click the driver and choose Update driver. Or go to download the latest version of the GPU driver from the website of your vendor and install it on your PC.
Besides, there are some other ways and you can refer to this post - How to Update Graphics Card Drivers (NVIDIA/AMD/Intel) to know details.
Verify the Engine Installation
According to users, checking for the files of this game engine can fix Unreal Engine 4 crashing on startup. In Epic Games, you can use the built-in tool to verify the installation.
Step 1: Launch Epic Games on your Windows PC and go to the Library tab.
Step 2: Click the small down arrow and choose Verify.
Step 3: Wait some time until the process finishes. After that, click Launch when you see this option.
Tip: If Unreal Engine 4 keeps crashing during a game, go to the game in Library and click on the cog icon, and navigate to Properties > Local Files > Verify.
Change Windows Registry
You can try to modify registry settings on your PC and see if it can fix the crashing issue.
Step 1: Type regedit to the search box and click Registry Editor.
Step 2: Go to HKEY_LOCAL_MACHINE\SYSTEM\CurrentControlSet\Control\GraphicsDrivers.
Step 3: Right-click on the empty space on the right side and choose New > QWORD (64-bit) Value. Name the new key as TdrLevel.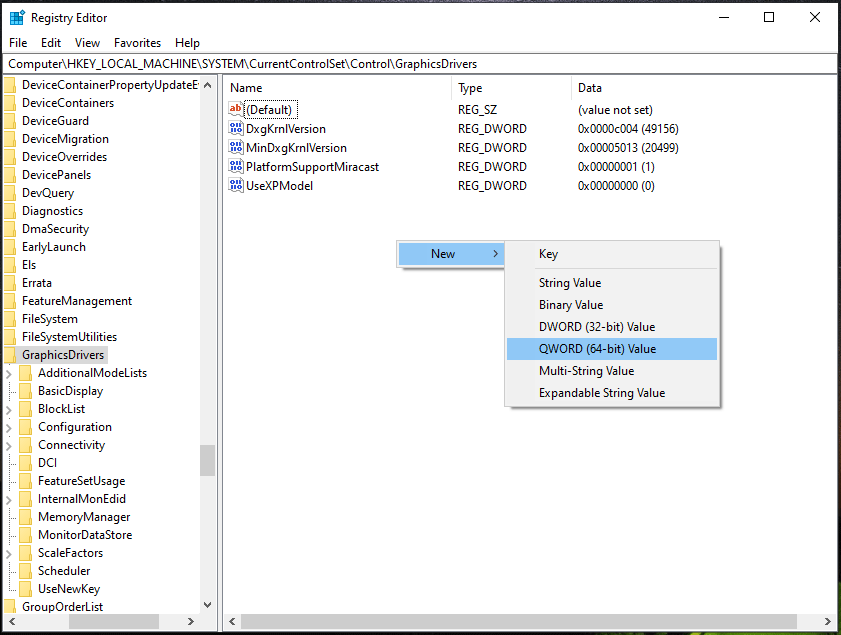 Step 4: Double-click it, set the value data to 0 and click OK to save the change.
Change Your Default GPU
If you see the warming "Unreal Engine is exiting due to D3D device being lost" on your screen, the possible reason is the limited performance of your integrated graphics card. If there is also a dedicated graphics card in your PC, you can set it as the default one to fix the Unreal Engine 4 crashing issue.
Step 1: Right-click on the desktop and choose NVIDIA Control Panel.
Step 2: Click Manage 3D settings, go to Global Settings, and choose High-performance NVIDIA processor from the drop-down menu.
Step 3: Save the change and restart your PC to see if your issue is fixed.
Reinstall Unreal Engine
Sometimes you can try to reinstall the game engine if Unread Engine 4 keeps crashing on your PC. Many users have reported that reinstallation is a workable solution.
Bottom Line
Unreal Engine crashes on startup in your PC? How can you fix the crashing issue? After trying these solutions above, you can easily get rid of the trouble. Have a try now.