Have you ever played the survival game - Valheim? It is so exciting that this game have caught much attention recently. However, some people is also bothered by Valheim black screen. To fix this issue, we try our best to find the easiest and most efficient ways for you in this post on MiniTool Website.
Valheim Black Screen
You may run into various gaming performance issues such as crashing, not launching, black screen and more when playing Valheim on your PC. Today, we will mainly show you how to address Valheim black screen on launch and this problem will become a piece of cake after you follow the instructions below.
How to Fix Valheim Black Screen?
Solution 1: Run Valheim as Administrator
Running this game need some administrative rights, or else Valheim black screen on startup will occur. To do so, you need:
Step 1. Right-click on the shortcut of this game and choose Properties in the drop-down menu.
Step 2. In the Compatibility section, check Run this program as an administrator.
Solution 2: Disable Windows Defender Firewall Temporarily
Your antivirus software may blocks Valheim mistakenly thus causing Valheim black screen. As a result, you need to disable Windows Defender Firewall for a while to fix this issue.
Step 1. Go to Control Panel > System and Security > Windows Defender Firewall.
Step 2. Hit Turn Windows Defender Firewall on or off and then check Turn off Windows Defender Firewall both under Private network settings & Public network settings.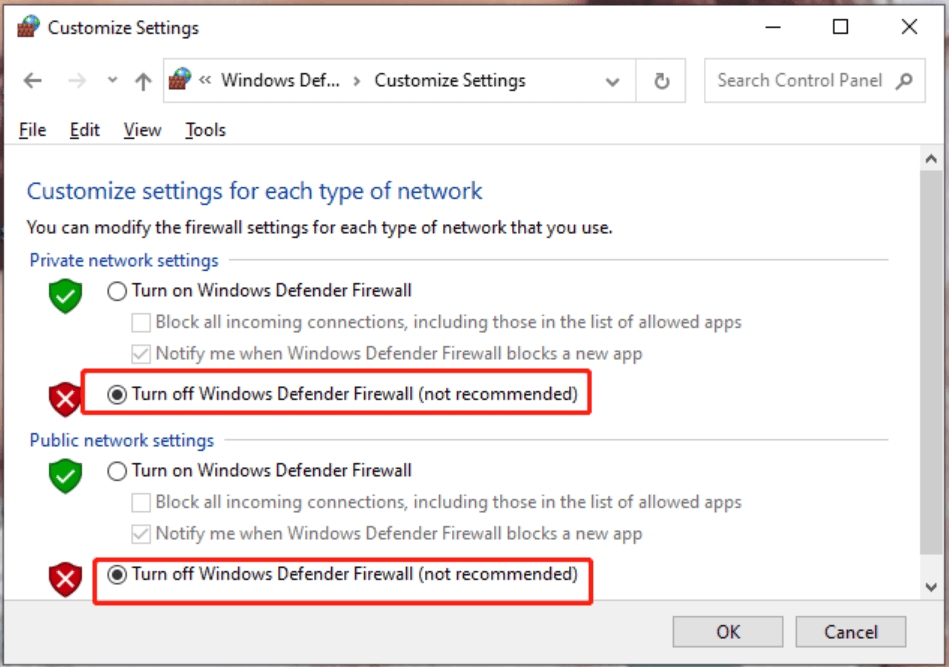 Don't forget to enable Windows Defender Firewall after playing games to avoid the attacks of viruses and malware.
Solution 3: Update GPU Driver
There might be something wrong with the graphics driver on your device hence triggering Valheim black screen. You should check if it is updated. If not, update it at once.
Step 1. Right-click on the Windows icon to highlight Device Manager.
Step 2. Click on Display adapter to show your GPU driver and right-click on it to choose Update driver > Search automatically for updated drivers. If there is an available one, follow the prompts on the screen to update it.
Solution 4: Switch to Windowed Mode
You may prefer to play Valheim in full screen mode, but actually it doesn't have a genuine full screen mode. Once you run in a full screen mode, you may meet Valheim black screen. To avoid that, you must switch to Windowed Mode. When Valheim black screen appears, press Alt + Enter to activate Winodwed Mode. Then you should go to Steam > Library > find Valheim and right-click on it > Properties > General > Add -screen-full-screen 1 under Launch Options.
Solution 5: Update Valheim
Updating Valheim enable you install the latest patch to fix some bugs that you game may have. Make sure to keep this game up-to-date.
Step 1. Open Steam > Library.
Step 2. In the game library, hit Valheim > Update and then it will automatically download and install the latest version for you.
Solution 6: Verify the Integrity of Game Files
Checking and repairing the integrity of game files in Steam client will also help you with Valheim black screen. Just go to Steam > Library > Valheim > Properties > Local Files > Verify Integrity of Game Files.
Solution 7: Check System Resources
If Valheim dedicated server black screen crops up over and over again, you should check whether the RAM or CPU usage becomes much too high or not.
Step 1. Right-click on the taskbar to select Task manager.
Step 2. In Processes, right-click on the task that eats up the RAM and CPU usage and choose End task.
Step 3. Reboot your PC to see if it works.