How do you deal with missed calls? Will you choose to use voicemail? If so, you will probably meet voicemail not working on Android and then you can seek effective and easy solutions from this post on MiniTool Website.
Why Is My Voicemail Not Working on My Android?
Voicemail is very useful when you miss some important calls. Any missed calls will go straight to your voicemail for you to pick up and deal with later. However, voicemail is not working and stops you from receiving or sending any voicemails. If you are anxious about losing the opportunity to inform others when you can't answer your phone, this guide is tailored for you.
How to Fix Voicemail Not Working on Android Verizon?
Fix 1: Restart Your Phone
Restarting your phone can fix most minor glitches caused by some processes or apps running in the backend. Or you can switch your phone to Airplane mode and then switch it back. This works the same way as rebooting your device.
Fix 2: Check Voicemail Settings Manually
Make sure that your voicemail settings are correct. To do so:
Step 1. Open the Phone app and hit the three-dot or two-dot menu icon in the top-right.
Step 2. In the drop-down menu, tap on Settings.
Step 3. Scroll down to locate Carrier call settings, hit it and tap on Voicemail.
Step 4. After making sure to select the right network carrier under Service/Service provider, set the correct phone number which will call to hear your voicemail in Number/Voice number.
It doesn't matter that the detailed steps may vary slightly from device to device because most of them are very similar.  
Fix 3: Clear Cache
Clearing app cache is a quick fix that you might also consider. It helps to resolve some pre-existing issues such as voicemail not working.
Step 1. Open your Settings > App management.
Step 2. In the app list, scroll down to find Voicemail/Visual Voicemail and hit it.
Step 3. Tap on Storage usage and choose Clear data and Clear cache.
Step 4. Use another phone to call you to see if voicemail on Android not working is fixed.
Fix 4: Update the Voicemail App
When encountering voicemail not working, you may need to check for updates. The latest version of update usually comes with new fixes which are helpful to tackle some bugs. You can go to your app store to see if there is an Update button beside the Voicemail app.
Fix 5: Reset Network Settings
Resetting network settings can also help to solve voicemail not working on Android while this action may wipe all your saved Wi-Fi networks, Bluetooth devices and reset all your networking setting preferences. To solve voicemail not working on Android in this way, you need:
Step 1. Go to Settings > System/General management/Additional Settings.
Step 2. Expand Reset/Reset phone and choose Reset network settings.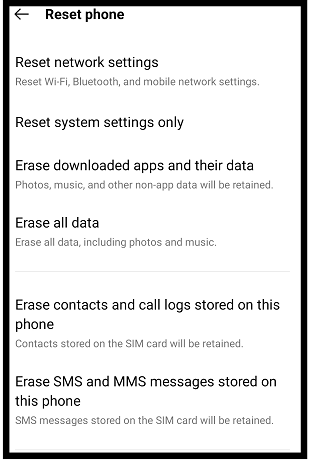 Step 3. Confirm this action to reset your network settings to default.
Fix 6: Contact Network Carrier
If all the methods mentioned above don't work fine for you, you can turn to the network carrier for help. With the help of the network carrier, some internal or technical problems will be fixed.