Warhammer 3 crashing on startup or not loading is a common issue. If you also run into the issue when playing this game, what should you do to get rid of the trouble? It is easy to fix after trying solutions in this post given by MiniTool.
Total War Warhammer 3 Crashing
As a turn-based strategy and real-time tactics video game, Total War Warhammer 3 is widely used by many game players. This game is part of the Total War series. Although it is popular, some common issues are reported by users.
According to reports, Warhammer 3 crashing when loading campaign always happens on your PC. Sometimes, Warhammer 3 keeps crashing on startup. Even sometimes it crashes after patch.
If you also run into one situation, you are lucky enough! In this guide, we will show you the optimal solutions. Now, let's look through them and try these workarounds one by one.
Fixes for Warhammer 3 Not Loading/Crashing
Check System Requirements
The first thing you should do is to make the PC uses compatible hardware so that this game can run properly without any issues like Total War Warhammer crashing on loading screen/startup or after patch.
Operating System: Windows 7 64-bit
CPU: Intel i3/Ryzen 3 series
RAM: 6GB of memory
Graphics: NVIDIA GTX 900/AMD 400 series/Intel Iris Xe Graphics
Storage: 120GB available space
DirectX: Version 11
Verify Integrity of Game Files
Corrupt game files can lead to Total War Warhammer 3 crashing after patch/on startup or not loading. To help you out, you can try to verify the integrity of game files and repair the corruption.
On Steam
Launch Steam on your PC.
In the Steam Library, right-click Total War: WARHAMMER III and choose Properties.
Click Local Files and then Verify integrity of game files.
On Epic Games Launcher
If you play Warhammer 3 on this launcher, do these:
Launch Epic Games Launcher on your computer.
Go to Library.
Click the three dots next to Total War: WARHAMMER III and click Verify.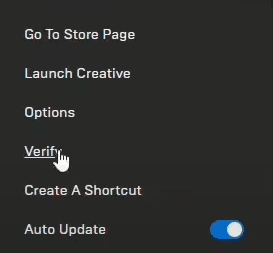 Related article: Epic Games Launcher Not Working? Here Are 4 Solutions
The process differs based on the size of the game files and wait some time. After that, go to check if the issue of Warhammer 3 crashing when loading campaign still occurs.
Update Graphics Card Driver
A common reason for game crashing issues is due to the outdated or corrupt graphics card driver and Warhammer 3 may not be the exception. To fix the crashing issue on this game, you can try to update the graphics card driver to the latest version.
You can go to visit the manufacturer's website, search for the up-to-date driver for the GPU, download and install it on your PC. Or, you can go to Device Manager to update the driver. To know details, refer to this post - How to Update Graphics Card Drivers (NVIDIA/AMD/Intel).
Install the Latest DirectX Version
If your PC uses an old version of DirectX, the issue of Warhammer 3 crashing on startup may occur. Upgrade it to version 11 or more.
Step 1: Go to visit the DirectX End-User Runtime Web Installer page.
Step 2: Choose a language and click the Download button.
Step 3: Then double-click on the dxwebsetup.exe file to install it on your computer.
Temporarily Disable Antivirus Software and Firewall
Sometimes Windows Security or a third-party antivirus program can block games from functioning properly. To fix Total War Warhammer 3 crashing on loading screen or not loading, you can temporarily disable the antivirus software. You can follow the guide - [Solution] How to Disable Windows Defender Antivirus on Win 10. If you use a third-party antivirus program, the way to disable it differs and you can search for the method online.
Besides, try to disable Windows Defender Firewall by following the method from the post - How to Disable and Enable Windows Defender Firewall.
In addition, there are some other ways you can try to fix your issue if Warhammer 3 keeps crashing, for example, stop overlocking, run this game with admin rights, clean boot the PC, close the background apps in Task Manager, and more. Try these fixes in this post and you can easily fix the issue then play Warhammer 3 smoothly.