Do you get Warzone error code 4 or Modern Warfare error code 4 when gaming? How to fix error code 4 Modern Warfare Xbox One? If you are also a victim of this error, this post on MiniTool Website will help you out.
Warzone Error Code 4 Xbox One
When you are playing Call of Duty Warzone or Modern Warfare, you might get disconnected from the game suddenly and receive error code 4 with an error message showing that you have been disconnected from the Call of Duty Modern Warfare servers/Warzone service. This error code may appear over and over again and it is really frustrating. If you are bothered by it at the moment, scroll down to get more effective solutions.
How to Fix Error Code 4 Warzone Xbox?
Fix 1: Restart Your Console
No matter if you receive Warzone error code 4 on Xbox One or on Windows 10/11, restarting your console is the easiest fix for you. Taking this measure will close unnecessary background processes and help to refresh pertinent servers. If this method doesn't work for you, you can try the next solution.
Fix 2: Check Server Status
Sometimes, the servers to may be down due some technical issues hence you are interrupted when gaming, receiving Warzone error code 4 on your device. Just go to Downdetector to check if the servers are under maintenance. If so, you have to wait for the developers to fix the problem for you.
Fix 3: Check Your Internet Connection
Since Call of Duty Warzone or Warfare is a live-service game, you need to have stable internet speed with minimal ping to make sure there is a firm link with the game's servers. To play the game smoothly without any issues like Warzone error code 4, the download speed is at least 10 Mbps, and keep the ping under 100 milliseconds. Click here to test your internet speed and ping. If your internet connection is weak, follow the steps below:
Step 1. Hit Start and click on the gear icon to open Settings.
Step 2. Go to Update & Settings > Troubleshoot > Additional troubleshooters.
Step 3. Click on Internet Connections and hit Run the troubleshooter to start the troubleshooting process.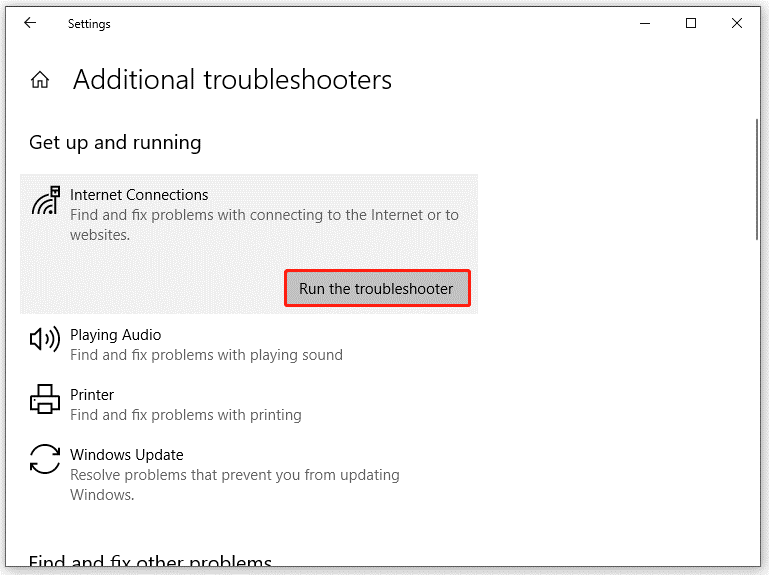 Fix 4: Scan and Repair the Game Files
There is a feature called Scan and Repair in the Batlle.net launcher and it helps to cross-check the Warzone or Warfare game files for you. If any corruption is detected, this tool will fix it accordingly. If error code 4 Warzone or Warfare is caused by corruption in game files, you can follow the instructions below:
Step 1. Launch Battle.exe and hit the icon of Call of Duty Warzone.
Step 2. Go to Options > Scan and Repair > Begin Scan. Now, it will automatically scan and repair corrupted game files for you.
Fix 5: Delete the Cache Folder
Another solution to address Warzone error code 4 is deleting the cached temporary files. These files are safe to delete and this operation is not harmful. Here's how to do it:
Move 1: Exit all the Blizzard-related programs
Step 1. Right-click on the taskbar and choose Task Manager in the drop-down menu.
Step 2. Under the Processes tab, find all the Blizzard processes, right-click on them one by one and choose End task.
Move 2: Delete the Cached Folder
Step 1. Press Win + R to launch the Run dialog.
Step 2. Type %Programdata% and hit Enter.
Step 3. Look for the Blizzard Entertainment folder and right-click on it to choose Delete.