Summary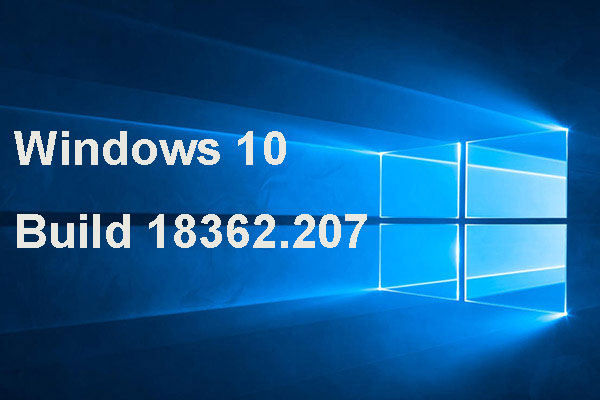 Windows 10 Build 18362.207 has been released for a few days. As a cumulative update for Windows 10 May 2019 Update, there should be some improvements. However, the company still doesn't list them. However, you can read this post to learn some issues existed in Windows 10 19H1 currently.
Microsoft Is Testing Windows 10 May 2019 Update Build 18362.207
A new cumulative update for Windows 10 May 2019 Update (Windows 10 version 1903/Windows 10 19H1) has been released and tested by Insiders in the Release Preview Ring. If this update can qualify the company's standards, it will be pushed to all devices which are running Windows 10 19H1 later this month.
Can you get this cumulative update?
Actually, if you have subscribed to Release Preview Ring, you will be able to get Windows 10 Build 18362.207 (KB4501375). The company still hasn't published the changelog of this build yet, so, we don't know what haven been improved with this update.
When the company begins to roll out this update to the available devices, it will share information on fixes and improvements included in Windows 10 Build 18362.207 as expected. So, if you are interested in them, you can wait.
As a matter of fact, in addition to this cumulative update, the company is also testing a new servicing stack for Windows 10 with Insiders. Here, Windows 10 servicing stack update KB4506933 is available for Release Preview Ring and it is supposed to improve the reliability of Windows Update.
The Existing Known Issues
We don't know the improvements in this cumulative update, but we can talk about the existing known issues in Windows 10 May 2019 Update.
Windows 10 19H1 was first started late last month. But not every system is able to get this update because of Microsoft's gradual rollout approach.
The company always maintains a list of known issues. At the moment, the page with this list has shown the following issues as well as the corresponding solutions.
Windows Sandbox
Windows Sandbox is a new feature which is first introduced in Windows 10 May 2019 Update. With it, you can run apps in an isolated environment to protect your Windows 10.
However, a new thing is not always perfect. Some users reflected that Sandbox is not working on their device and they are unable to launch it successfully. Microsoft has promised to fix this issue and the fixes will be included in an upcoming release.
Moreover, to keep your Windows and files safe, you'd better install a professional anti-virus software on your computer. On other hand, if your important files get lost due to viruses, you can use a dedicated file recovery tool to get them back.
This post shows how to recovery antivirus deleted files with the best free file recovery software – MiniTool Power Data Recovery. Also, some other solutions are suggested.
Brightness Issue
Now, the company is investigating another issue existed in Windows 19H1 where the display may not respond to brightness adjustments on Intel hardware. The company said that the brightness adjustments may not apply unless you perform a system reboot.
The company also states that these issues will be fixed in an upcoming cumulative update.
Audio issues
The company also addresses another bug: the audio may not work with Dolby Atmos headphones and home theater. It is investigating this bug and the company also plans to fix it in an upcoming cumulative update.
Some other issues, like the USB storage upgrade block, night light issues, and more, are also listed in the page. Microsoft is going to fix them in a future release.