In general, you'll be offered with new Windows 10 update on your devices automatically. However, some people complained that they can't find the new Windows 10 November 2019 update (version 1909) even after checking for updates. This is actually because the Realtek Bluetooth driver on that computer is too outdated.
Windows 10 1909 Is Not Available For Old Realtek Bluetooth Driver
As the name supplies, the Windows 10 November 2019 update will be released sometime in November 2019. This new version is known as Windows 10 1909 (codenamed 19H2) and it was officially released on November 12, 2019. Since then, all users are able to get the new update easily. (Please allow MiniTool to take good care of your computer!)
Microsoft Blocks Windows 10 1909 from Old Realtek Bluetooth Drivers
Problem:
Well, there is a problem: some Windows 10 users said they can't find the new update anywhere; even if they clicked on the Check for updates button, there's still no update available.
Reason:
After investigation, I find the root reason for causing such problem is the old Realtek Bluetooth driver. The compatibility issues are found on the Windows 10 computers on which the drivers for Realtek Bluetooth radios are too old; if the Windows 10 Bluetooth driver version you are running now on your device is earlier than 1.5.1012, you are not able to update the current operating system to Windows 10 version 1909.

Result:
For security and stability reasons, Microsoft decides to block the new update on the affected systems. You'll see this error message on your computer that prevents from you getting the new update: Windows 10 1909.
Can't Update Windows 10 due to Old Realtek Bluetooth Drivers
Some compatibility issues have been discovered by Microsoft; for instance, some driver versions for Bluetooth radios made by Realtek are not compatible with the new versions of Windows 10. The What needs your attention window will appear and point out the problem. Microsoft asks you to visit aka.ms/realtek_bt_1_5 to learn more.
"What needs your attention
The following things need your attention to continue the installation and keep your Windows settings, personal files, and apps.
Change what to keep
Realtek Bluetooth
Your PC has a driver or service that isn't ready for this version of Windows 10. A new version is available. Please go to aka.ms/realtek_bt_1_5 to learn more."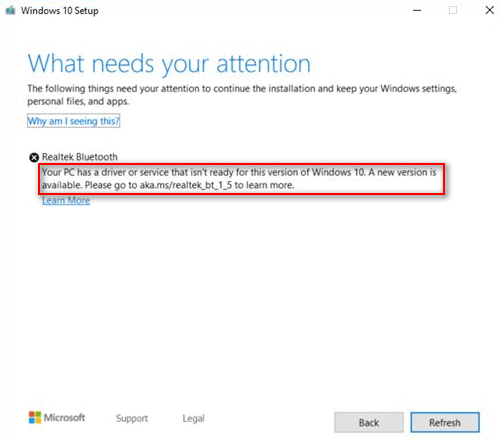 Microsoft's response:
To safeguard your update experience, we have applied a compatibility hold on devices with affected driver versions for Realtek Bluetooth radios from installing Windows 10, version 1909 or Windows 10, version 1903 until the driver has been updated. You will need to update to driver version 1.5.1012 or later to remove this safeguard hold. Any earlier version of the driver is affected by this issue
How to Fix Windows 10 Bluetooth Driver Compatibility Issue
First of all, you need to click on the Check for updates button to see whether the Realtek Bluetooth drivers update is offered.
If yes, please update the old Realtek Bluetooth driver successfully.
If not, please follow the instructions provided by Microsoft.
How to update Realtek Bluetooth drivers manually:
Go to the Realtek Bluetooth radio drivers official webpage and download both Driver 1 and Driver 2 to a certain location (make sure it is safe and has enough free space).
Open File Explorer by clicking on the icon (if you can't find the icon, please use Windows search).
Navigate to the folder that is used to save the drivers you have downloaded.
Find this file and double click on it: 068de0d6-6ac2-473a-8cbd-bd449cd5c97c_942eec5828662eecc6b98cc2706658bf2433717c.cab.
Press Ctrl + A to select all the files in the list.
Right click on any of them to select Extract from the context menu.
Choose New folder and give it a new name: Realtek Bluetooth.
Choose Extract again.
Go back to the location where the downloaded drivers are saved.
Find this file and double click on it: f2748416-7753-49c6-9185-56f4986f490b_e98e0d664b7e874011b8e3752046ca61f3475295.cab.
Repeat step 5 ~ step 7; please use Realtek Bluetooth 2 as the folder name in step 7.
Select Extract again.
Right click on Start button at the bottom left corner of PC screen and choose Device Manager.
Look for Bluetooth and then expand it.
Now right click on the Realtek Bluetooth device.
Click on the Update Driver button.
Choose Browse my computer for driver software option.
Follow the wizards to finish driver update downloading and installation.
Restart the computer and try Windows update again.
That's the official fix for old Realtek Bluetooth driver which prevents new Windows 10 update.