What is Win32 Priority Separation and how to use it to assign more memory to a task? It is a service to make sure that your system can work properly and you can use Regedit and Run dialogue box to allocate the memory. Get the methods from the MiniTool website.
Some programs keep running in the background even when you have closed them. Some of them are necessary and you shouldn't stop them, while some of them only reduce computer performance.
You can try restarting your computer to make sure that unnecessary processes won't run in the background, but it is troublesome to restart every time you meet the same problem. Therefore, you can use Win32 Priority Separation to solve the issue.
What Is Win32 Priority Separation Windows 10?
What is Win32 Priority Separation Windows 10? As a built-in feature in the latest version of Windows, Win32 Priority Separation allows you to specify the strategy of optimizing the processer usage time on the foreground as well as the background.
In other words, Win32 Priority Separation assigns priority values to all the running services and allocates maximum memory for tasks marked with high priority. Background tasks that do not require excessive memory to execute are marked with a Low priority.
Microsoft Windows has tweaked Win32 Priority Separation on your computer by default, but you can adjust your settings as you wish.
How to Allocate More Memory to a Program Using Win32 Priority Separation?
According to the usage of programs, you can adjust Win32 Priority Separation and assign more memory to the program that needs it. Now I will offer you 2 methods to allocate memory to particular programs.
Method 1: Use Registry Editor
As you know, Registry Editor is the built-in feature that you can use to update, add, delete or alter a registry keys. It is recommended to back up the registry file before you make changes to the registry.
Here is the way to allocate more memory to certain programs using Win32 Priority Separation via Registry Editor:
Step 1: Type regedit in the search box and then click the best match one. Click Yes to open Registry Editor.
Step 2: Navigate to Computer\HKEY_LOCAL_MACHINE\SYSTEM\CurrentControlSet\Control\PriorityControl.
Step 3: Right-click Win32PrioritySeparation and then choose Modify to open the Edit DWORD (32-bit) Value box.
Step 4: If you choose Hexadecimal, then modify the value data to 26; if you select Decimal, then change the value data to 38. Then click OK to save the changes.
Step 5: Close all the programs and then restart your computer to apply the changes.
Method 2: Use Run Dialog Box
The second method to adjust the performance of the system using Win32 Priority Separation is to use the Run dialog box, which is simpler. Here is the tutorial:
Step 1: Press the Win key and the R key at the same time to open the Run box.
Step 2: Type sysdm.cpl in the box and then click OK to open System Properties.
Step 3: Go to the Advanced tab and then click Settings… under the Performance section to open the Performance Options.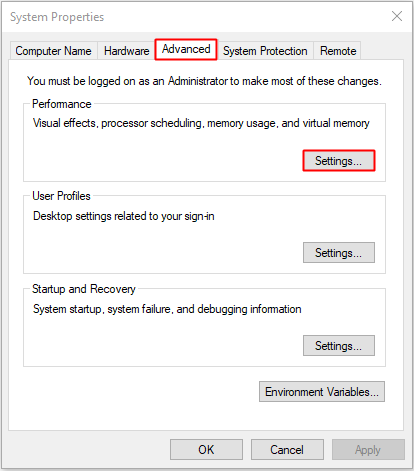 Step 4: Go to the Advanced tab again, then you can choose either Programs or Background services depending on your use of the system. Click Apply and OK to save changes.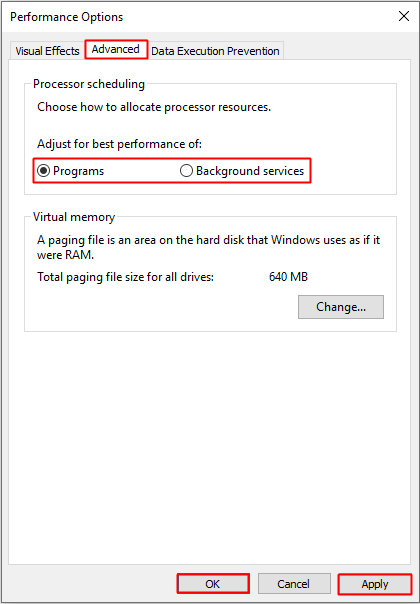 Step 5: Close all the programs and then reboot your computer to apply to changes.
Bottom Line
From this post, you can get the information about Win32 Priority Separation. In addition, there are two methods for you to assign more memory to a program using Win32 Priority Separation, which can make your computer run fast.