This article displayed by MiniTool Software Ltd. mainly introduces five sound editors for Windows 11, 10, 8, 7, Vista, XP. It elaborates on their advantages and features. Make a comparison and select one that is proper for your situation.
Since the release of Windows 11, although it is reported to have many bugs, errors, problems, or issues, more and more people choose to upgrade to it. Among the numerous problems of Win11 users have encountered, one common issue is the sound/audio type.
Yet, we won't talk about any specific sound error of Windows 11 here. We are going to introduce you some popular sound editors for the new operating system. Let's have a look.
#1 Audacity
Audacity is absolutely the first sound editor that we will introduce to you. It is a free and open-source digital audio editor and recording program. It is also a multi-track and easy-to-use software. Besides Windows, Audacity can be used on macOS, Linux, as well as other Unix-like OSes.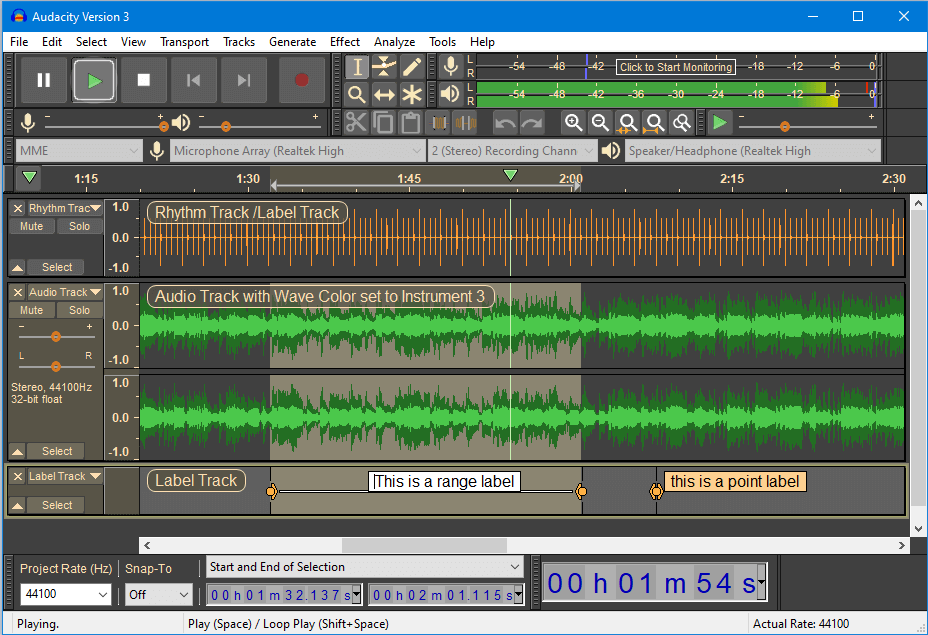 Features
Record live audio via microphones or mixer, or digitize recordings from other media.
Import, edit, and combine audio files.
Export recordings in different file formats and export multiple files simultaneously.
Support 16, 24, and 32-bit sample rates and formats are converted using high-quality resampling and dithering.
Support LADSPA (Linux Audio Developer's Simple Plugin API), LV2 (LADSPA version 2), Nyquist, VST (virtual studio technology), and Audio Unit effect plugins.
Complete editing functions including cut, copy, paste, delete, and unlimited sequential undo/redo.
Preview LADSPA, LV2, VST, and Audio Unit effects in real-time.
Spectrogram view mode for visualizing and selecting frequencies.
License
Free
#2 WavePad Audio Editor
WavePad Audio Editing Software is a sound and music editor for Windows, Mac, iOS, and Android. It enables users to record and edit voice, music, as well as other audio recordings. WavePad Audio Editor is a product developed by NCH Software company.
Features
Edit sounds by cutting, copying, splitting, trimming, and much more.
Batch edit multiple audio files at once.
Many audio and music effects like amplify, normalize, equalize, etc.
Audio restoration for noise reduction and click pop removal.
Support 50+ sound formats.
Advanced tools including spectral analysis, FFT, and TFFT.
License
Freemium
#3 FL Studio
FL Studio, formerly known as FruityLoop, is a digital audio workstation (DAW) designed by a Belgian company called Image-Line. It features a graphical user interface (UI) with a pattern-based music sequencer. FL Studio is available in 4 editions for both Windows and macOS.
There is FL Studio Mobile for Android, iOS, and Universal Windows Platform devices.
Features
Multi-track audio recording.
Audio editing and manipulation.
Open architecture synthesizer and effects plugin hosting.
Composition and sequencing.
MIDI control such as Recording, multiple inputs, and powerful MIDI learning system.
Mix and remix audios.
Flexible internal routing.
Live performance functions include clip triggering and visualization.
Multi-touch control like vectorial resizing.
License
Free to try
#4 Ocenaudio
Ocenaudio is an easy, fast, and cross-platform audio editor. It is an ideal app for people who need to edit and analyze sound files without complications. Ocenaudio is based on Ocean Framework, a powerful library developed to simplify and standardize the development of audio manipulation and analyze programs across multiple platforms.
Features
Support VST plugins.
Real-time preview of effects.
Multi-selection for delicate editions.
Efficient edition of large files.
Fully featured spectrogram.
License
Free
#5 Ashampoo Music Studio
Ashampoo Music Studio is a music editing tool for your songs and audio files. 8 powerful moudles cover practically everything audiophiles need from their computers. It can edit, burn, and cut your sounds. Also, Ashampoo Music Studio is able to convert between multiple common formats, create mixtapes, bring order to your music collection, print covers, rip audio discs, and so on.
Features
Easily trim audio.
Edit with keyboard shortcuts.
Split audios.
Record live sound.
Organize songs with templates.
Mix songs with tempo analysis and smart synchronization.
Quickly cut MP3s.
License
Free to try
Windows 11 Assistant Software Recommended
The new and powerful Windows 11 will bring you many benefits. At the same time, it will also bring you some unexpected damages such as data loss. Thus, it is strongly recommended that you back up your crucial files before or after upgrading to Win11 with a robust and reliable program like MiniTool ShadowMaker, which will assist you to protect your increasing data automatically on schedules!