The Windows Easy Transfer is a file transfer program designed by Microsoft since Windows Vista. It allows you to move files from the PC running an older version of Windows to a PC that runs a newer version. But sometimes, the Windows Easy Transfer may stop working. This article introduces some useful ways to fix it.
Windows Easy Transfer Is Unable to Continue
As many Windows users know, the Windows Easy Transfer is a wonderful tool to transfer files conveniently from Windows 7 (or other previous versions of Windows) to Windows 10. By using it, you can get rid of the troublesome steps of copying files and pasting them into a removable disk.
However, there are many people complained that they run into a problem: the Windows Easy Transfer is unable to continue when they are trying to transfer files from one computer to another. Can this be fixed? How to fix when you find Windows Easy Transfer not working? Please read the next part to find answers.
If files get lost from your PC, please read this post to know how to recover them. In addition, MiniTool Software is able to help you manage disk and system efficiently.
Windows Easy Transfer Error
There's a true example that reports the error: Windows Easy Transfer is unable to continue. Please reboot computer and try again.
I am trying to migrate the Files and Settings of an XP Pro domain PC to a new Windows 7 Business PC. I have done this successfully on other equipment in the same domain. XP SP3 system is free of malware. This message comes up on the XP PC regardless of the transfer method. When attempting a Network transfer, a handshake is confirmed, and then this message comes up on both computers during the Checking for Compatibility stage. The Easy Transfer application was created on a flash drive from the target Win 7 PC. Very little on the net regarding this issue. Thanks in advance!– said oystercreek in the Microsoft Community
How to Fix Windows Easy Transfer Error
In this part, I will show you how to fix Windows Easy Transfer on Windows 10 in different ways.
When the Windows Easy Transfer is unable to continue, please check:
Whether the network cables are connected properly or not.
Whether you're logged in your PC as an administrator.
Besides, you can troubleshoot Windows Easy Transfer not working by using the following methods.
Method 1: Delete Unknown User Accounts
Open Control Panel.
Select System and Security.
Select System in System and Security window.
Click Advanced system settings option in the left sidebar.
Find the User Profiles area and click on the Settings… button under it.
You will see a list of the profiles; browse them and select the one that doesn't contain a recognizable user name.
Click on the Delete button.
Restart the computer and try Windows Easy Transfer again.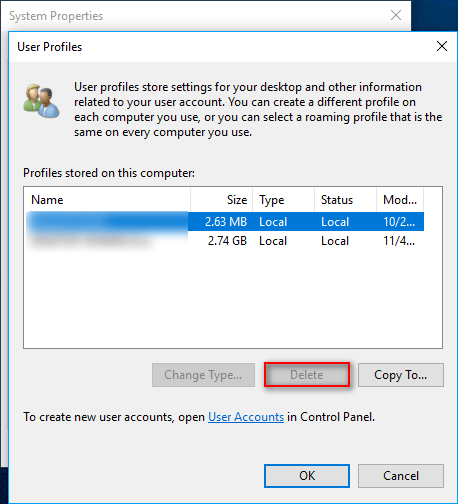 Method 2: Disable User Account Control
Click on the search icon/box on the taskbar to bring up search textbox. (You can also press Start + S to see the textbox directly).
Type user account and select Change User Account Control settings.
Drag the slider to the bottom to set it to Never notify (Never notify me when: Apps try to install or make changes to my computer; I make changes to Windows settings.)
Click on the OK button located at the bottom.
Restart your PC and try Windows Easy Transfer again.
How do you fix when taskbar is not working on Windows 10?
Method 3: Copy the MIG Files to Another Location
Go to the desktop.
Create a new folder and change the name to Migration Temp.
Open File Explorer to search for .mig files.
Copy all the MIG files.
Open the Migration Temp folder and paste files into it.
Try the Windows Easy Transfer tool again to see whether the problem has been solved.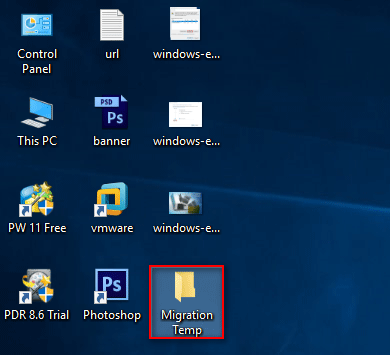 If above methods failed, you should try to fix the issue by removing the Windows Easy Transfer and then re-installing it.