What are hard drive duplicators? They are mainly used for hard drive cloning. In this post from MiniTool, you can learn everything you should know about hard drive duplicators, including a brief introduction, their types, when and how to use them, and the alternative tool.
What Are Hard Drive Duplicators – Brief Introduction
With the development of information technology, digital data has been an essential part of human being's life nowadays. And there are various devices for digital data storage, such as a flash drive, hard drive, CD/DVD drive, SD card, etc.
Due to the advantages of high storage capacity and long lifespan, hard drives are usually the first choice as a storage space. To keep data safe and avoid data loss, data backup is quite important for most people, which can be achieved by hard drive duplicators easily.
What is a hard drive duplicator?
A hard drive duplicator is a device used to make hard drive copies. With such a device, you can transfer data from one hard drive to another one or more hard drives easily and quickly, even without a computer. In addition to making hard drive copies, some hard drive duplicators can also delete and wipe data on hard drives.
For more detailed information about hard drive duplicators, please keep reading.
How Does Hard Drive Duplicator Work
As mentioned, hard drive duplicators are mainly used as hard drive cloners. Then, how does a hard drive duplicator clone a hard drive?
A hard drive duplicator can copy data on the source disk to one or more destination disks. Some powerful hard drive duplicators can clone data from a hard drive to more than 20 destination disks at a time, which is time-saving and quite efficient when you need to make multiple copies.
Most hard drive duplicators make hard drive copies sector-by-sector, which means even the sectors without data will also be cloned. Some duplicators have an optional "Fast Copy" feature. With this feature, users can only copy sectors with data, which makes the cloning process faster.
They usually work standalone without connecting to a computer. And there is a small screen to display the detailed operation process. When the cloning process is finished, they can make a beep automatically to notice you.
How to Choose a Proper Hard Drive Duplicator for Yourself
There are a huge number of hard drive duplicators on the market, with different sizes, prices, and performances. If you search for hard drive duplicators, you can see hundreds of results. Which one to choose?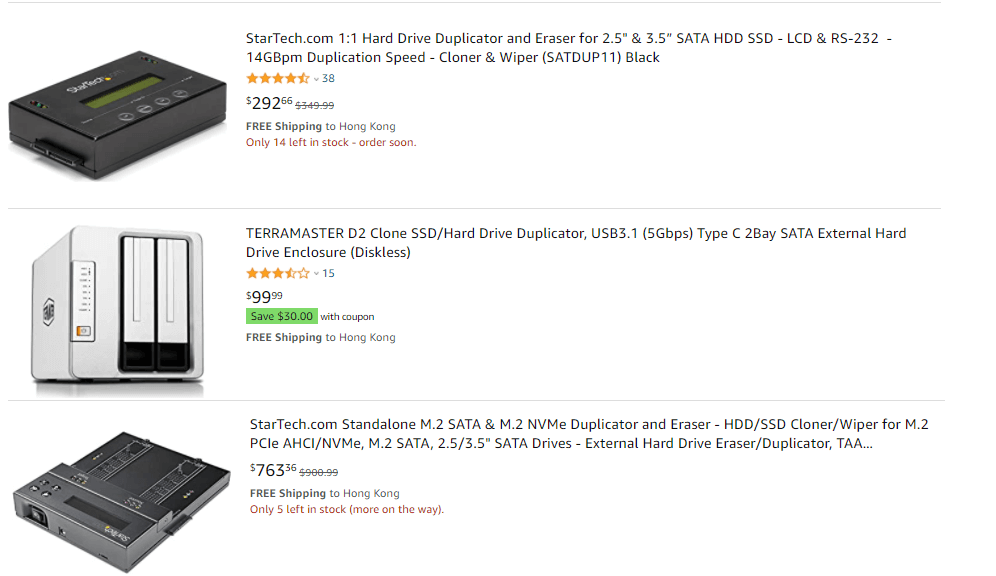 What You Need to Consider
Actually, there are many factors to take into consideration but don't worry. Keep reading and you can figure out how to choose a proper one.
First, you need to consider how many hard drives to copy and how often you will clone hard drives.
If you will use the hard drive copier occasionally, you can choose a lower-priced hard drive duplicator for personal use. A hard drive docking station could also be a wonderful choice for you. It clones hard drives slower than using a hard drive duplicator, but is much cheaper and can save you a lot of money.
If you want to buy hard drive duplicators for industrial use, you'd better choose those designed with powerful performance and that can deal with multiple hard drives at a time. In this case, it costs more but it's worth the price for long-term use.
Second, you need to consider hard drive compatibility and capacity, which is one of the most important factors.
To make sure the hard drive duplicator works well for your hard drives, you need to check the form factors (3.5-inch or 2.5-inch) and interface (IDE, SATA, SCSI, etc.) of your hard drives. Then pay attention that whether the hard drive duplicator supports your hard drives while choosing the device.
As for the hard drive capacity, you should note that some hard drive duplicators cannot copy data from a larger hard drive to a smaller one. And you should check how much storage capacity the device supports.
Third, you should also think about the features that your hard drive duplicator is designed with.
Common hard drive duplicators are equipped with at least one of the following features:
Disk cloning
Multiple copy methods
Disk wiping/sanitization
Host Protected Areas copying
Real-time monitoring and logging
…
Fourth, the quality of the hard drive duplicator should not be missed.
For better durability and long-term use, it is recommended to choose a hard drive duplicator of high quality. A famous and reliable brand can be trusted, such as Aleratec, Vinpower Digital, and Kanguru hard drive duplicators.
Finally, choose the connection options you prefer.
Hard drive duplicators can connect hard drives in various ways, including cables, hard drive bays, cradles, direct-connect, etc. Take this into consideration, too. Of course, if you don't mind the connection options, just ignore this one.
What is a hard drive duplicator? How to choose a hard drive duplicator? You can figure them out in this post!Click to Tweet
Recommended Hard Drive Duplicators for Personal/Industrial Use
After knowing what you should consider, you can start to pick a hard drive duplicator according to your needs. Here is a list of popular hard drive copiers for both personal and industrial use.
Option 1: Systor 1 to 1 SATA HDD/SSD Duplicator
Digital storage capacity: 3 TB.
Hard drive interface: Serial ATA.
Hard drive form factor: 3.5 inches.
Transfer rate: vary from 5.4 GB/min (90 MB/sec) to 36 GB/min (600 MB/sec).
Price: Start at $240.00 on Amazon.
Complete standalone: yes.
Option 2: StarTech 1 to 1 M.2 SATA & NVMe Duplicator and Eraser
Hard drive interface: M.2 SATA & M.2 NVMe.
Hard drive form factor: SATA 2.5/3.5-inche SSD/HDD; M.2 2230/2242/2260/2280/22110.
Optional disk cloning modes: System & File; All Partitions; Whole Drive & Percentage Duplication; Adjustable Host Protected Area (HPA) settings.
Optional disk erasing modes: it offers various data wiping methods, including quick erase, full erase, secure erase, etc.
Price: $763.36 on Amazon.
Complete standalone: yes.
Option 3: Aleratec 1:11 High-Speed HDD Duplicator and 12 HDD Sanitizer
Digital storage capacity: over 8TB.
Hard drive interface: SATA.
Hard drive form factor: 3.5 SATA HDD/SSD (2.5-inch disk is also supported with optional adapters, not included in the duplicator).
Target: it can make 11 disk copies or data wiping for 12 disks at a time.
Transfer rate: up to 120 MB/s (SATA).
Optional disk erasing modes: secure erase, quick erase, 1-pass, 3-pass, 3-pass with verify, DoD 7-pass.
HPA copy: yes
Price: Start at $1,799.00 on the official Aleratec website.
Complete standalone: yes.
Aleratec provides hard drive cloners that can make up to 24 copies once. If the 1:11 duplicator is not good for you, you can search the Aleratec 1:24 HDD duplicator on the website.
Option 4: Kanguru 1:23 SATA Hard Drive Duplicator
Digital storage capacity:
Target: it can duplicate up to 23 hard drives
Hard drive interface: SATA
Hard drive form factor: 2.5-inch and 3.5-inch SSD/HDD
Optional disk copy modes: Smart Mode, Disk Mode, Brief Mode, Resize Mode, and Ratio Mode.
Transfer rate: up to 12 GB/min
Advanced features: secure wipe, optional PC-based logging software, HPA check, auto-kick slow drive, skip read error, and device configuration overlay check.
Price: $7,999.95 on the official Kanguru website
Complete standalone: yes.
How to Clone Hard Drive Without a Hard Drive Duplicator
As you can see, the best hard drive duplicators are usually expensive, and they are better for industrial use. Buying one might be a waste if you don't use it frequently.
Can you clone a hard drive if you don't want to spend money on a professional device? Yes, you can! There are some disk cloning tools that you can use on a computer to clone data from one hard drive to another. And here MiniTool Partition Wizard is recommended.
What is MiniTool Partition Wizard?
It is a reliable disk manager available on Windows 7/8/10/11 and Windows Server. It can help you create, delete, format, recover, and wipe partitions, as well as copy disk. If you want to copy a non-system disk, MiniTool Partition Wizard is totally free to use. If you want to deal with a system disk, you need to get a Pro or higher edition. Click to see Edition Comparison.
Now, let's see how to clone a hard drive without a hard drive duplicator.
Step 1: Connect both the source disk and the destination disk to a Windows computer.
Tip: All the data on the destination disk will be deleted during the disk cloning process. Therefore, please make sure there is no important data or back up it before you start.
Step 2: Download MiniTool Partition Wizard by clicking one of the following buttons. Then install and lunch it.
Step 3: When you get the main interface of MiniTool Partition Wizard, right-click the source disk and select Copy.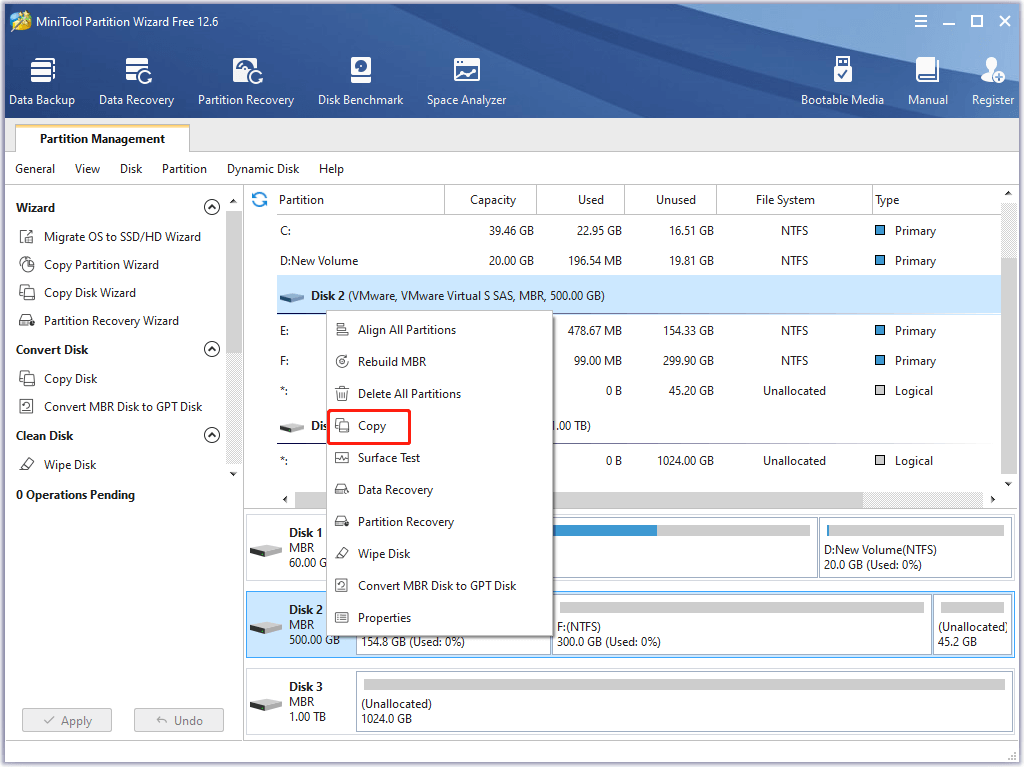 Step 4: In the pop-up window, select the destination disk you prepare as the target disk. Then click Next. If the destination disk is not empty, there will be another pop-up window noticing that all the data on the destination disk will be destroyed. Click Yes to continue if you are sure about the operation.
Step 5: On the following page, configure the Copy Options and Target Disk Layout according to your needs. Then click Next. You will see a note telling you how to boot from the new disk. Read the note carefully, especially if you are cloning a system disk, and click Finish.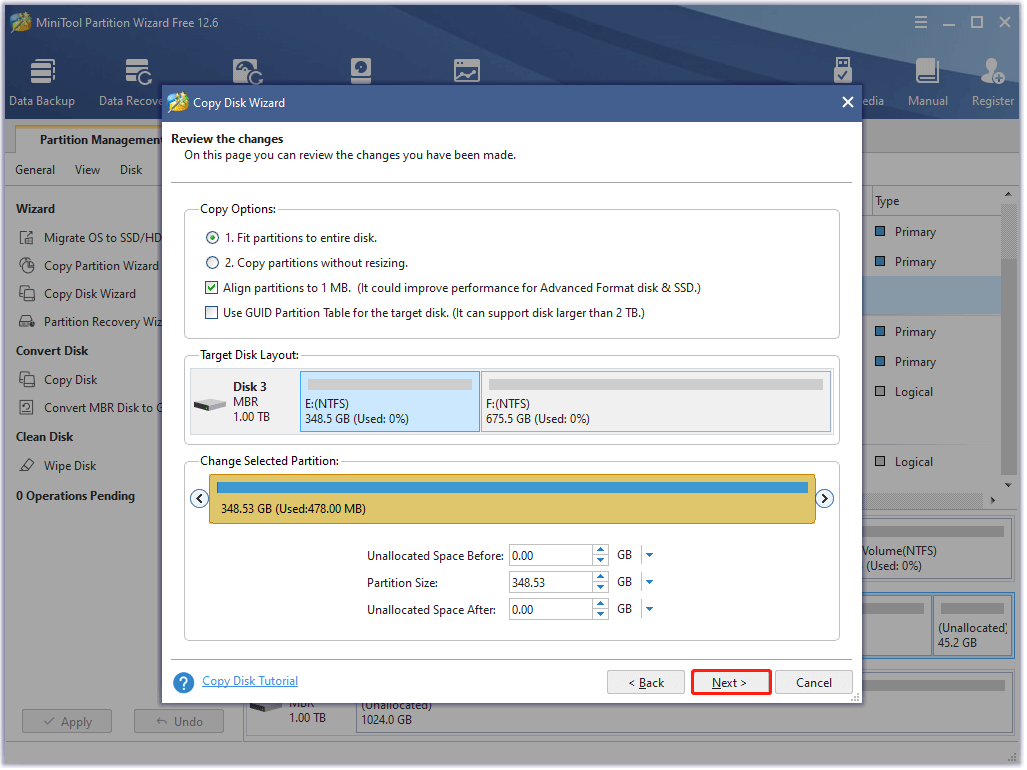 Step 6: Click the Apply button at the bottom left corner to start the disk cloning process.
Then you just need to wait patiently until the process is completed. Please do not turn off your computer during the process.
MiniTool Partition Wizard helps me transfer data from my old disk to a new one. Thanks to this wonderful tool, I finally get rid of the old and useless hard drive.Click to Tweet
Bottom Line
A hard drive duplicator can help a lot with disk cloning, especially when you need to make multiple copies. Do you love it? You can share your ideas with us in the following comment section.
You can also clone a hard drive with MiniTool Partition Wizard. If you encounter any problems while using MiniTool Partition Wizard, you can contact our support team via [email protected].