It is hard to distinguish backup from replication. They both can be regarded as a means of preventing data loss but in some ways, some nuances should be disclosed and clarified. In this article about backup vs replication, their definitions and functions will be introduced and you can read it on MiniTool Website.
To figure out what the backup and replication are, you need to get their definitions cleared. That's the most confusing point for most readers. So let's start with that!
What Is Backup?
First of all, what is backup? Data backup is a copy of computer data taken and stored elsewhere so that it may be used to restore the original after a data loss event. Therefore, we often discuss backup and recovery as a close tie.
Recovery from a backup typically involves restoring the data to the original location, or to an alternate location where it can be used in place of the lost or damaged data.
They are so much important in our daily work. Anyway, backup copies are made on a consistent, regular basis to minimize the amount of data lost between backups.
Besides, keeping multiple copies of the data provides insurance and flexibility to recover the data to a point in time that is not susceptible to data corruption or malicious attacks.
What Is Replication?
What is replication?
Simply, data replication is when the same data is intentionally stored in more than one site or server – the process of storing the same data in multiple locations to improve data availability and accessibility and to improve system resilience and reliability.
It is necessary to mention that different from backup for some specific data protection, data replication is commonly used in disaster recovery, which can ensure that an accurate backup exists at all times in case of a catastrophe, hardware failure, or a system breach where data is compromised.
For more information about disaster recovery, you can refer to this article: You Definitely Need A Good Hard Drive Disaster Recovery Plan.
Backup vs Replication
Next, this part will compare backup to replication based on their different features. There are four major parts that will help you better distinguish the difference between backup and replication.
Work Purposes of Backup vs Replication
Their working purpose may seem much the same for data protection in case of any data loss, system crash, or corrupted files for computer attacks, but indeed, there are some nuances in this point.
Data backup focuses on compliance and granular recovery that allows businesses to perform both file and image-based level recovery from a single-pass backup operation; while replication and recovery focus on Disaster Recovery by which an enterprise can respond to and recover from an event that negatively affects business operations.
Work Requirements of Backup vs Replication
Backup requires a tape library – a high-capacity storage system used for storing, retrieving, reading from, and writing to tape cartridges, or other places for archived tapes; while replication needs higher investment in infrastructure to enable disaster recovery and business operations.
Work Principle of Backup vs Replication
How do they work for data protection?
The backup is performed periodically and a save point for all data is created on the production server. These save points can be recovered in the event of file corruption, system failure, outage, or any event that results in data loss. Data is backed up across a variety of media and locations, both in-house and in the cloud.
Replication involves copying data, synchronizing it, and distributing it between a company's sites, typically servers and data centers. Transaction data and other data are replicated across multiple databases.
Replication can be synchronous, asynchronous, or near-synchronous and may use continuous data protection to enable users to access historic data.
Types of Backup vs Replication
Backup types – there are major three types of backup, including full backup, incremental backup, and differential backup. Based on your conditions to choose the most suitable one, you can take full advantage of your storage and reach the best efficiency.
For details about these three types, you can refer to this article: 3 Types of Backup: Full, Incremental, Differential.
Replication types – there are five replication types.
Snapshot Replication – a copy of the snapshot database that appears the moment the replication process starts.
Transactional Replication – a copy of the database with new data coming in as the database changes.
Merge Replication – a copy of data from several sources into a single database.
Heterogeneous Replication –replicated data between servers supplied by different vendors.
Peer-to-Peer Transactional Replication – it allows all participating users and servers to send data to each other.
Uses and Cost of Backup vs Replication
For different working principles and purposes, they can be used in different situations and shoulder separate costs.
Compared to replication, backup is a relatively low-cost way to avoid data loss. Backup can be used in more sudden situations, from production servers to desktops; while replication requires an investment in infrastructure, and actually, some professional operations and knowledge would be better.
Besides, replication is often used for mission-critical applications that must always be up and running.
Pros and Cons of Backup vs Replication
Pros and Cons of Backup
Backup Pros:
Backups of data are usually at a lower cost to businesses since you only pay for what you use.
Its web interface tools allow users to access the data and restore it when needed easily.
The backup process can be automated and traditionally pre-scheduled.
Backups are ideal for long-term data storage and compliance-related requirements.
Backup Cons:
Since backups rely on your connection speed, backups and restorations can take a long time to perform.
Backup doesn't ensure business continuity for operations and may not be the best option for businesses with large data volumes.
Pros and Cons of Replication
Replication Pros
It can ensure business continuity with a Disaster Recovery Plan that can ensure there's an off-site copy of the system.
Because replication can make you have the same data from multiple locations in the way you can retrieve data from the nearest server, reducing network latency and increasing performance.
Data replication can improve multi-user support with query execution.
It can help perform analytics without affecting performance.
It can improve availability so that users can access and manage data in a distributed database without getting in each other's way.
Replication Cons
A lot of storage space is asked and high costs need to pay.
Maintaining data consistency is difficult when using methods like merge or peer-to-peer replication.
Is that OK to Replace the Backup with Replication?
Can you use replication instead of backup? The answer is NO. the above contents have told you that they have different working purposes for data protection. Data backup focuses on restoring data to a specific point in time while data replication focuses on business continuity.
Replication will undergo frequent updates and lose its historical state quickly so it will be greatly hindered by a malware attack. For most companies, even though they can perform a disaster recovery when under attack, an adequate backup is critical for them to recover data at least up to the last save point.
These two methods can be complementary and if you are running a company, having these two plans can make you cope with any accidents immediately and effectively.
Back up with MiniTool ShadowMaker
According to the above explanation, you can find that there is much difference between backup and replication and you can't just use synchronous replication instead of backup and data recovery.
Therefore, it is recommended to prepare a backup plan for your system data in case of any accidents. MiniTool ShadowMaker can be a good option for your concerns with multiple features – backup, sync, universal restore, and disk clone.
To enjoy that, you need to download and install the program and it will offer you a free trial version for 30 days.
MiniTool ShadowMaker TrialClick to Download100%Clean & Safe
Step 1: Open MiniTool ShadowMaker and click Keep trial to enter the program.
Step 2: Switch to the Backup tab and click the Source section.
Step 3: Then you will see four options to be your backup contents – system, disk, partition, folder, and file. Choose your backup source and click OK to save it.
Note:
Note: System has been selected as backup content by default. if you want to back up your system, you don't need to change it.
Step 4: Go to the Destination part and four options are available to choose from, including the Administrator account folder, Libraries, Computer, and Shared. Choose your destination path and click OK to save it.
Tips:
Tip: It is recommended to back up your data to your external disk to avoid computer crashes or boot failures, etc.
Step 5: Click the Back up Now option to start the process immediately or the Back up Later option to delay the backup. The delayed backup task is on the Manage page.
At the same time, MiniTool ShadowMaker provides you with three basic backup types here – full backup, differential backup, and incremental backup.
You can click on the Scheme feature to choose them and if you want, you can also choose a scheduled time by clicking Schedule.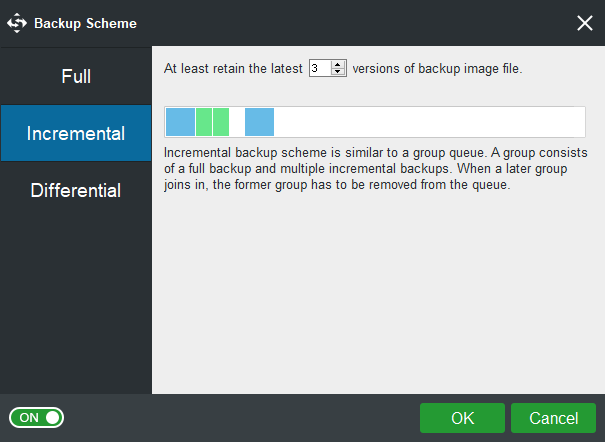 If you simultaneously create a scheduled backup and enable an incremental backup scheme, MiniTool ShadowMaker will help to perform incremental backups at the specific time point.
This article has clarified what backup and replication are separately and their differences. If you think it is useful, you can share it on Twitter.Click to Tweet
Bottom Line:
After reading this article about backup vs replication, you may have a general understanding of these two processes. To better protect your data, you'd better choose to have a backup plan for your data and that will be your best guard to avoid any accident that may cause data loss. Hope this post can be useful for you.
If you have encountered any issues when using MiniTool ShadowMaker, you can leave a message in the following comment zone and we will reply as soon as possible. If you need any help when using MiniTool software, you may contact us via [email protected].
Backup vs Replication FAQ
What is replication in ETL?
Merge replication will add triggers and GUID columns to the tables and will not be a popular choice to improve the ETL process in SQL Server. However, transactional replication needs a primary key for the table. In case you have tables without a primary key, you will not be able to use those tables.
What is the difference between backup and save?
Save As creates a new database file (SIP file) under a new name which is an exact copy of your current database file. A backup is a full dump of your entire database to a CSV file that can be reimported in the future.
What is the difference between replication and migration?
When you migrate data, you do it once and after the data is moved to a new location, the old system or database is abandoned. Data replication refers to the periodic copying of data from a data source on one platform to a destination on another one, and you don't delete or discard the data source.
Will replication impact production performance?
Putting a replica of the data closer to the user can improve access times and balance the network load. Replicated data can also improve and optimize server performance. When businesses run multiple replicas on multiple servers, users can access data faster. Having multiple copies may lead to consistency problems.