When choosing a NAS device, for example, Drobo vs Synology, you don't know which one to choose. Just see the guide on Drobo vs Synology and you can find the answer. Besides, it is recommended to use MiniTool Software to better protect your data.
Sometimes you may not need a NAS (Network Attached Storage)  as free cloud services are more than enough for your file storage needs. Some cloud storage disadvantages are driving people's favor for home servers:
Security level depends on the service provider.
Shared access controls leave systems vulnerable to insider threats.
Cybercrime and ransomware attacks are on the rise.
In our previous post, we compared QNAP and Synology, FreeNAS vs Synology. Today, we will discuss Drobo vs Synology.
Drobo and Synology are two well-known companies that provide NAS devices for individuals and businesses. Both of them offer a model that best suits different goals, budgets, and storage capacities.
Synology was founded in 2000 and Drobo in 2005. Although relatively late to the scene, Drobo quickly became popular for its simplicity and ease of use. Synology continues to innovate as always.
Maybe you don't know which one is better or which one to choose. Now, let this post help you to find the answer. To begin with, we will provide basic information about Drobo and Synology for you.
Overview of Drobo and Synology
Drobo
Drobo is a manufacturer of a range of external storage devices for computers, including DAS, SAN, and NAS devices. Drobo devices can hold up to four, five, eight, or twelve 3.5 or 2.5 Serial ATA or Serial Attached SCSI hard drives.
Drobo devices are primarily designed to allow hard drive installation and removal without manual data migration, for increasing the storage capacity of the device without downtime, and for data protection against drive failure.
Related post:
Synology
Synology NAS is created by Synology Inc. It centralizes data storage and backup, simplifies file collaboration, optimizes video management, and secure network deployment to facilitate data management. It can also be put at your home for daily use.
Synology supports rack-mount installation, which is a great advantage for all business sizes. Synology supports high availability, and you can join Synology servers in a centrally managed failover cluster to maximize service uptime and improve business IT reliability.
Drobo vs Synology
Then, we will introduce Synology vs Drobo for you in 9 aspects – interface, features, capacity, performance, product selections, cloud connectivity, Internet recycle bin, status indicator, warranty and support.
Drobo vs Synology: Interface
The first aspect of Drobo vs Synology is the interface.
Drobo's products are managed using the Drobo Dashboard, which runs as an application on the existing operating system. Drobo user interface supports six different languages ​​and has two apps for Android and iOS. It supports Windows XP/Windows 7/Windows Server 2003/Windows Server 2008.
Synology devices are powered by DSM (DiskStation Manager). It is an intuitive and easy-to-use web-based operating system for Synology NAS devices. If you are an Android and iOS user, you can install more than 10 different apps to access your Synology cloud, photos, audio, VPN, and more.
Synology recently launched a new user interface that provides a smoother and more responsive experience. These functions are divided into File Sharing, Connections, Systems, and Applications. The user interface supports more than 20 languages.
In this aspect, the winner is Synology.
Drobo vs Synology: Features
The second aspect of Drobo vs Synology is the feature.
Drobo offers the installation of additional applications through Drobo apps. Drobo apps are a collection of applications and services designed to be installed using the Dashboard. However, you cannot run the Drobo app on Drobo Mini, Drobo, Drobo 5C, and Drobo 5D/5Dt/5D3 devices.
For Synology, Synology Package Center provides several functions. They include Backup, Multimedia, Business, Utilities, Security, Productivity, Developer Tools, and Administration Tools. Your Synology can act as a DNS, proxy, or VPN server, and you can install antivirus software to scan your data regularly.
In this aspect, Synology is better than Drobo.
Drobo vs Synology: Capacity
The third aspect of Drobo vs Synology is capacity.
Both Synology and Drobo offer a variety of models with varying numbers and capacities. Drobo's 5C, 5D3, and 5N2 can accommodate up to 5 HDDs. Synology's scope is wider. Synology supports 2 to 24 (some models can expand up to 72 disks) HDD, SSD, and SAS, and it also supports m2 SSD for improved disk read/write performance. The maximum single volume size is 108 TB. It supports different RAID types and file systems like EXT4, EXT3, FAT, NTFS, etc.
Thus, Synology provides more capacity than Drobo.
Drobo vs Synology: Performance
The fourth aspect of Synology vs Drobo is performance. The performance of a NAS device depends on a variety of factors, from the type of disks and RAID used to the network protocol, network speed as well as the specifications of the enclosure.
Drobo features a 7200RPM drive and SSD buffer. Synology runs slower than 5400RPM drives. Even with the slower drives, Synology's benchmarks were about 10 percent faster than the Drobo.
When it comes to the performance and reliability of a NAS device, a key factor is the RAID version used. Both Synology and Drobo support various RAID configurations, but they also have their proprietary RAID technology.
Synology Hybrid RAID (SHR) manages the storage space of disks as smaller chunks. This maximizes available storage for redundancy while ensuring that minimal space is wasted in arrays with unequal disks. SHR typically provides one disk fault tolerance, while SHR-2 can survive up to two disk failures. This makes SHR excellent in terms of scalability.
Drobo focuses on getting rid of the limitations of traditional RAID and simplifying RAID implementation with BeyondRAID. BeyondRAID writes data at the block level and implements the best RAID protection algorithm based on the available data at any time. RAID management is also easily accessible, as you can simply insert new disks or replace existing ones.
Thus, in the aspect of performance, the winner is Synology.
Drobo vs Synology: Product Selection
Drobo currently has two 2 DAS devices (5C and 5D3), one SAN (B810i), and two NAS devices (5N2 and B810n) in its lineup.
As for Synology, it has expanded into multiple fields, from cameras and surveillance to routers and cloud solutions. Synology calls its NAS devices Disk Stations (DS). The last two digits in the name indicate the year of release, while the remaining digits in the middle indicate how many disks it can hold.
For Synology vs Drobo in product selection, Synology provides more products.
Drobo vs Synology: Cloud Connectivity
Both Synology and Drobo offer some level of file remote access and cloud connectivity.
Synology can back up and sync to popular cloud storage, including Google, AWS, Amazon Cloud Drive, Dropbox, and OneDrive. Drobo cannot access these services. It has its own cloud access program, but it's a simple offering compared to full-fledged public clouds.
If you want to use cloud storage with a NAS drive, the winner is Synology.
Drobo vs Synology: Internet Recycle Bin
For Drobo, if you delete a file from a network share, it disappears and you cannot be retrieved since there is no recycle bin. This is how shares normally work on AFS or SMB, so it's not necessarily Drobo's fault.
However, Synology has implemented a network recycle bin, so if you delete a file from Synology via a mounted share, Synology will move it to the recycle bin, where you can restore it later.
It's not hard to see the winner is Synology.
Drobo vs Synology: Visible Status Indicator
One of Drobo's standout features is how it integrates drive status into the case design. Each drive is represented by a large oval LED. If the ellipse is green, it means its status is well. If it's red, it means it has a problem. Synology's RAID also has LEDs to indicate status, but they are smaller.
The Drobo also has a row of smaller LEDs on the bottom of the drive. When the capacity is full, the LED will light up. While Synology doesn't.
In a word, Drobo is more convenient for you to know the status of your NAS device.
Drobo vs Synology: Warranty and Support
All Drobo NAS devices come with a 2-year standard DroboCare warranty (email support), including Premium Support for the first 90 days. You can also purchase Premium DroboCare and extend your support to 5 years. DroboCare must be activated within 30 days of purchasing DroboCare.
Synology offers a standard 3-year warranty on all products. You can extend it beyond 2 years with an extended warranty. You must register on your Synology Account within 30 days of purchase. Currently, Synology does not provide an extended warranty in the US.
Thus, the winner is Drobo.
Which One to Choose
We have introduced the differences between Drobo and Synology. You may wonder if you should choose Synology or Drobo. Synology is the clear winner with more features. But which one to choose depends on your needs and requirements at the time.
Back up Data to Your NAS
Whether you choose Drobo or Synology, your purpose is to back up files to it. To back up files to your NAS, the professional backup software – MiniTool ShadoMaler is a great choice. It is a program that can be used to back up the operating system, disk, partition, file, and folder. Besides, it is a user-friendly program to protect your computer and data.
MiniTool ShadowMaker supports almost all storage devices that can be recognized by Windows, such as HDD, SSD, USB external disks, Hardware RAID, Network Attached Storage (NAS), Home File Server, and so on.
This backup software offers a Trial Edition that allows a 30-day free trial for all backup features. Now you can download and try MiniTool ShadowMaker to back up your PC.
Now, let's see how to back up data to Drobo or Synology with MiniTool ShadowMaker.
Step 1: Launch MiniTool ShadowMaker and click Keep Trial to continue.
Step 2: Go to the Backup page. Click the SOURCE module to choose the backup source. Choose Folders and Files and choose the files you want to back up and click OK.
Step 3: Click the DESTINATION module to continue. Just go to the Shared tab. Click the Add button. Type the IP address of the NAS device, user name, and password. Then, click OK.
Step 4: Click Back Up Now to start the process or click Back Up Later to delay the backup. And you can restart the delayed backup task in the Manage window.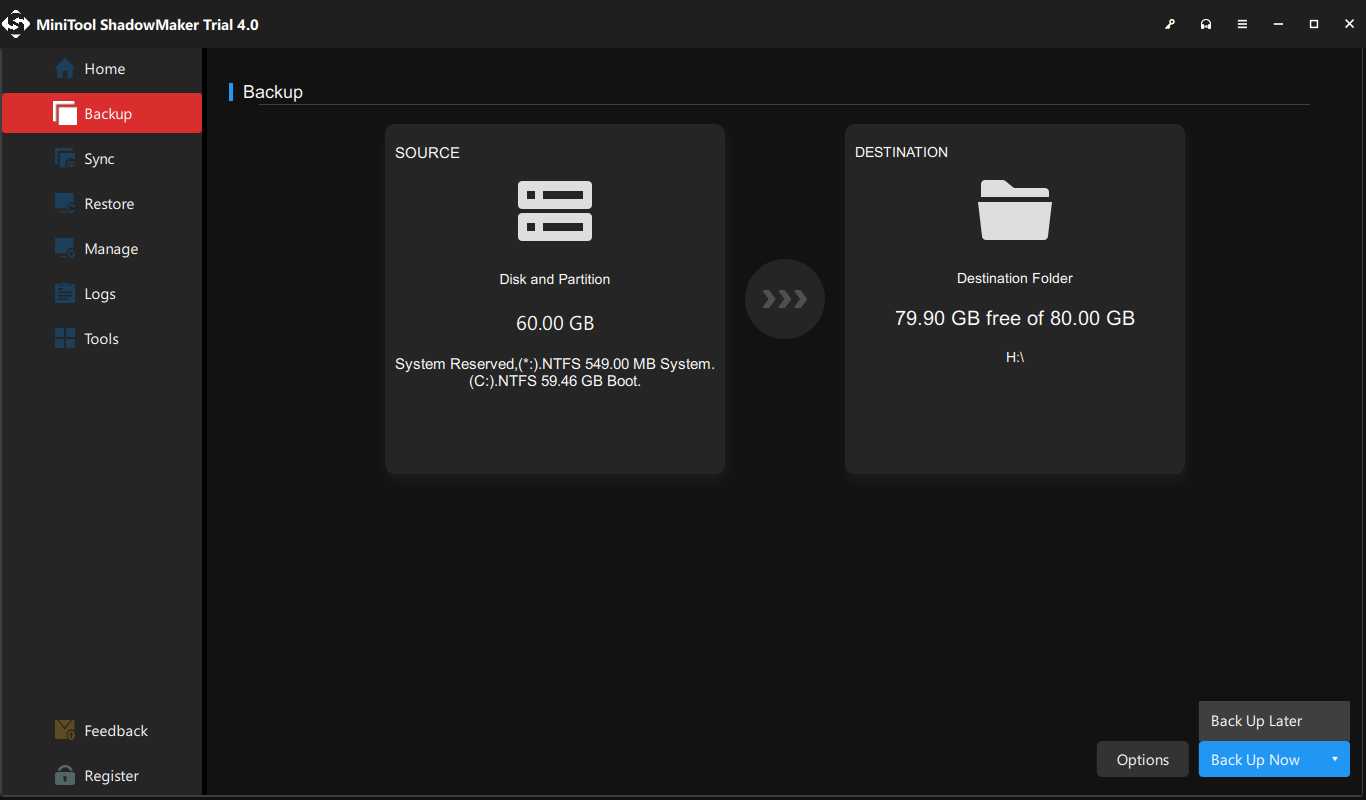 Bottom Line
In this post, we show you some information on Drobo vs Synology in 9 aspects and you can know which one to choose. Besides, MniTool ShadowMaker can back up your important data to keep your PC safe.
If you have any other ideas or questions when using our software, don't hesitate to tell us by leaving a comment below or contacting our support team via the email [email protected]. We will reply to you as soon as possible.