Idp.alexa.53 is a detection name you might have ever seen on various anti-malware programs, such as Avast. What does that mean? Is it dangerous? How to protect your computer from idp.alexa.53? There are some solutions to resolve your concerns in this article on MiniTool Website.
What Is idp.alexa.53?
what is idp.alexa.53?
The idp.alexa.53 message will occur on many anti-virus programs that tell you something has been blocked because it was infected with idp.alexa.53. That can happen when users are trying to download or update one program.
For that, you might have certain it as a virus or malware but those anti-virus programs can't totally exclude false positives and idp.alexa.53 could be one of them.
When you see this idp.alexa.53 malware detection message from anti-virus programs, there are two possibilities – one is that your antivirus has detected a suspiciously threatening virus or malware in your system, and the other one is that the file in your system is suspicious but might be non-harmful.
You don't need to panic when you find this idp.alexa.53 virus notification but you'd better scan for viruses in your computer and exclude some suspicious programs because your PC is still at risk of being attacked by a malicious virus.
As for these two conditions, you can check if your computer has some signals of being attacked as follows:
Internet connection fluctuates. If you are undergoing an unstable Internet connection that often forces you to reconnect, you can doubt if the malware affects the performance.
A significant slowdown of the computer. Virus attacks will make your computer slow down and even suddenly shut down.
Unwanted installation of bogus software appears on your computer without your authority.
Excessive use of RAM with no reason lags your operation.
Your essential files might be lost or stolen, especially your crucial system files.
Is idp.alexa.53 a Virus?
As we mentioned above, idp.alexa.53 can be a virus or malware. This is a signal to remind you of attention and you need to raise your consciousness about your recent online activities.
If it is a virus or malware, you might have ever opened a link of unknown origin via an e-mail attachment, such as some bank documents, a ticket for a flight, and others, or downloaded a file from a compromised or dangerous site, with the virus pretending to be an installer for a game or program.
You need to recall your recent activities to see if you have the above two moves. If you indeed did that, you need to follow the next part to remove idp.alexa.53 from Windows.
After idp.alexa.53 infiltrates into your computer, it will create some virus-implanted files with a fake name to avoid your notice, such as Install.exe, Ammsetup.tmp, Seamonkey.exe, and Setup.exe.
Once its camouflage success, it will start installing more other viruses or malware in your computer and perform spyware activities to obtain system information or record video and audio using your microphone and camera. Therefore, it is necessary to remove idp.alexa.53 virus.
How to Remove idp.alexa.53?
Because it is hard to identify the specific location of idp.alexa.53, there are different parts to remove idp.alexa.53 in different locations. You can choose the method according to your situation.
Part 1: Get into Safe Mode
First of all, you need to get into Safe Mode so that other unnecessary interruptions can be excluded. Besides, some programs need to be uninstalled and the worst method is to directly drag them into your Recycle Bin. To completely delete them, please follow the next steps.
Step 1: Press the Windows and R keys together and input msconfig to enter.
Step 2: Switch to the Boot tab and check the Safe boot option under Boot options. Then click Apply and OK to save your choice.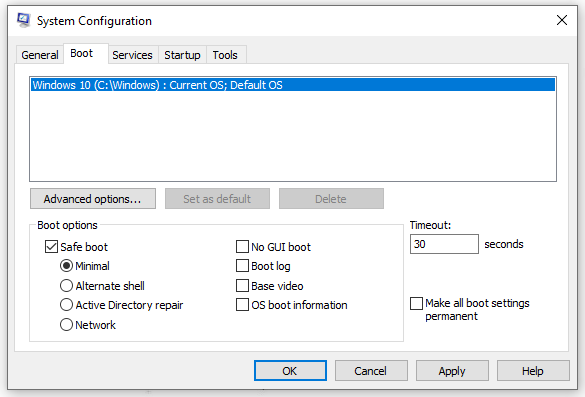 Step 3: Then you will see a System configuration message pops up, please click Restart to get into Safe Mode.
Tip: When you want to exit Safe Mode, please remember to untick the Safe Mode option.
Part 2: Uninstall Suspicious Programs
Step 1: Open your Run dialogue box as we introduced and input appwiz.cpl to enter.
Step 2: In Programs and features, you will see all programs and find the program downloaded from suspicious websites or the one that may be behind idp.alexa.53.
Step 3: When locating it, please right-click on it and choose Uninstall from the drop-down menu.
Part 3: Check for Any Strange Processes
Then after finishing the uninstallation, you can come to check if any strange processes exist. To find out which process is virus-implanted, you can pay attention to those processes that are consuming the largest amounts of RAM and CPU. At the same, those with strange names should trigger your attention.
Step 1: Open your Task Manager by pressing Ctrl + Shift + Esc keys on your keyboard together and go to the Processes tab.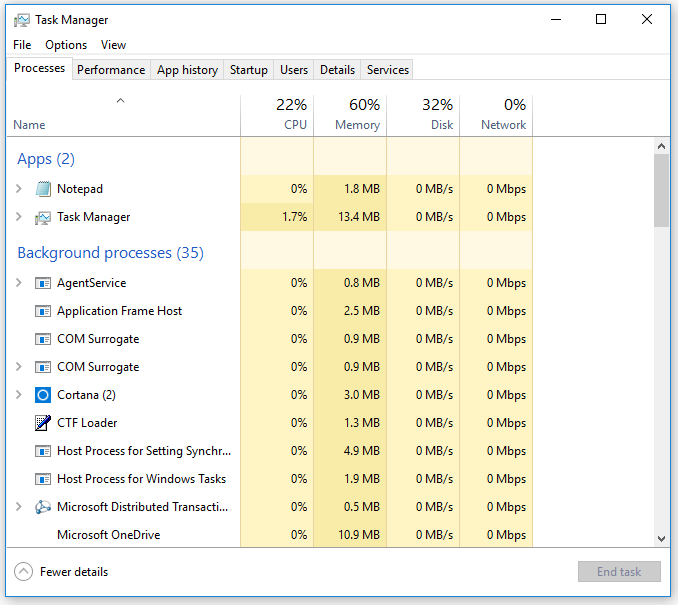 Step 3: Notice the processes that consume too much CPU and memory and right-click on the process to choose Search online.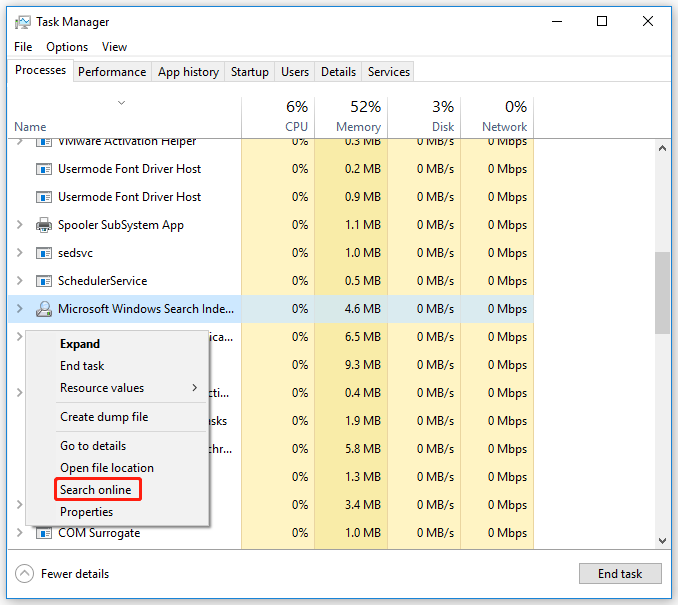 Then you can see those related articles and posts about this process from other users or from researchers posted on security forums, which can be helpful to identify if it is harmful.
Step 4: After checking if it is a virus, you can go back to Task Manager and right-click on a process to choose Open file location.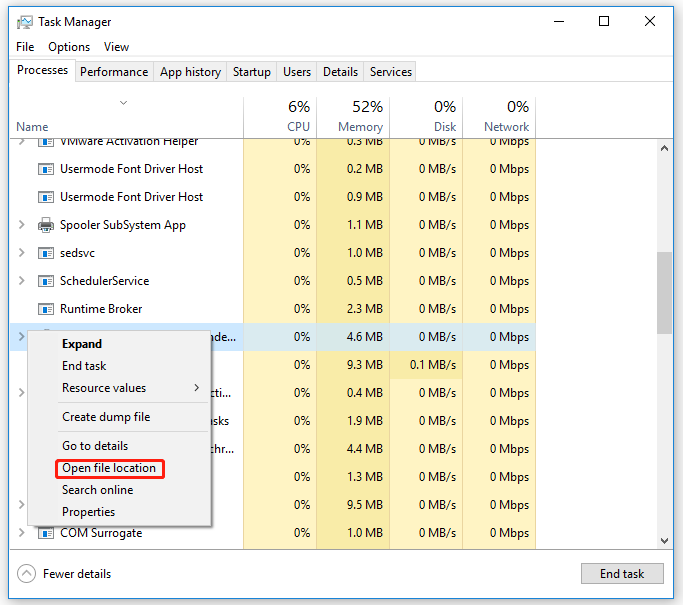 Then your File Explorer will pop out to show you the file location. You can follow this: Start (the Windows icon) > Settings > Update & Security > Windows Security > Virus & threat protection and choose Scan options to choose Custom scan in this way your specific file can be fully scanned.
Of course, if you have other third-party antivirus, you can scan the virus with it.
Step 5: If the scan result tells you that the process is malware, you can right-click on the process in Task Manager and choose End task.
Besides, you need to clear all its related files according to its file location.
Part 4: Clean All Registries Related to idp.alexa.53
In this step, you need to delete any unwanted items related to idp.alexa.53 from the Registry. Any left idp.alexa.53 data will make all the previous work wasted.
But be careful, Registry Editor is an important tool in Windows and any little mistake will make severe results, so you'd better back up your registry first. To back up your registry, please refer to these articles:
Step 1: Open the Run dialogue box and input regedit to enter.
Step 2: Click Edit in the top bar and choose Find….
Step 3: In the Find box, input idp.alexa.53 and click Find Next.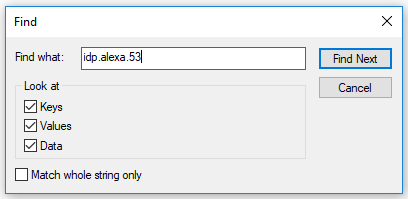 If any idp.alexa.53 related registries get found, please right-click on it and choose Delete. In case anyone is left, please repeat the step until no other idp.alexa.53 related registries appear.
Then if you have found any malicious programs in part 2 and part 3, please search for their related registries as step 3 and delete them.
After that, you need to open the following locations from the left panel of the Registry Editor to check them for items with suspicious names and delete them.
HKEY_CURRENT_USER/SOFTWARE/Microsoft/Windows/CurrentVersion/Run
HKEY_CURRENT_USER/SOFTWARE/Microsoft/Windows/CurrentVersion/RunOnce
HKEY_LOCAL_MACHINE/SOFTWARE/Microsoft/Windows/CurrentVersion/Run
HKEY_LOCAL_MACHINE/SOFTWARE/Microsoft/Windows/CurrentVersion/RunOnce
How to Protect Your PC from idp.alexa.53?
After the whole process, your idp.alexa.53 virus has been removed completely but you still need to level up data security. Any virus attack can lead to some irredeemable results and the only way to avoid that is to back up your data, even system.
You may think it is safe enough to have antivirus programs in your computer that can defend against all cyber-attacks, but actually, attackers never stop developing new viruses or malware to break through your firewall, and those antivirus programs need to keep updating their virus database to expand the range of virus identification.
That's why we always stress the importance to keep your antivirus program up to date. Some of them can update automatically, if yours is not, please manually do it.
Besides, apart from putting your hope on some antivirus program, you'd better make a backup plan. MiniTool ShadowMaker can do its best for keeping your data from loss.
There are some major functions in MiniTool ShadowMaker introduced here and more features are waiting for your exploration.
Backup – You can back up your system, partitions, disks, files, and folders. Besides, you can perform a NAS backup and remote backup. To improve your backup experience, you can also configure your backup schedule and scheme.
Related article: 3 Types of Backup: Full, Incremental, Differential [Clone Disk]
Sync – File Sync allows you to synchronize files/folders to two or more locations, such as an external hard drive, internal hard drive, removable USB flash drive, network and NAS.
Related article: 5 Useful Solutions to Sync Files Among Multiple Computers
Disk Clone – You can clone basic disk and dynamic disk. Besides, if you want to have a copy of system, you can directly clone your system disk.
Related article: Clone OS from HDD to SSD with 2 Powerful SSD Cloning Software
To perform a backup, you need to download and install the program and get a free trial for 30 days.
Step 1: Open the program, click Keep Trial, and go to the Backup tab to choose your backup source and destination.
Step 2: Click Back Up Now or Back Up Later to perform the order. You will see the task in the Manage tab.
What is idp.alexa.53? Is it dangerous? You can identify that after reading this article. if you like this post, you can share it on Twitter.Click to Tweet
Bottom Line:
To know more about idp.alexa.53, this article can be helpful. It has introduced what it is and its potential dangers. To remove idp.alexa.53 completely, there are some methodsand suggestions for you, and for better data protection, it is recommended to back up your data.
If you have encountered any issues when using MiniTool ShadowMaker, you can leave a message in the following comment zone and we will reply as soon as possible. If you need any help when using MiniTool software, you may contact us via [email protected].
idp.alexa.53 FAQ
What is IDP generic command line detection?
IDP generic means that the detection was detected by an Identity Protection detection component of your antivirus and it is a generalized file that got detected. Your files will be flagged by this whenever the file does something identical to malware that triggers the flag.
Can Steam games have viruses?
Do Steam games have viruses? Of course not. The games that you download come directly from the servers of Steam and they directly store games provided by the developer company. If you face viruses in Steam games, you may have installed a game from a 3rd party.
What does the MRT command do?
The mrt.exe is the Windows Malicious Software Removal Tool. This handy app made by Microsoft will check your PC for malware, then remove it. The app is freely distributed and built into most Windows versions.
Is MRT safe to use?
The Malicious Software Removal Tool is built into the Windows operating system by Microsoft. It is safe and won't cause any problems on your computer. However, if mrt.exe is always active when you check the Task Manager, a virus could be camouflaged as the Malicious Software Removal Tool.