Necessary to Clone Hard Drive to Silicon Power SSD
Silicon Power, also known as SP, is a famous manufacturer that produces many products including portable hard drives, USB flash drives, card readers, SSDs, DRAM modules, USB adapters, etc. In terms of SP SSDs, it offers multiple series like PCIe SSDs, 2.5″ SATA III SSDs, M.2 SATA III SSDs, and mSATA SATA III SSDs, which could immensely satisfy users' needs.
If you purchase an SSD from Silicon Power, you may want to migrate the system disk to this SSD for disk upgrade so that you can run your PC at a fast speed or get a larger disk space. Besides, you may choose to copy your system disk to the SSD for a disk backup to avoid data loss in case of hard drive failure.
So, how can you clone HDD to an SP SSD in Windows 11/10? It is an easy thing and you can find detailed instructions with professional Silicon Power cloning software.
Professional Silicon Power Disk Cloning Software
Echo System Cloning Software
On the official website of SP, you can find a piece of cloning software called NTI Echo. This program is a product of the cooperation between SP and NTI. It is designed for users who want to replace a hard drive with an SSD to upgrade computers.
Echo System Cloning Software is very smart since it can exactly copy the whole content from the PC's HDD to an SSD. Besides, this software can automatically resize the target partitions if necessary.
But according to the official's statement, this cloning software doesn't support RAID, dynamic disks, and Microsoft Surface devices.
To get this SSD upgrade kit or tool, visit https://www.silicon-power.com/web/echo/index, and follow the given instructions to verify your email address, register your SSD and download the Echo software. Next, open this Silicon Power cloning software for disk cloning.
When using this disk cloning software, you can see it offers three cloning methods:
Dynamic Resize: this helps automatically resize the original disk's partitions to match the new disk's storage capacity.
One to One: this can keep the partition structure and size of the original hard drive.
User Defined: this allows you to manually adjust the partition size on the new drive.
After choosing a cloning mode, the source and target disk, you can start the cloning process.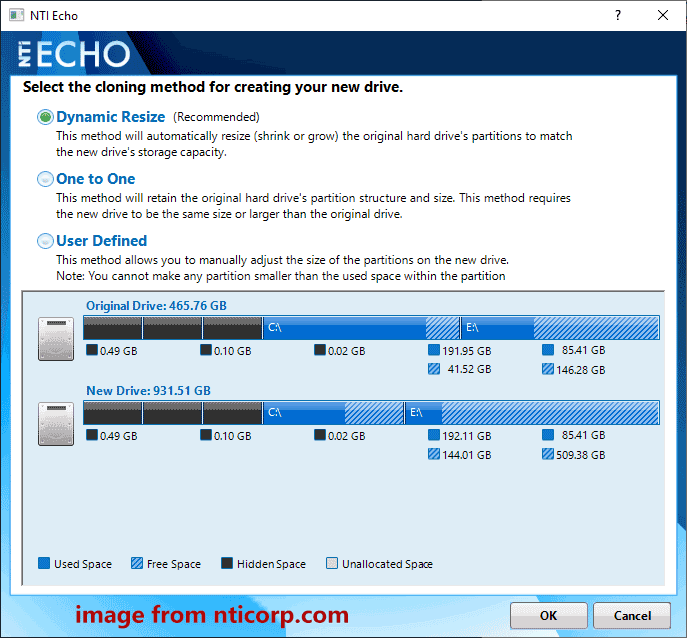 That's the most information about Echo cloning software. In conclusion, it has many limitations. Besides, some common issues are often reported, for example, Echo does not run although it is installed with no errors, Echo gets stuck in a reboot loop in its cloning mode, etc.
Considering these factors, we advise that you should use an alternative to NTI Echo. And here, we use MiniTool ShadowMaker or MiniTool Partition Wizard.
MiniTool ShadowMaker
MiniTool ShadowMaker is a professional Windows backup software that supports file, folder, system, partition, and disk backup & recovery. Besides, it can be a good Silicon Power cloning software. With its Clone Disk feature, you can easily migrate everything including system files, system settings, applications, registry, data, etc. from one disk to another.
A system disk and data disk can be cloned. Besides, a dynamic with only simple volumes can also be cloned. SSDs from any brand including Silicon Power, WD, Toshiba, Samsung, Kingston, and more can be supported as long as they are detected by your computer. It is free to use for cloning your hard drive.
Now, click the following button to get this Silicon Power disk cloning software and then easily install it on your Windows 11/10/8/7 PC to have a shot.
MiniTool ShadowMaker TrialClick to Download100%Clean & Safe
Step 1: Open MiniTool ShadowMaker and click Keep Trial to start the trial.
Step 2: Navigate to the Tools tab and click Clone Disk.
Step 3: In the popup, select your original hard drive as the source disk and specify the SP SSD as the target disk.
Step 4: After the selection, start the disk cloning. Based on the data size, the cloning time is uncertain.
After finishing disk cloning, shut down your PC, remove the HDD, and put the SSD into its original place. Then, you can start the system from the SSD at a quick speed.
In conclusion, the user interface of MiniTool ShadowMaker is easy-to-use and the steps to clone a hard drive are easy. But you may have noted that this software only supports disk cloning currently and there are no options for you to decide whether to adjust the partition size during the cloning process.
If you are looking for one, MiniTool Partition Wizard could be a good option.
Further Reading: MiniTool Partition Wizard
This Silicon Power cloning software allows you to clone a partition and disk. In terms of disk cloning, you can only migrate OS to an SSD and clone the entire system disk/data disk to another hard drive. Of course, any SSDs are supported by this software. During disk cloning, you can choose to fit partitions to the entire disk or copy partitions without resizing. This software is paid when handling a system disk for cloning.
MiniTool Partition Wizard FreeClick to Download100%Clean & Safe
To know more details about this software, refer to this post – How to Clone a Hard Drive to SSD in Windows 11/10/8/7.
Final Words
Does Silicon Power SSD come with cloning software? What Silicon Power cloning software can be used for SP SSD upgrade? After reading this post, you know much information. Just get one tool based on your needs and use it to clone your HDD to SSD for disk upgrade or backup.