This article from MiniTool Technology is going to introduce an SSD brand – Silicon Power. It will list all the SSDs this manufacturer produces and mainly shows you 6 kinds. This review will also teach you how to upgrade from current storage to any new Silicon Power SSD you choose.
What Is Silicon Power SSD?
Silicon Power SSD is a kind of solid state drive developed by Silicon Power, a company of information technology, storage devices and electronics.
Silicon Power (SP), whose full name is Silicon Power Computer & Communications Incorporated, is an international brand corporation. It is a Taiwanese computer hardware manufacturer producing digital memory and storage solutions for both consumer and professional usage, including power bank, wall charger, flash memory cards, USB flash drives, portable hard disks, SSDs, DRAM (dynamic random-access memory) modules, card readers, USB adapters, as well as other industrial-grade computer products.
Types of Silicon Power SSD
There are all four types of SP SSD and each type includes several kinds. They are listed below.
1. Silicon Power SATA III 2.5" SSDs
Slim S-series: Slim S85, Slim S80, Slim S70, Slim S60, Slim S57, Slim S56, Slim S55, Slim S60 Upgrade Kit, and Slim S55 Upgrade Kit.
Ace A-series: Ace A56 and Ace A55.
Velox V-series: Velox V85, Velox V80, Velox V70, Velox V60, and Velox V55.
2. Silicon Power PCIe M.2 SSDs
PCIe Gen4x4 US70
PCIe Gen3x4 US70
PCIe Gen3x4 P34A80
PCIe Gen3x4 P34A60
PCIe Gen3x2 P32A80
3. Silicon Power SATA III M.2 SSDs
2 2280 A55
2 2280 M57
2 2280 M56
2 2280 M55
2 2280 M10
4. Silicon Power SATA III mSATA SSDs
Next, it will introduce you with some masterpieces of Silicon Power SSD.
Silicon Power Slim S85 (480GB/960GB) – Gaming Grade SSD
This SP SSD adopts high-quality synchronous NAND flash and SATA III 6 Gb/s interface to provide Xtreme-fast speed, low latency, and high stability. A Silicon Power 480GB SSD's sequential read speed can reach up to CDM 530 MB/s, and its sequential write speed can reach up to CDM 510 MB/s, almost reach the speed limits of SATA III.
With the above ultra-fast speed, the Slim S85 can shorten the time for system boot, application loading as well as file execution. Moreover, it also offers 4K random read (95K IOPS) and write (87K IOPS), enabling speedy responsiveness for multitasking and graphic loading. This is especially useful for gamers, video editors, content creators, etc.
Furthermore, the high-quality synchronous NAND flash supports a 3K program/erase (P/E) cycle, which brings higher durability and a longer lifespan than other ordinary NAND flash of only 1 – 2.5K P/E cycle. The Wear Leveling technology can equalize the damage of all blocks to avoid large portion damage in few blocks that can cause the whole disk unusable. So, this technology effectively prolongs the life of Silicon Power SSD.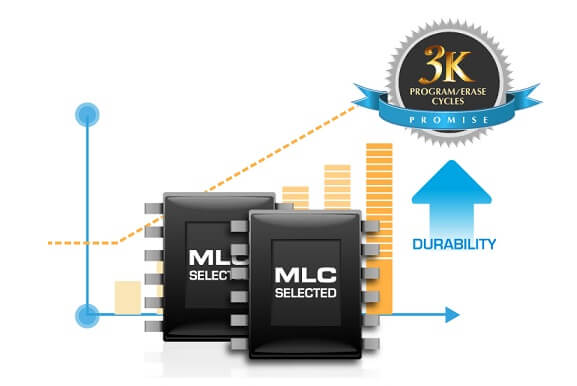 The bad block management (BBM) mechanism can detect and mark bad blocks to prevent storing data in those bad blocks and eliminate access errors. Even if errors appear in new blocks during erase, it can move the data in the new blocks to other good blocks to avoid data loss due to erasing failure.
Finally, Slim S85 supports S.M.A.R.T (self-monitoring analysis, and reporting technology), TRIM command, garbage collection, NCQ (native command queuing), RAID and ECC (error-correcting code) technology. It features low power consumption, incredible cooling system, shockproof, vibration-proof, and portable physical shape. S85 SSD has an MTBF (mean time between failures) of 2 million hours.
Related article: Do SSD Drives Fail: A Complete Analysis on SSD Technology
Silicon Power Ace A56 – Consumer Grade SSD
With the high-level 3D NAND flash and ultra-fast SATA III 6 Gb/s transfer interface, the Silicon Power Ace A56 SSD can deal with digital data at a sequential read speed of up to 560 MB/s and sequential write speed of up to 530 MB/s. It can be as fast as just a wink to boot up your system, load your apps, or execute your mission.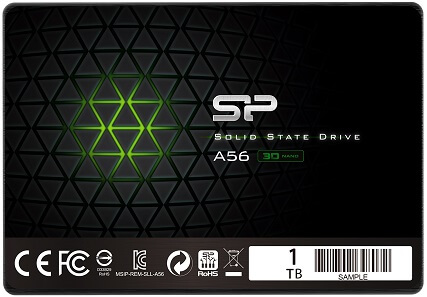 This Ace A56 adopts the SLC cache technology with a new caching architecture that combines both SLC and TLC. This technology makes all data to be written firstly in the SLC section before being sequentially copied to the TLC block, allowing for a higher peak writing performance.
Tip: SLC, single-level cell, one bit per cell. TLC, triple-level cell, three bist per cell.
Relatively, the auto-copy technology of A56 automatically copies operations from the SLC cache to the TLC blocks inside the NAND without the controller or DDR. Therefore, it enables much higher efficiency by reducing the workload of the controller and DRAM.
This Silicon Power SSD supports multiple technologies including BBM, TRIM, S.M.A.R.T, ECC, RAID, NCQ, garbage collection, etc. It also promises higher data transmission safety. As an SSD, without moving parts unlike the traditional hard disk drive (HDD), Ace A56 is shock-proof and vibration-proof, also noiseless, lightweight and portable. Moreover, it provides 5 choices of capacity: 64GB, 128GB, 256GB, 512GB, and 1TB.
Silicon Power Velox V85 SSD – Game Grade
With high-quality synchronous NAND flash and SATA III 6Gb/s interface also equipped, this kind of SSD generates an incredible performance of lightning-fast speed, high reliability, and low latency. Thus, its users are able to improve their game experience with smoother processing and within-second response.
Silicon Power Velox V85 has the following features:
Capacity: 480GB/960GB
Maximum speed (480GB): Sequential read 560MB/s, write 540MB/s; random read 530MB/s, write 510MB/s.
MTBF: 2,000,000 hours.
Slim: 7mm design suitable for Ultrabooks and Ultra-slim notebooks; extra 3.5" bracket for devices with 9.5mm bays
Supported technologies: TRIM, Garbage Collection, NCQ, RAID, ECC, S.M.A.R.T.
Vibration- and shock-proof, power-saving, noiseless, and durable.
Silicon Power PCIe Gen4x4 US70 SSD
This typed of SSDs make use of the newest PCI-e 4.0 interface, 3D NAND flash memory, and NVMe 1.3 to offers its users the best solid-state drive performance it can. And, game players, computer overclockers, high-end business users, as well as professionals are fond of them very much.
With an incredible read and write speed respectively up to 5,000 MB/s and 4,400 MB/s, the US70 SP SSD is about 10 times faster than traditional SATA III SSDs. Providing advanced features that are competitively relevant in the future, it is also backward compatible with PCI-E 3.0.
Supported with both 1TB and 2TB storage space, this Silicon Power SSD puts its unmatched performance to good usage. Its TBW (total bytes written) is absolutely increased by the 3D NAND flash technology with the 1TB version is 1,800TB and 3,600TB for the 2TB version. Together with the NVMe 1.3 skill, the lifespan and other performance of the SSD are optimized.
Other high technologies SP US70 SSD supports:
Cache: SLC and DRAM
Safety: LDPC (low density parity check) coding, ECC algorithm, E2E (end-to-end) data protection, TRIM, SMART, BBM…
Wear leveling: Equalize the wear of each NANAD flash block to avoid data damage or loss caused by excess use.
Over-provision (OP): Increase the reserved space of the SSD and reduce NAND flash wear to ensure a reliable and stable drive as well as an optimal lifespan.
2 2280 form factor: Compatible with laptops, small PCs, Ultrabooks, etc.
Silicon Power M.2 2280 A55 SSD
As an internal SSD, A55 is extremely compact and lightweight for most devices. With M.2 2280 form factor (NGFF – next negation form factor), that is 80x22x3.5 mm, it can perfectly fit into small devices like ultrabooks, tablets, and mini PCs.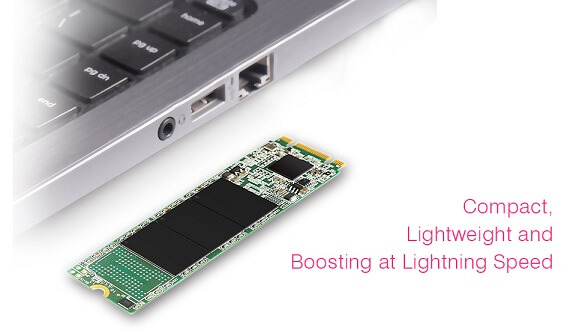 Also, this kind of SSD is equipped with advanced synchronous NAND flash memory and SATA III 6GB/s interface to provide ultra-fast data transfer rate with read speed up to 560MB/s and write up to 530MB/s. Its intelligent SLC cache tech will overclock the writing performance to its best.
Moreover, SP A55 SSD supports the Intel® Smart Response Technology (ISRT), which allows flexible computer configuration for improved overall performance and efficiency. In detail, it automatically identifies and stores the most frequently used programs into the SSD while leaving the hard disk full of available storage space. So, you are recommended to use a combination of a small and a big SSD.
Silicon Power M10 mSATA SDD
This SP SSD is specially designed with an instant performance for Ultrabooks. Featuring a thin yet compact form factor, it is 8 times smaller than a traditional 2.5" SSD. So, this M10 mSATA solid-state drive is suitable for upgrading tiny-and-light mobile devices including Ultrabooks and notebooks.
Besides, the Silicon Power SSD takes advantage of a high-quality controller, NAND flash chips, and SATA III 6 Gb/s interface to serve as a boot disk. It is perfect for heavy gamers, overclockers, video editors, professional designers, etc. who have high requirements for efficiency and stability.
When it comes to stability and reliability, it is necessary to mention the security technologies this mSATA SDD owns. TRIM, NCQ, S.M.A.R.T, ECC, Wearing Leveling, BBM, and so on, all guarantee the smooth operating and data integrity of the hard drive.
Finally, SP M10 mSATA SDD provides storage of 120GB, 240GB, and 480GB, comparatively small capacities. Its sequential max read and write speed can reach up to 500mb/s and 300mb/s respectively; and its 4K random read and write rate are the same as 40K IOPS with MTBF of 1,200,000 hours.
Silicon Power SSD Software – SP Toolbox
SP Toolbox is designed for SP SSDS and other industrial flash products. It provides multiple ways to monitor hard drive conditions (used space, SSD temperature, TBW, etc.), get disk information, as well as change settings.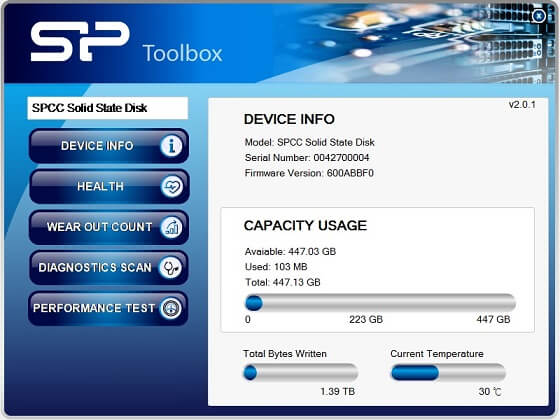 How to Upgrade to Silicon Power SSD?
Since SSD has many advantages over HDD, and after learning the benefits that SP SSDs can bring to you, you may probably want to upgrade your current HDD or SSD to one of the above Silicon Power SSDs. Then, how to upgrade? Just three steps to complete!
Backup – Attach the USB adapter to the new SSD and connect it to your computer. Use an SSD clone software to back up your operating system to the SSD.
Replacement – Disassemble and replace the old disk with the new drive.
Installation – Install the new SSD along with the USB adapter into the enclosure. Finish upgrading!
Just as mentioned in the above description, you should rely on a professional and reliable program to do the disk clone. And, here MiniTool ShadowMaker is recommended for its high-quality. Before starting the cloning work, you need to connect your new SP SSD to your machine like what is said above. Next, download and install ShadowMaker on your current hard disk. Then, just follow the below guide.
MiniTool ShadowMaker TrialClick to Download100%Clean & Safe
Step 1. Launch the software and click Keep Trial on its first screen.
Step2. In the next window, switch to Tools tab and select Clone Disk there.
Step 3. In the pop-up window, click The Source Disk icon and choose your current system drive in the second popup. Then, click Finish to confirm your choice.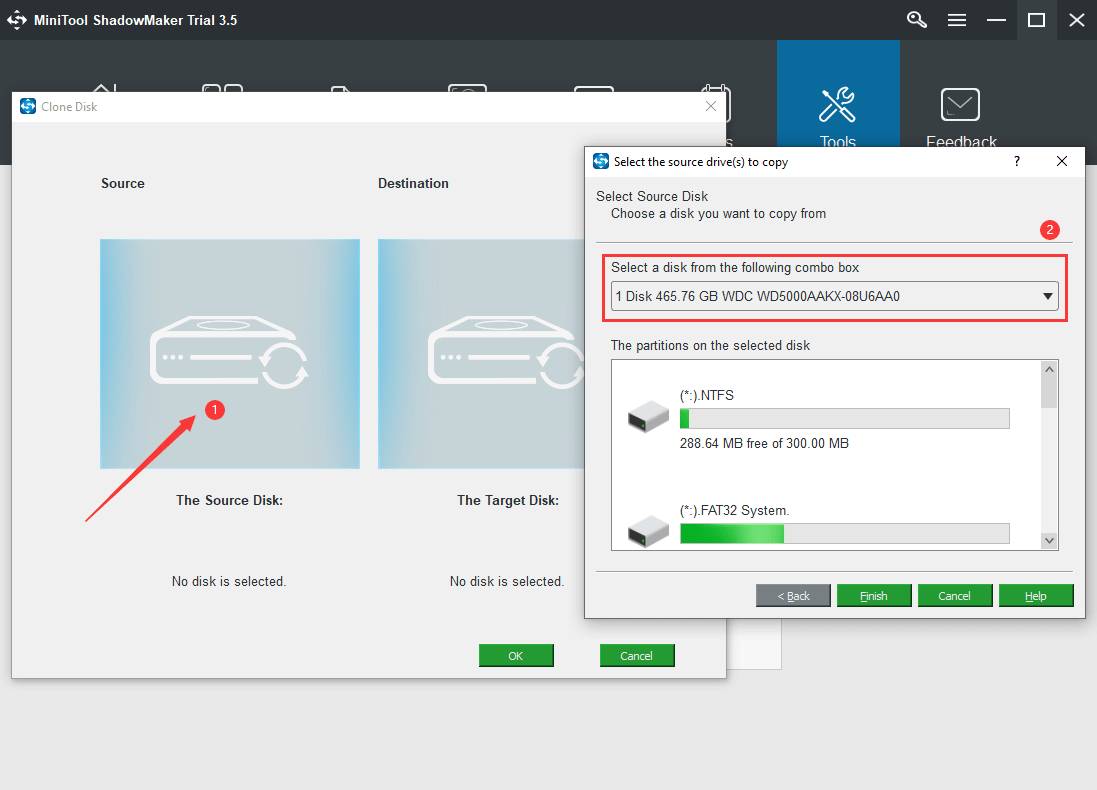 Step 4. Click The Target Disk icon to select the new Silicon Power SSD as the destination of the disk cloning. Here, a Silicon Power 1TB SSD is chosen.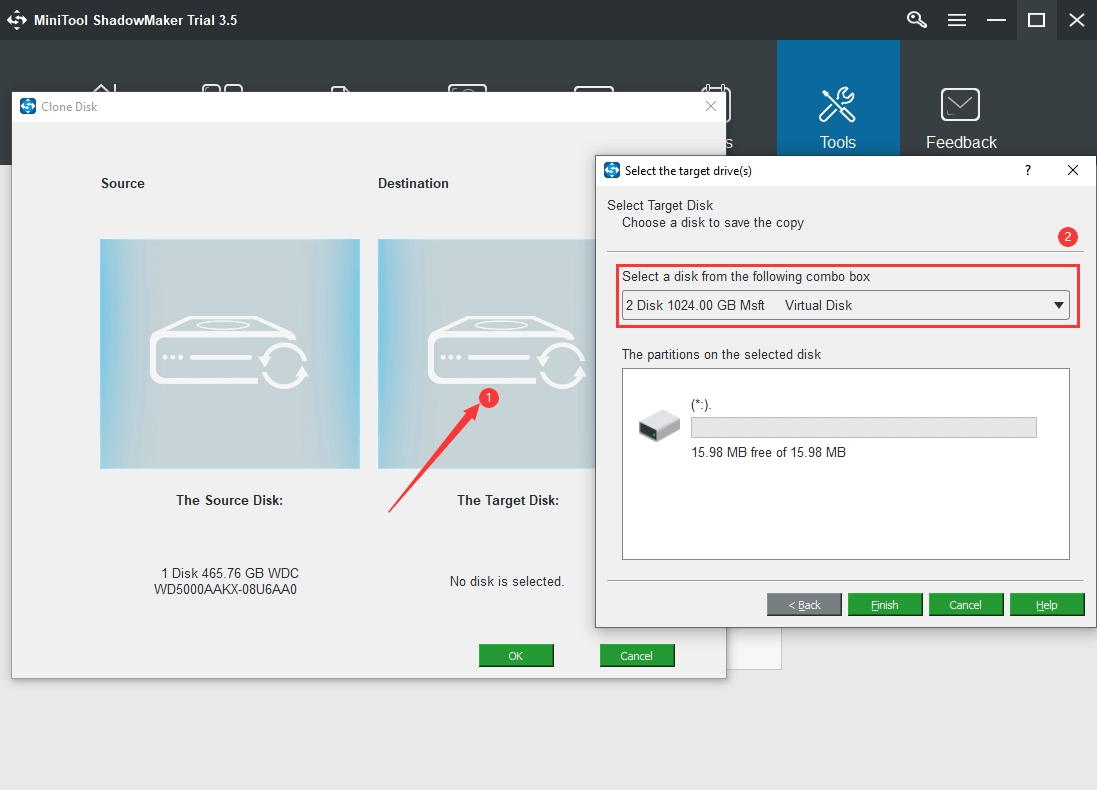 Step 5. Click OK to trigger the clone task. It will prompt a message reminding that "data on the target disk will be destroyed". Just click Yes to continue.
Step 6. Then, it will start to clone your system and data from the original disk to the new SSD. Just take your patience and wait until it finishes. It won't take long and it all depends on how much data is going to be copied. Please DO NOT interrupt the process, otherwise, you may encounter unexpected errors and data loss.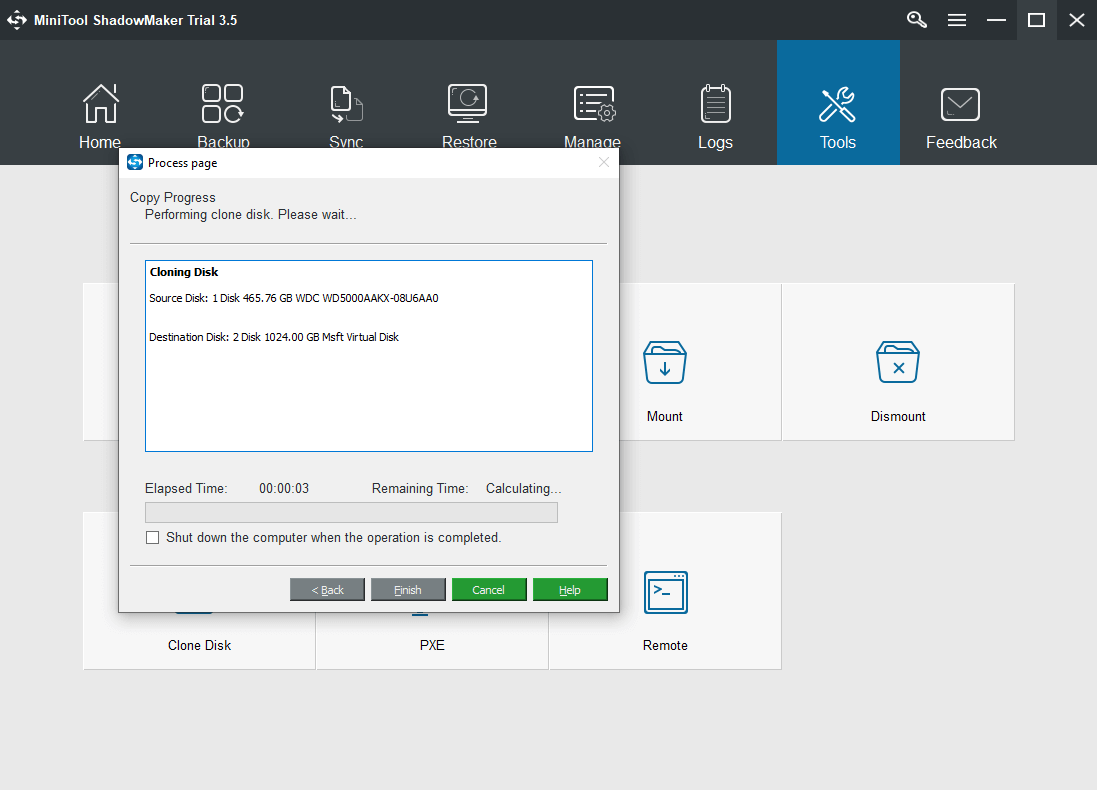 You can tick "Shut down the computer when the operation is completed" and leave it alone. Then, you can do your other businesses.
Isn't it easy! Also, MiniTool ShadowMaker is developed by a professional team and has been tested over and over again. You can set it as easy to use it. For cloning system from one disk to another, the app ensures the system bootable in the new destination and you can set it as your boot drive in the BIOS after cloning.
Besides disk clone, ShadowMaker also supports backup & restore for hard disk, OS, and file, file sync, universal restore, even backup, backup scheme, etc.
Verdict
Silicon Power SSD is a brand of solid-state drives including many kinds. They adopt different high technologies to satisfy the different needs of consumers. No matter what requirements you have, you can always find a type from SP SSDs that suits you.