Windows File History is a useful inbuilt backup tool, while sometimes it shows an error warning, "Size of backup: 0 bytes." What should you do if that happens? Take it easy and this post on MiniTool Website will give you some practical solutions about that.
Size of Backup 0 Bytes
In everyday work and life, you may probably confront with the risks of losing data hence making a backup is a good habit to prevent that. Sometimes, when you are making a backup with File History without success and it just shows "Size of backup: 0 bytes." You might attempt to fix it by using different drivers, however, it doesn't work. What's wrong with it?
Tip: Windows image backup showing 0 bytes is another common error when you try to back up something with Windows inbuilt backup feature, Backup and Restore (Windows 7).
As mentioned above, size of backup 0 bytes is a fatal issue for your data safety. Once it occurs, you need to deal with it at once in case that you will be at a loss what to do when your system crashes, hard drive fails, and so on.
How to Fix Size of Backup 0 Bytes on Windows 10?
Here, we provide you with some helpful and efficient solutions. You can solve this issue easily by following the instructions.
Fix 1: Execute the SFC Scan
SFC is short of System File Checker, a useful repairing tool in Windows. You can use it when some Windows features are not working properly or your Windows crashes. Compared with other repairing methods, SFC is the easiest and most convenient one.
Step 1. Type cmd after clicking on the magnifier icon to navigate to Command Prompt.
Step 2. Right-click Command Prompt and tap on Run as administrator.
Step 3. Copy and paste sfc /scannow in the black command window and don't forget to hit Enter.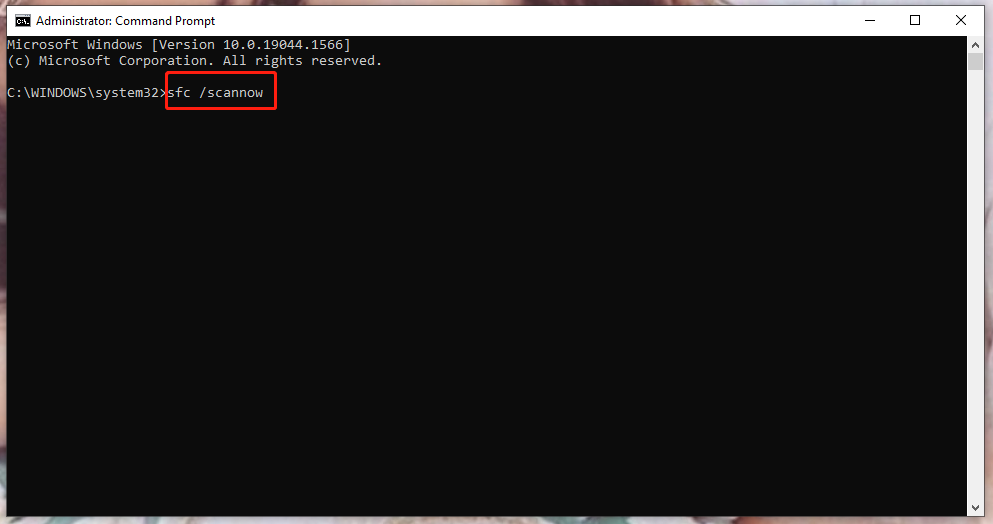 Step 4. After the scan, type Exit and hit Enter to exit this tool.
Step 5. Reboot your PC to check whether File History not backing up is fixed or not.
Tip:
Some of you may receive two error warnings - Windows Resources Protection did not find any integrity violations and Windows Resources Protection found corrupt files and repaired them. Don't worry, in this case, you can read
Quick Fix – SFC Scan Not Working (Focus on 2 Cases)
for help.
Fix 2: Use CHKDSK
In addition to disintegrated system files, size of backup 0 bytes may be caused by some hard drive errors. A glitchy or corrupted hard drive is one of the top reported computer errors. CHKDSK (Check Disk) have the ability to analyze and shield bad sectors of your hard drive automatically for you.
Step 1. Run Command Prompt as administrator.
Step 2. Copy chkdsk c: /f /r /x in the black console window and tap on Enter.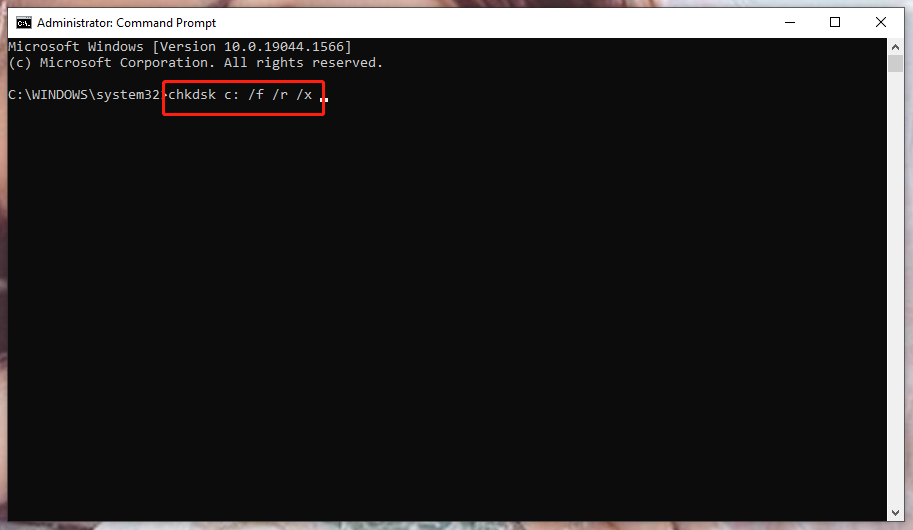 c: represents the corresponding disk you want to check and repair, so it can be replaced by other drive letters like d: or e: . It all depends on which disk you aim at.
/f represents fixing errors on a disk.
/r symbolizes finding incorrect sectors and restoring readable information.
/x means forcing the volume to unmount if necessary.
Step 3. The system will ask you whether you want to execute this command before the next startup. Type y and hit Enter.
Step 4. Exit Command Prompt by typing Exit and pressing Enter.
Step 5. Reboot your PC.
Fix 3: Format the External Storage Drive
Give a whirl to format the external storage drive if CHKDSK doesn't work. This will wipe all data and files and unless Windows backup 0 bytes still persists after formatting, you cannot replace an external drive.
To prevent the loss of data like this, you are recommended to follow several backup rules.
First, create a primary backup and save two copies of your backed up data.
Second, retain multiple offsite backup media.
Third, keep your backup to at least two different types of media.
Fix 4: Delete WindowsImageBackup Folder
As likely as not you have created a system image of your drive that is not totally the same as the backed-up data. The result will be saved in an inaccessible folder named WindowsImageBackup. You cannot access it unless you operate under administrator privileges. As a result, you can see no files but a hint of the size of backup 0 bytes.
You can delete WindowsImageBackup Folder exactly the same way as you delete any other folder on your PC. To solve Windows image backup showing 0 bytes, deleting the failed backup and creating a new image may be a good choice. 
Step 1. Open Command Prompt to give the operation some administrator privileges.
Step 2. Type the following command in the black window to check the contents of WindowsImageBackup Folder and hit Enter. You can replace H with the correct drive letter for the backup external drive.
dir /s /a H:\WindowsImageBackup
Step 3. Copy the next command and hit Enter to delete the folder.
rd /s /q H:\WindowsImageBackup
Suggestion: Back up Your PC with Third-Party Software
To avoid issues such as size of backup 0 bytes, you may be keen on a better backup method. Like a timely rain, a free backup software MiniTool ShadowMaker arises and it will exclude the difficulty and anxiety for you.
MiniTool ShadowMaker is a professional backup software that not only allows you to back up important files and folders but also back up selected partitions and even the total disk. With MiniTool backup image, your significant data can be restored immediately once there is a system crash or hard drive failure.
Back up Files
To help you avoid suffering from copying files 0 bytes on your computer, you can back up your important files by the following steps:
Step 1. Download the trial edition of MiniTool ShadowMaker and install it.
Step 2. Run it by clicking it twice.
Step 3. Click Keep Trial, and you will have a 30-day free backup experience.
Step 4. Go to the Backup feature interface by choosing Backup.
Step 5. Click on Source and choose Folders and Files. MiniTool ShadowMaker allows you to quickly choose files & folders from Users, Library and This PC. You can also choose several files at the same time. Then, click OK.
Step 6. Choose a destination path by hitting Destination. You can save your backup image files in multiple locations such as User, Library, This PC and Shared.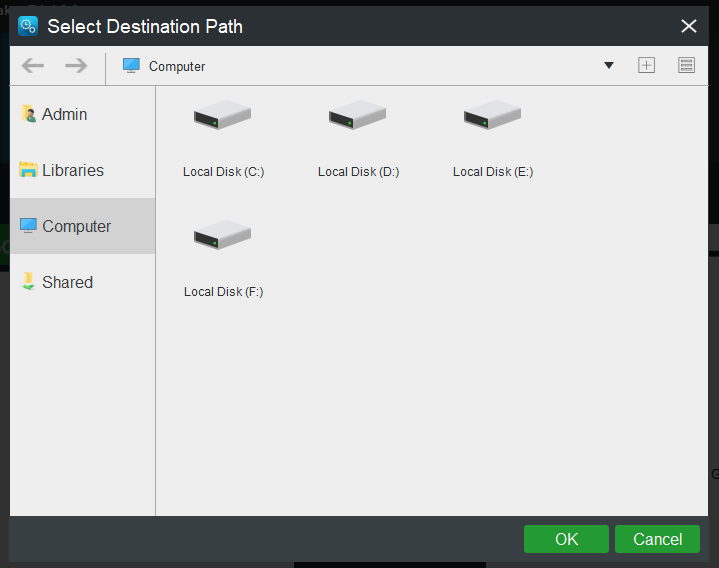 Note: You can set the advanced parameter for your backup task in Options. If you want to manage the disk space of your backup system, you can go to Schemes to decide which backup method you prefer. Move to Schedule and you can set a regular backup.
Step 7. Click on Back up Now if urgent. If not, click Back up Later. (You can find the pending backup task in the Manage interface after selecting Back up Later.
Synchronize Files
To protect your personal files, you can choose to synchronize your files besides file image backup. MiniToolShadowMaker helps you to synchronize files and folders to two or more locations, such as an internal/external hard drive, removable USB flash drive, NAS, network and so on.
Step 1. Open ShadowMaker Trial Edition and go to the Sync interface.
Step 2. In Source, you can select the files you want to sync and Click OK. Like the Backup feature, you can also choose a few folders or files at a time in Sync.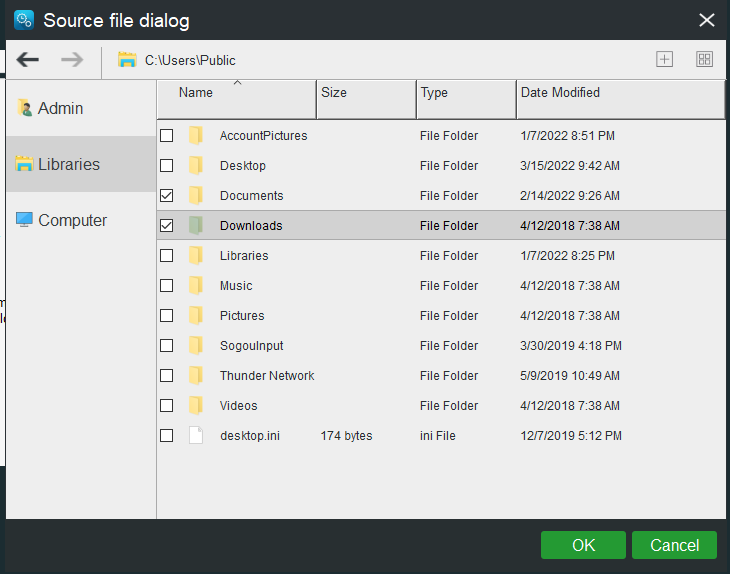 Step 3. In Destination, you can choose a destination folder. By default, it has selected a destination location for you but you can also choose a target location on your own.
Step 4. Click OK and choose Sync Now to execute this task immediately. Alternatively, click Sync Later to delay the sync task. 
Backup vs Sync
Both two are the main useful features of MiniTool ShadowMaker for protecting files but they are different in some aspects.
First, the backed-up files are some image files while the synced files are a copy of the original files.
Second, you can view synced files directly because they are the same copy of what you sync. As for backed up files, you have to restore them because they are image files. 
File History vs ShadowMaker
File History and ShadowMaker have the same feature to backup data but they vary from each other in many ways.
At first, File History has some limitations in the backup source. For instance, File History only backs up documents, photos, music, videos and other files from Library, while ShadowMaker supports backing up files/folders, system, disk, partition, hard drive and even the whole operating system.
Next, like sync, File History Windows 10 can copy all your files to a hard drive while ShadowMaker creates a backup image to protect your data.
Then, File History is a very basic backup tool and it provides you with a few customized services like setting a daily or hourly backup. With the help of the Schedule in ShadowMaker, you can set a daily, weekly, monthly and even event-based backup according to your preferences and needs. 
Last, if you make a backup with File History, your hard disk must be large enough due to its uncompressed backup copy while ShadowMaker enables you to choose different methods of backup for better management of the disk space.
By clicking Scheme, you will find three types of backups – full backup, incremental backup and differential backup. By default, ShadowMaker sets incremental backup, the most quickly and the least resource-consuming way of backup. It can save the disk space to the most extent by deleting the specified backup image file versions.
A Powerful Data Recovery Tool - MiniTool Power Data Recovery
When it comes to data protection, surely another type of free data recovery software named MiniTool Power Data Recovery also deserves a shot. You can recover files from logical partitions, formatted or corrupted partitions, raw partitions, lost partitions and even unallocated space with MiniTool Power Data Recovery. It also supports recovering data in different situations like system crashes, mistake deletion hard drive corruption and so on.
Bottom Line
That is all about the issue and solutions of Windows File History size of backup 0 bytes. You can try them step by step to verify if they work fine. To protect your important data, you had better back up your data to avoid data loss due to accidents like system crashes, hard drive errors, blue screen errors, ransomware attacks, etc.
Last but not the least, don't forget to send an e-mail to [email protected] or leave your comment below if you can come up with other workarounds. Thanks a million!