Have a need to sync folders in Windows 10 so that you can keep folders to different locations to protect data safe? In this post, we will offer you 3 sync tools, as well as how to sync two folders to an external hard drive or between drives in Windows 10.
Why Need to Sync Folders Windows 10
In your computer, there may be some important data in different folders including financial records, documents, videos, pictures, music files, etc. It would be a huge loss if these files or folders are lost.
To avoid data loss, you may choose to make a backup by copying & pasting crucial folders to another location. But the traditional copy-and-paste pattern is a time-consuming progress, especially for some folders with large capacity. Besides, some special folders cannot be copied correctly.
In this case, you can choose to sync files or folders to different locations. One of the common situations is to sync data to an external hard drive. Certainly, you can also sync files or folders to a Cloud drive or network drive. In short, the purpose is to keep data safe no matter which location you choose.
How to sync two folders on the same computer? In the following parts, we will show you three methods on Windows 10 sync folders.
Windows 10 Sync Folders to External Drive with MiniTool ShadowMaker
When searching for "Windows sync folders" in Google, you will find some of you are interested in Windows 10 sync folders to external drive. Actually, it is fairly easy to synchronize folders Windows 10 to an external drive so long as you use a piece of professional third-party software.
Here, we highly suggest using MiniTool ShadowMaker that is known as PC backup software and also file sync software. To be specific, it allows creating an image file for Windows operating system, files & folders, disk, and partition. Additionally, this freeware enables you to sync files and folders to other locations like an external hard drive, USB drive, etc. with its Sync feature in Windows 10/8/7.
Right now, you can free get MiniTool ShadowMaker Trial Edition by hitting the following button and start file & folder synchronization. Note that this edition only allows you using for 30 days. To use this free sync tool all the time, upgrade it to Pro Edition or an advanced one.
MiniTool ShadowMaker TrialClick to Download100%Clean & Safe
How do I sync folders Windows 10 with this software on the same computer? You may ask. In the following paragraphs, we will show you how to perform Windows sync folders easily.
Step 1: Run MiniTool ShadowMaker
Step 2: Specify Folders to Sync
To sync folders Windows 10, go to the Sync page by clicking the feature in the toolbar.
Specify the source and target for folder synchronization.
What to Sync
Go to the Source section.
Open your computer drive, the user account folder or the Libraries and choose folders that you want to sync.
Where to save synchronized folders
MiniTool ShadowMaker has given you a default folder. You can skip this move to the next step. If you don't want this default path, you can choose one manually.
To realize Windows 10 sync folders to external drive, go to the Destination section and choose a drive as the storage path by entering the Computer window.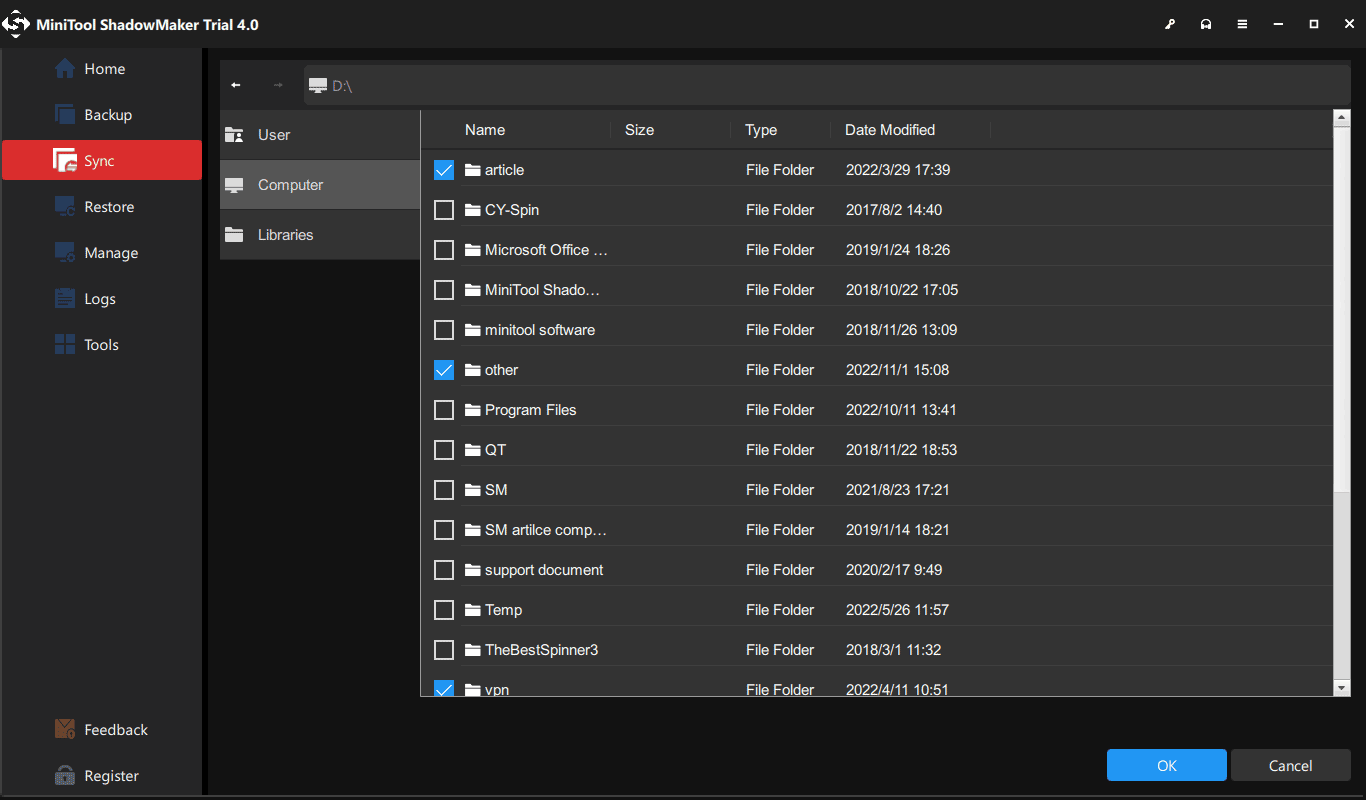 Tip: You can sync folders in Windows 10 to a USB flash drive, external hard drive, NAS, etc.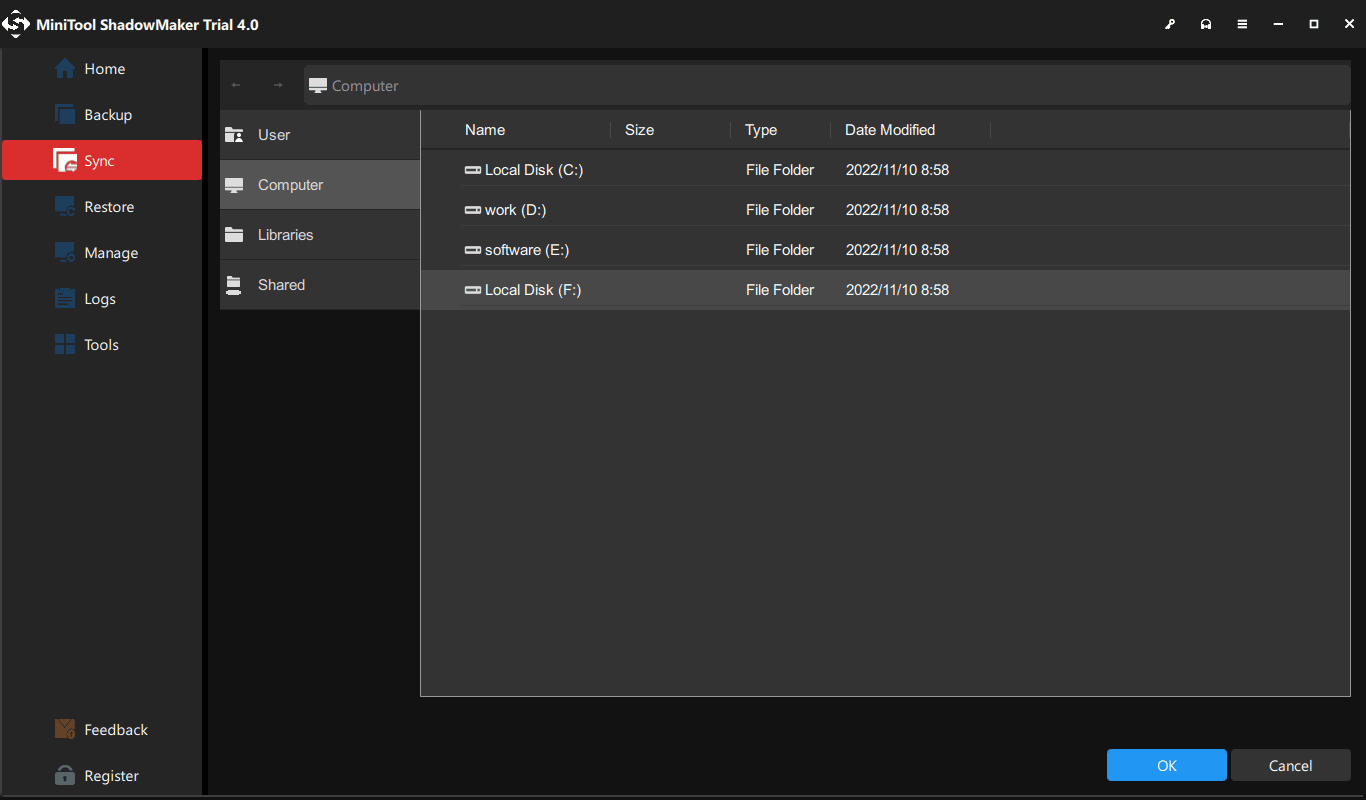 Step 3: Start to Synchronize Folders Windows 10
When returning to the Sync page, click Sync Now to start Windows sync folders.
The progress of folder sync task can be viewed in the Manage page of MiniTool ShadowMaker.
Make advanced settings
In the Sync page, you can find this free file sync software offers you two features: Schedule and Options. Before step 3, you can make some advanced settings for the folder sync task that you are performing, for example, create automatic folder sync tasks, make file comparison and file filter settings.
①Auto Sync Folders Windows 10
When you search for "sync two folders windows 10", you will find there is a related question from users: how do I automatically sync folders in Windows 10? Actually, it is easy if you use the Schedule feature.
Click Options > Schedule Settings and turn the switch to On.
Then, you will find that this feature offers you four schedule settings including Daily, Weekly, Monthly and On Event. Just choose one and specify a time point for automatic file & folder sync.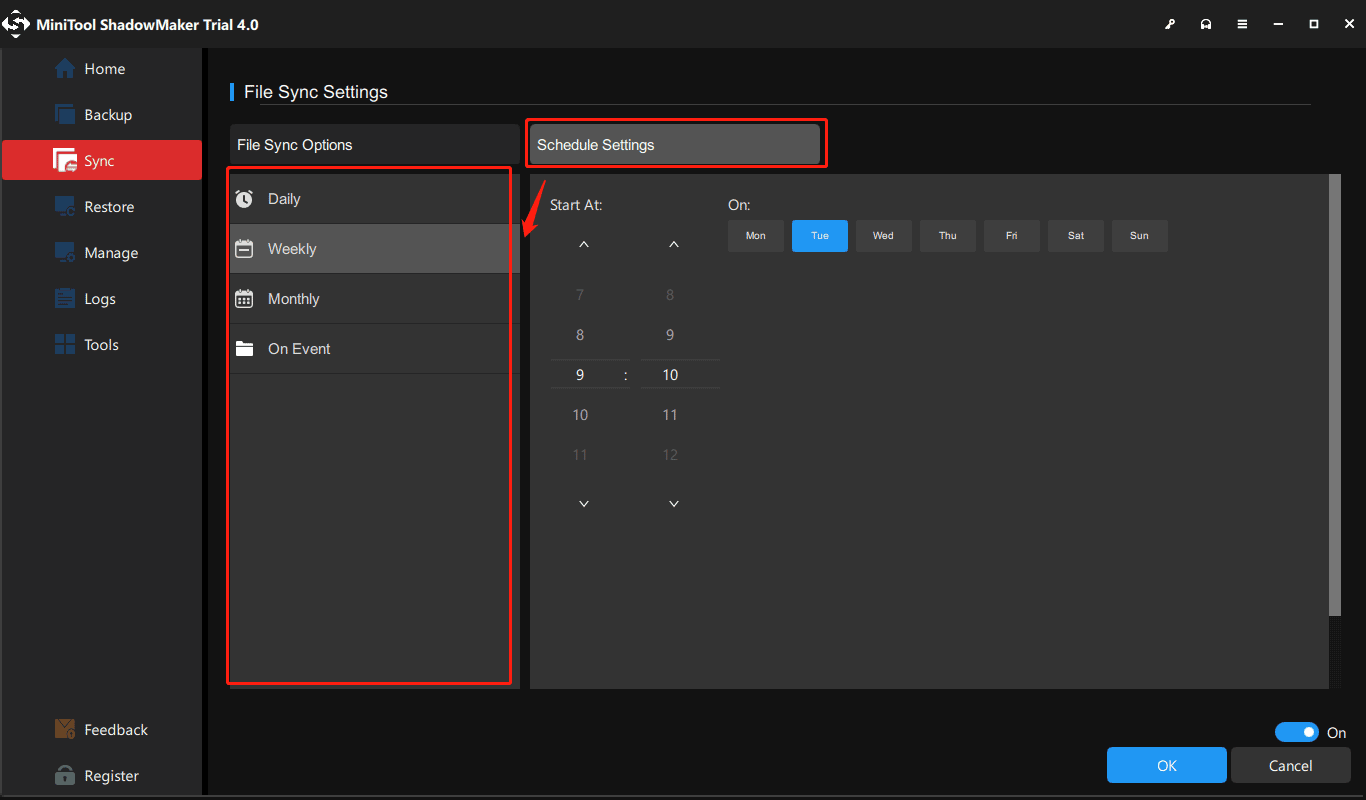 Tip: In addition to auto sync folders Windows 10 with the Schedule feature in the Sync window, you can also do that work with the Edit Schedule feature in the Manage page.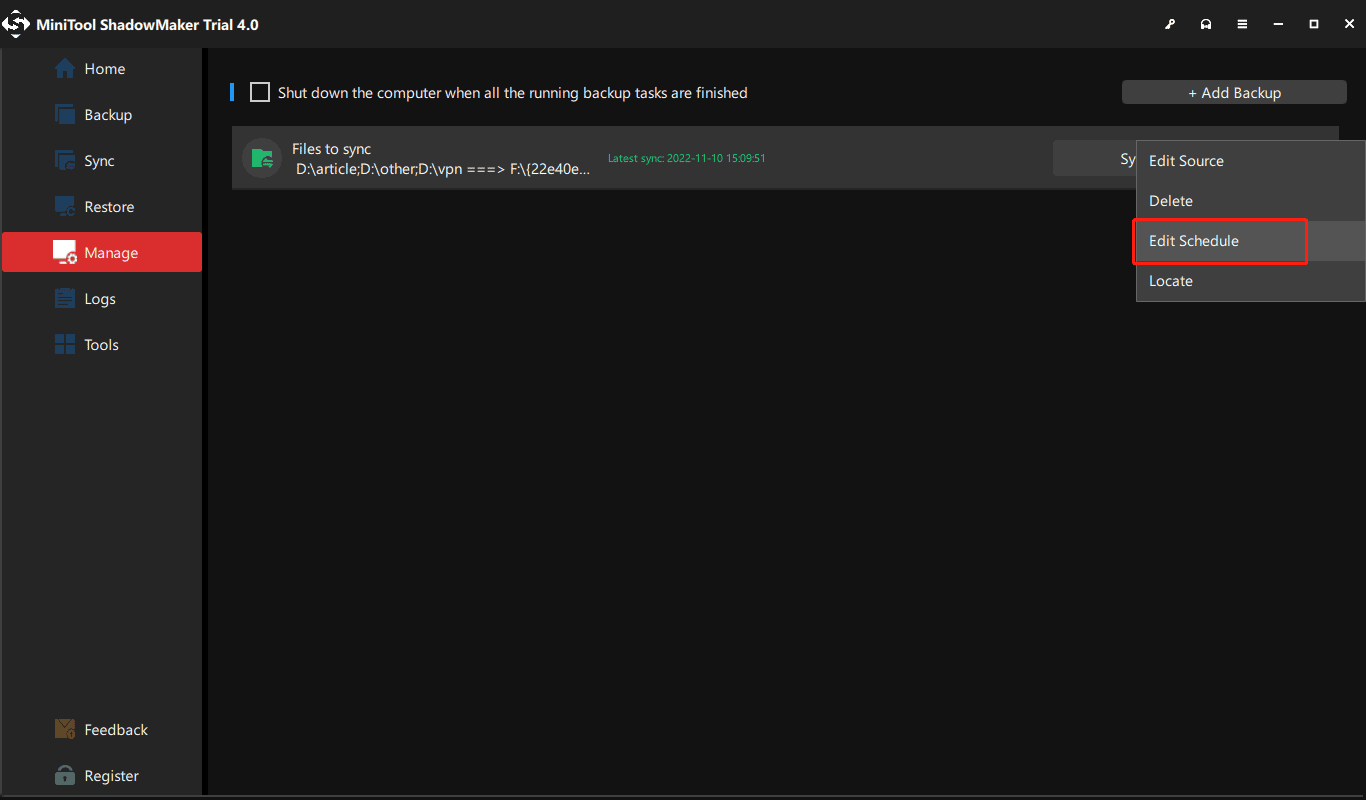 ②File Sync Options
After clicking this feature, you can see MiniTool ShadowMaker provides you with two options: Comparison and Filter.
By using the first one, this software will compare the source and target files according to the file time, file size or file content, (time and size are ticked by default) when you sync files or folders in Windows 10 next time so that you can perform synchronization task well to keep data safe.
With the Filter feature, you can exclude some files including .sys, .tib, .tmp, etc. That is, these files won't be synchronized.
"I want to sync folders to my external drive in Windows 10. Thanks to MiniTool ShadowMaker, I easily finish automatic file sync. Hope all of you like it!"Click to Tweet
Warning: Currently, MiniTool ShadowMaker only supports one-way sync. That is, it can only synchronize files from Folder A to Folder B.
Sync Two Folders Windows 10 (Between Drives) with SyncToy
If you have such a need: Windows sync folder between drives, what should you do? There is a tool from Microsoft and it is SyncToy that allows you to synchronize files and folders between locations. 
To use SyncToy, you need to download it online and then install it on Windows 10. Note that the official download link from Microsoft has been removed and you can only get it from third-party websites. Next, start to sync two folders between drives.
How to sync two folders in Windows 10 on the same computer? Follow the step-by-step guide:
Step 1: Run SyncToy to Start Sync Folders Windows 10
Double-click on this free file sync tool in Windows 10 to launch it to the main interface.
Click Create New Folder Pair to start this task: Windows sync folders between drives.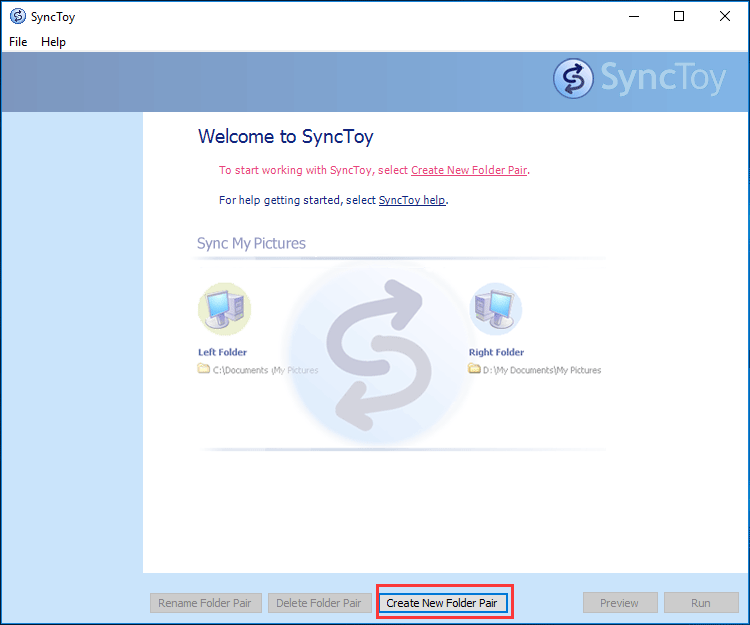 Step 2: Choose Two Folders You Want to Sync
To sync folders between drives on the same computer, you should specify the Left Folder and Right Folder by clicking the Browse button
The Left Folder can be the folder including important files like documents, photos, music files, etc.
The Right Folder can be the one that you newly create on your external hard drive.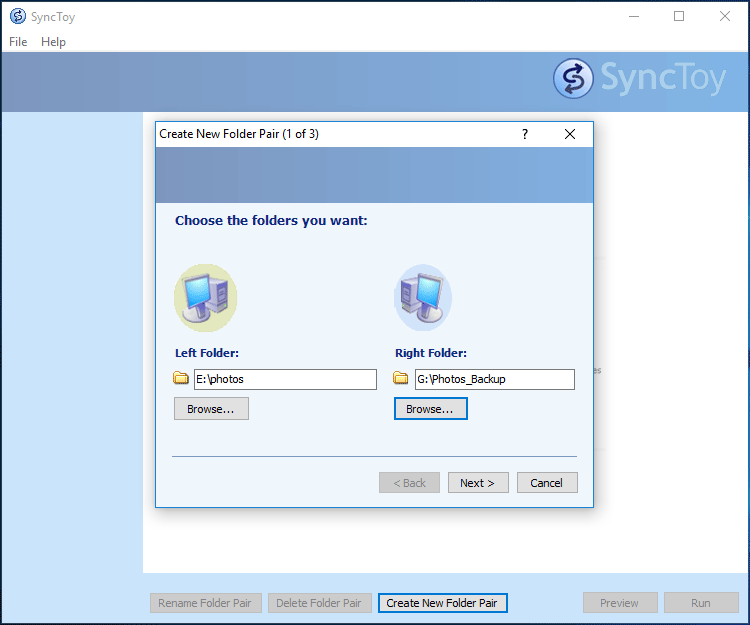 Step 3: Choose One Method to Sync Two Folders Window 10
Synchronize: This option can help you do this work: Windows sync folders between drives. That is, it can sync any new and updated files by following the rule – two-way sync. To be specific, if the Left Folder changes, then the Right Folder also changes. If the Right Folder is updated, the Left Folder is also updated.
Echo: This option is only applied from the Left Folder to the Right Folder. If any change including modification, adding, renaming, deletion is done to the Right Folder, the Left Folder won't change.
Contribute: It is similar to the second one. But there is only one difference: deleting files in the Left Folder won't cause the change in the Right Folder.
Step 4: Run Folder Sync Windows 10
Input a name for the synchronization task.
Preview this task.
Click the Run button to start Windows sync files between folders.
After that, this sync program will start the process of folder sync between drives. Then, this tool will tell you whether the task is successful or not.
Use Sync Center to Sync Folders Windows 10
When searching for "Windows 10 sync folders", you can find the related search result – network drive offline Windows 10.
As to this result, it means that you should choose the Windows built-in sync tool, Sync Center, to synchronize folders. With this tool, you can sync files between your PC and offline files which are saved in the folders of the network servers. And the offline files are just a copy of your network files & folders saved on the computer. 
How to use this Sync Center to sync folders in Windows 10?
Move 1: Create a Shared Folder
Open the Network & Internet setting and click Sharing options.
Check Turn on network discovery, Turn on file and printer sharing and Turn off password protected sharing.
Save all changes.
Right-click on the folder including files that you want to sync, click Properties > Sharing > Share.
Choose Guest to share with and set the permission to Read/Write.
After the folder is sharing, click Advanced Sharing in Properties tab and tick Share this folder.
Open Command Prompt and type ipconfigto get the IPv4 address.
Move 2: Enable Offline Files in Windows 10
Go to Control Panel and open Sync Center.
Click Manage offline files.
Click Enable offline files.
Move 3: Sync Folders Windows 10
1. Input \\ plus the IP you have got in the Run window by hitting the Win + R.
2. In the pop-up window, open the shared folder.
3. Choose files that you need to sync and set them Always available offline.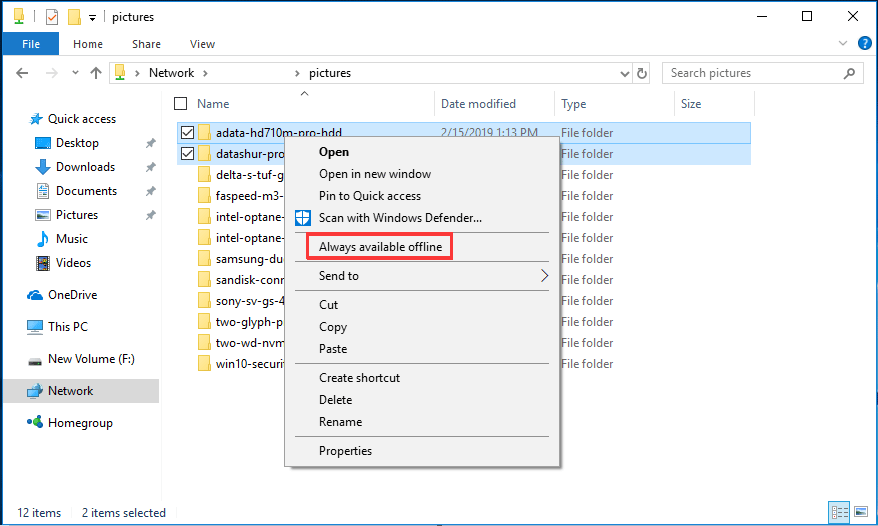 4. Go to Sync Center and you can view these offline files.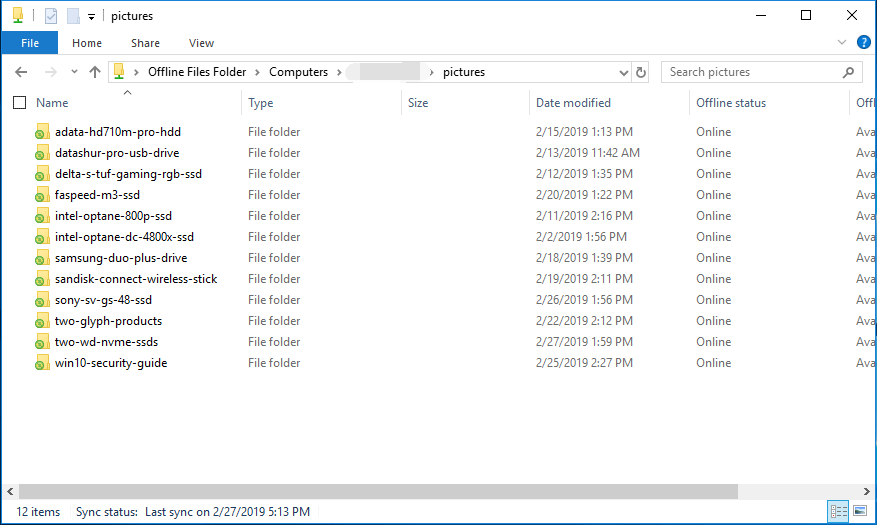 If you make some changes of the files in the shared folder, the synchronized files will also change. For more information on the sync guide, you can read Another File Sync Software – Windows Sync Center.
Using Sync Center to sync folders in Windows 10 is really complicated, so we suggest using the professional file sync software, MiniTool ShadowMaker (mentioned above) to easily sync folders to an external drive, USB flash drive, network drive, etc.
MiniTool ShadowMaker TrialClick to Download100%Clean & Safe
Bottom Line
Right now, we have shown you how to sync folders Windows 10 with three different tools to meet your various needs. Just choose one tool and start a sync task based on actual situations. To sum up, MiniTool ShadowMaker is easy-to-use, flexible and reliable.
Remember to tell us if you have any suggestion or question. Leaving a comment and contacting [email protected] are both OK.