You may want to transfer files from PC to PC if you buy a new computer since the old computer doesn't run well. How can you easily transfer files from the old computer to the new one? Take it easy now! This post will give you five effective methods for the computer to computer transfer.
Have a Need for File Transfer to PC
When you purchase a new computer running with Windows 10, moving to the PC is an exciting time since shiny new hardware and a lifeful OS are waiting to be used. Here comes a problem: most of your familiar and important files are sitting on the old computer and you are unwilling to start all over again.
In this case, you need to transfer the disk data to the new computer before giving up the old PC. So, how to transfer files from PC to PC Windows 10?
Don't worry! There are five simple ways for you to ease your transition between PCs whether you want to move all the data or only the essentials. In the following part, we will walk you through these methods one by one.
How to Transfer Files from Old PC to New PC Windows 10
Method 1: Use an External Storage Device
Obviously, this is the way that most people may choose. If you have a sufficiently large USB drive or external hard drive in hand, you won't spend more money on file transfer to PC.
All you can do is plugging the external drive into your old computer, moving your files & folders from the old PC to the storage device, then sticking the same drive in your new PC and copying & pasting the files to the new computer.
Using an external storage device to transfer files from one computer to another computer also gives you a backup of your data. In case something goes wrong, you can restore your important data.
Note:
1. Copy & paste may be time-consuming when you have a lot of files to transfer.
2. This way doesn't let you move your Windows settings or applications but only transfer files and folders.
Method 2: Use MiniTool ShadowMaker to Clone Your Hard Drive
Perhaps you want to move all your disk data including Windows settings, applications, personal files, important documents, pictures, videos, etc. to let the new PC keep the same as the old one.
In this case, you can choose to clone a hard drive, which allows you to create an exact copy of your old drive on a new hard drive. Once a clone is complete, the new disk should be bootable on the new PC.
There are multiple cloning tools for you to choose, but here we strongly suggest using MiniTool ShadowMaker. Although it is a professional PC backup software for Windows 10/8/7, it can also be a hard drive cloning software because of its Clone Disk feature.
With it, you can easily clone the entire disk to a new hard drive. Now, don't hesitate to get this freeware. Just click the following button to enjoy the program for a 30-day free trial.
MiniTool ShadowMaker TrialClick to Download100%Clean & Safe
Remove your hard drive from the new PC after shutdown and connect it to the old PC. Then, follow the steps:
Step 1: Open MiniTool ShadowMaker
Run this PC cloning software that has been installed on your old PC.
Keep using the Trial Edition.
Start a local disk cloning by hitting the Connect button in This Computer.
Step 2: Select a Feature
Enter the Tools window by clicking the corresponding button in the toolbar.
Choose the feature – Clone Disk from the following page.
Step 3: Select Disks to Clone
Click the Source and Destination sections respectively to choose source disk and target disk for cloning.
Ignore the warning to continue.
Tip:
1. To transfer files from PC to PC via disk cloning, you should choose the system disk of the old PC as the source disk and select the drive of the new PC as the destination disk.
2. Disk cloning will erase all the data on the new disk, so ensure no important files are saved on it.
Step 3: Perform Cloning Progress
MiniTool ShadowMaker is performing a disk cloning. If the data on the old PC is too much, the process will take some time. Please wait patiently.
After completing the disk cloning, just ignore the information. To transfer files from PC to PC successfully via cloning, you should do these things:
Don't shut down your PC. Just enter the Tools page and click Media Builder to create a bootable disc or USB flash drive in case system doesn't start up due to dissimilar hardware.
Remove the target disk from the old PC and put it to the new PC.
If the hardware on your old computer is the same as the new computer, you can directly boot your new PC to the Windows desktop.
If the hardware is different between your two PCs, the new PC will fail to boot after plugging the disk back. This is because of the hardware incompatibility.
In this case, connect the created media in advance to the new PC and boot your PC from it to enter MiniTool Recovery Environment. Next, use the Universal Restore feature to fix the issue. After that, remove the media and you should boot your PC properly.
Related article: How Can You Do Windows Backup Restore to Different Computer?
Tip:
If you want to only transfer files to new computer instead of the entire disk, you can clone the partition that contains files to the hard drive with the
Copy Partition
feature of MiniTool Partition Wizard. And then, put the disk back to your new computer.
Method 3: Transfer Files from PC to PC over LAN Cable
When referring to file transfer between 2 PCs, you may consider transferring files from one computer to another using Ethernet cable. This way only allows you to transfer files between computers on the same network.
How to transfer files from PC to PC over LAN? The operations are a bit complex and you should follow these steps:
Step 1: Connect your two PCs with a LAN cable like Ethernet crossover cable.
Step 2: You should turn on Network Sharing on both computers so that you can transfer data between them. Here is the step-by-step process:
1. Go to the search box of Windows 10 and input control panel, and then open this app.
2. Click Network and Internet from the Control Panel window.
3. Open Network and Sharing Center and choose Change advanced sharing settings.
4. Scroll down to find the option for file sharing, turn on file and printer sharing and then save the changes.
Step 3: After enabling network sharing on both PCs, now you should bring them onto the same network by setting a static IP address of the same class.
Follow the guide:
1. Similarly, enter the network and sharing center. Then, click on the Ethernet.
2. In the pop-up window, click Properties.
3. In the next window, click Internet Protocol Version 4 (TCP/IPv4) and choose Properties.
4. You need to make different IP settings for your two PCs.
For computer 1, the IP address will be: 192.168.1.4
For computer 2, the IP address will be: 192.168.1.5
Subnet mask for two PCs: 255.255.255.0
5. Then you can go to File Explorer in Windows 10, click Network and both of your two PCs will be displayed here.
Step 4: Ensure the workgroup name of each PC is WORKGROUP. Just go to This PC > Properties > Change settings > Change if the value is different.
Tip: If you want to share a certain drive that contains many files, you can right-click it to choose Properties, and go to Sharing > Advanced Sharing > Share this folder. If you only want to share specific folders, go to the next step.
Step 5: Create a shared folder to transfer files from PC to PC.
1. Create a new folder on the desktop, move all your needed files to that folder and then right-click on it to choose Give access to > Specific people.
2. Choose Everyone and click Add. Then, set Permission Level to Read/Write.
3. After sharing the folder, go to another PC from Network, and then you can copy & paste the shared folder to it.
After reading this way, you may find transferring files from one computer to another using ethernet cable is so complex since it requires you to perform a few steps. Please follow each step for file transfer to PC.
Tip: You may be looking for an easy way to transfer files from PC to PC over network. Usually, you can do that via wireless networking. When searching for the question "how to transfer files from PC to PC using Wi-Fi" online, you can find some programs, enabling you to easily finish file transfer.
Method 4: Use a Transfer Cable
As for computer to computer transfer, you can rely on a basic PC transfer cable. Relatively speaking, it is faster and easier. As a Windows 10 user, you can get a Windows transfer USB cable like Plugable. It uses two USB-A 3.0 male connectors, enabling you to connect to each PC.
So, how to transfer files from PC to PC using USB cable? You may ask this question. Actually, after connecting to PCs, the included software will walk you through the process of transferring your files, folders, settings, user accounts and the program will make the process as easy as possible.
Note: This way requires you to pay some money for the file transfer to PC. Besides, using a transfer cable doesn't create a backup of your files when they are moved.
Method 5: Use Cloud Storage to Transfer Files to New Computer
There is another easy way for transferring data from one computer to another; that is to use cloud storage, such as OneDrive, Google Drive, Dropbox, etc. If you have a Microsoft account, you can use OneDrive to transfer files from PC to PC in Windows 10.
You can transfer a few files but you should ensure you have enough storage space, for example, OneDrive only gives you 5GB of storage for free.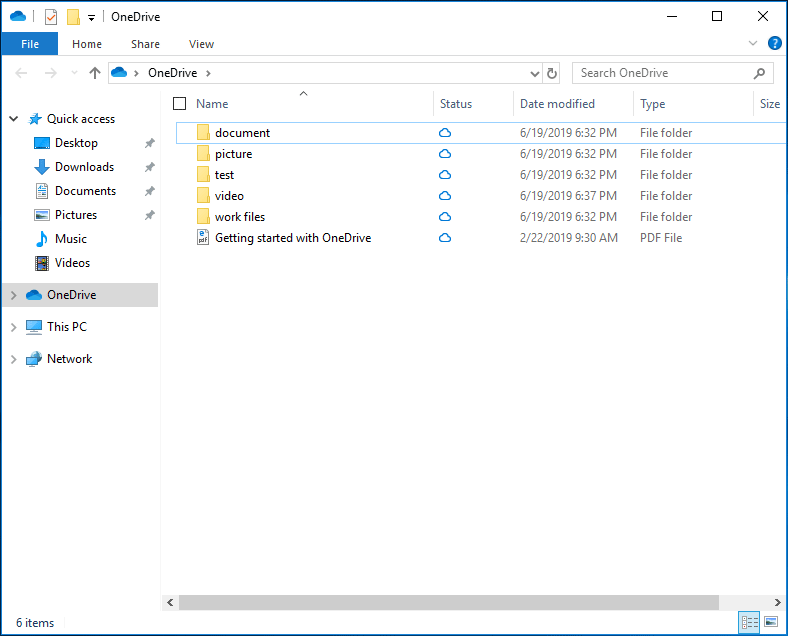 Besides, it is easy as long as an internet connection is on and your data is protected from hard drive failure. Above all, if your old and new computers are syncing folders locally, then one uploads files while another will download simultaneously.
Warning: You can only upload and download files & folders but the Windows settings and applications won't be moved to your new PC.
"How to transfer files from PC to PC in Windows 10? If you are looking for methods, this post is helpful. Also, you can share it with many people."Click to Tweet
Bottom Line
Now, we have shown you five common ways to transfer files from one computer to another computer. By contrast, method 1, 2 and 5 are easy. Method 3 is very complicated but method 4 requires a purchase. Please choose one based on your actual situations for file transfer to PC.
If you have any other ways or any questions, let us know by leaving your idea in the comment part or sending an email to [email protected].