Some people have encountered the "Windows 11 ghost window" issue. You can't fix the ghost window issue only by easy steps and when this issue occurs, normally some troubles will happen. But don't worry. This article on MiniTool Website will teach you steps to fix the ghost window issue and protect your data safely.
If you have not encountered the ghost window issue in Windows 11, ghost window is easy to mistake with ghost imaging.
The latter is used to back up everything on the hard disk, often while reinstalling an operating system (OS). The purpose of the ghost image is to allow the cloning of the system onto other systems or to enable quick restoration of a system.
For this part, if you want to know more about ghost backup, you can refer to this article: Use Best Ghost Image Software to Ghost Windows 10/8/7. Guide.
What Is Windows 11 Ghost Window?
In this article, you will learn about a ghost window in Windows 11, or you can name it Windows 11 ghost box issue.
It is reported that some people have a constant Ghost Screen on their laptop display after they upgraded to Windows 11. If the cursor hovers over it, it shows a processing blue circle that never stops. This issue has hassled them a lot.
In Windows 11, the search widget sometimes gets stuck and fails, causing a small "ghost" window to appear above the taskbar. When the ghost window is present, anything behind it is not accessible, including icons, text, and buttons.
Some people call it Ghost Boxes to describe randomized translucent boxes that appear on your computer screen in an untimely manner. It is hard to make sure if the root cause is Windows upgrading. Some people reported that the circle appears without any indication, which makes the fixes more difficult.
The ghost boxes or ghost window issues normally appear in Windows 11 while Windows 11 brought a newly designed UI with a centered Taskbar, start menu, and new widget on tabs, which triggers some speculations that the issue may happen because the search widget gets stuck finding a result and fails.
Although the cause is still a mystery, fortunately, there are some available ways to fix the ghost window in Windows 11. You can follow the steps in the next part and find the most suitable ones for your issue.
Fix Ghost Window Issue in Windows 11
To remove the ghost window in Windows 11, there are six methods available for you.
Method 1: Restart Windows Explorer
The first method you need to try is to restart your Windows Explorer. You can finish this process by using Task Manager, a desktop shortcut, or the Context Menu. Here is the way for Windows 11.
Step 1: Right-click on Start to open the menu and choose Task Manager.
Step 2: Then scroll down to locate and click on Windows Explorer and choose Restart from the right bottom of the window.
If you need other methods to restart Windows Explorer, you can refer to this article: How to Restart Windows Explorer? Here Are Tutorials.
The process will take a couple of seconds to complete and once it finishes, check if those ghost boxes have disappeared or not.
Method 2: Restart Graphics Driver
To restart your graphics driver, you can use the Windows shortcut Win + Ctrl + Shift + B on your keyboard. This is the easiest method to restart your driver without the need for an admin account.
After that, the screen flickers and goes black for a second, and will be back in less than a second. If that doesn't work, please check if the Windows key is disabled.
There is something you need to notice:
Don't repeat this way after you have pressed those buttons.
Don't apply this way when you have unsaved work on your computer.
Method 3: Turn off Taskbar Search
To prevent the ghost window from appearing, you can turn off the Search widget by following the steps below.
Step 1: Right-click on the taskbar located at the bottom of the screen and choose Taskbar settings.
Step 2: Expand the Taskbar items option and click the Search toggle to switch it to the Off position.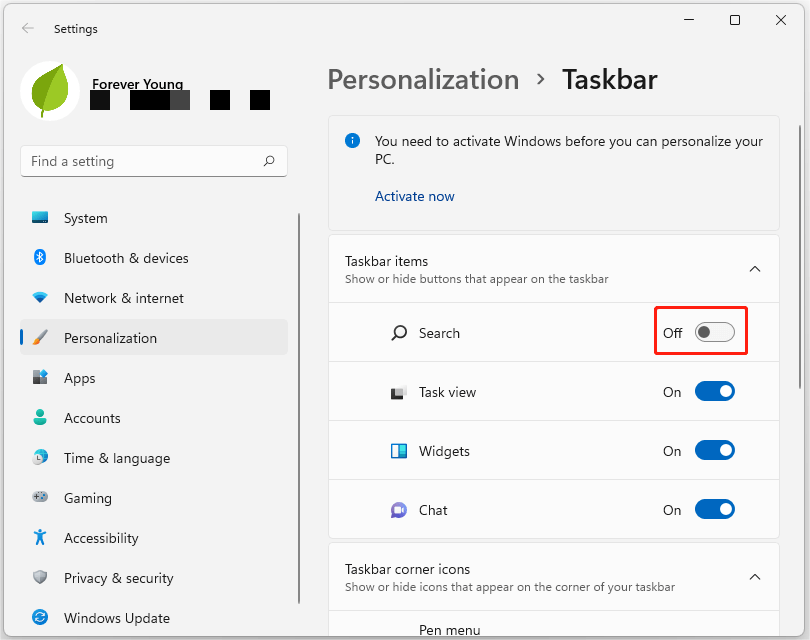 Then the Search widget icon disappears from the taskbar, preventing the Search widget window from displaying and potentially causing the ghost window to appear.
Method 4: Disable MiniSearchHost from the Taskbar
If the above methods have been proved useless, you can disable MiniSearchHost to solve the Ghost problem on the Windows 11 home screen. The specific steps are as follows.
Step 1: Type task manager in the search box and open it.
Step 2: Under the Processes tab, locate the MiniSearchHost process. If you can't find MiniSearchHost over here, you can go to the Details tab. You should be able to find it there.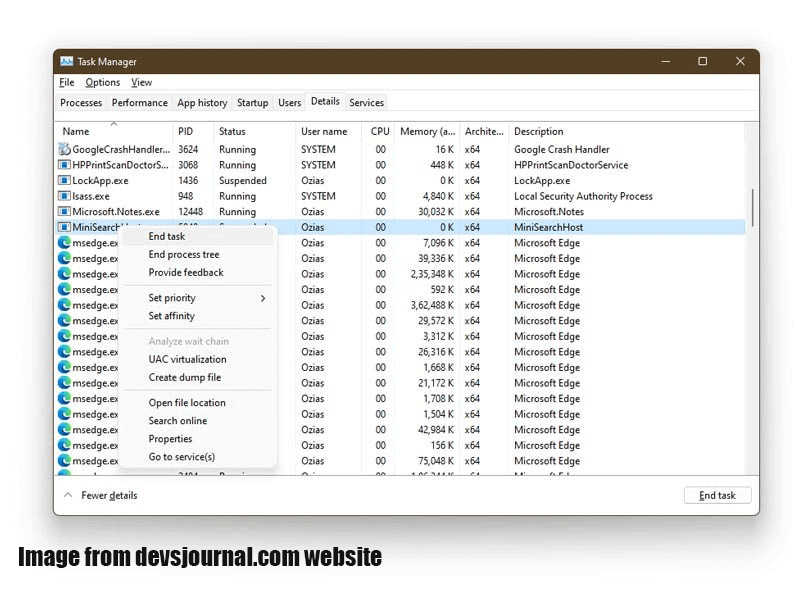 Step 3: Right-click on it and choose Disable.
If you still can't find the exe. file, you can try other methods.
Method 5: Run DISM and SFC
You can repair Windows and corrupted system files by using the DISM restore health command and the system file checker (SFC). Because it is hard to judge the real reasons for the ghost window, you can try these two tools to diagnose if there is any corruption or any other changes.
Run DISM
Step 1: Open Start and input Command Prompt to search.
Step 2: Right-click the top result and select the Run as administrator option.
Step 3: Type the following commands based on your needs to perform a quick check and press Enter after each command:
DISM /Online /Cleanup-Image /CheckHealth
This command is to determine any corruption inside the local image. However, the option does not perform any repairs.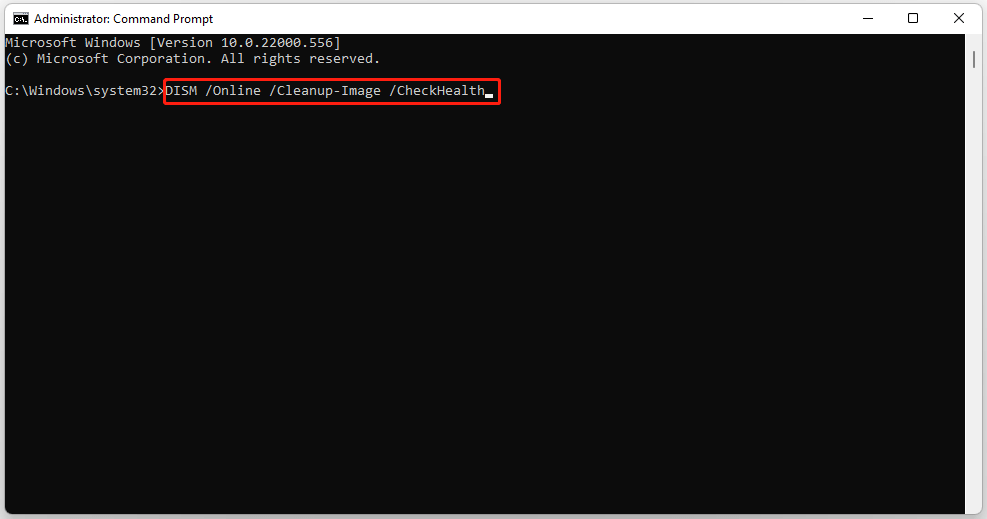 DISM /Online /Cleanup-Image /ScanHealth
This command is to perform an advanced scan to find issues with the image and check whether Windows 11 needs any repairs.
DISM /Online /Cleanup-Image /RestoreHealth
This command automatically scans and repairs common issues on Windows 11.
After a few minutes, the process will be complete without further action. Then you can restart your computer and check if the ghost window is still there.
Run SFC
To run SFC, you need to run Command Prompt as an administrator. And then type sfc /scnnow and press Enter on the keyboard. Just wait for a while until the verification is up to 100% and you will see the scan results.
After that, restart your PC if this is not done automatically and check if the ghost window is still there.
Method 6: Update or Reinstall Your Display Driver
If the issue persists, try updating or reinstalling your display driver.
To update your display driver
Step 1: Press the Window key and X key together and choose Device Manager from the list.
Step 2: Expand the Display adapters section.
Step 3: Right-click on your display driver and choose Update driver.
Restart your computer and check if the ghost window exists here. If yes, you can continue the following steps.
To reinstall your display driver
Step 1: Right-click on your display driver and then choose Uninstall device.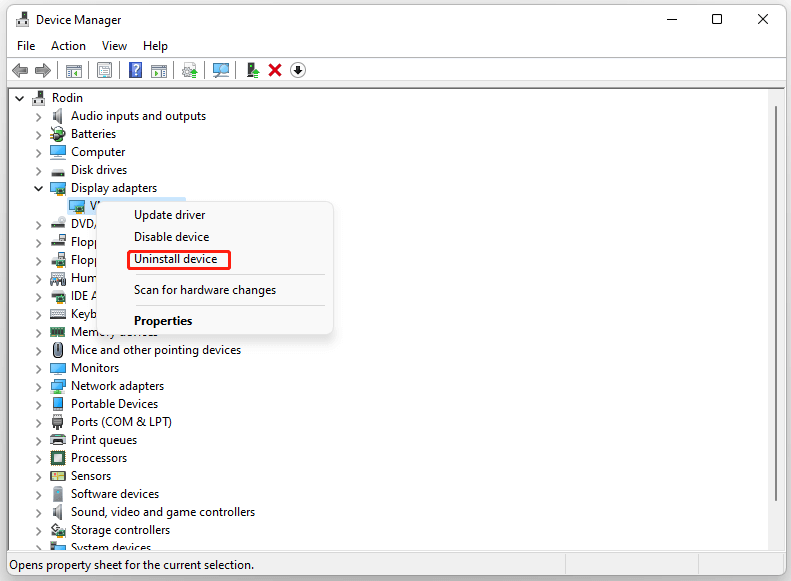 Step 2: Then restart your computer to automatically reinstall the driver.
Check if the ghost window persists.
Protect Your Computer from Ghost Window Issue
When you encounter a ghost window on your computer, you can't access anything behind it and the computer will be stuck while your operation before will be forced to stop. Therefore, some above steps in solutions may be inaccessible when a ghost window blocks the option. It is a kind of tough issue to continue your next moves.
It is recommended to back up your system in case the ghost window fails to be resolved. If you have backed up your system in advance, your data security can be guaranteed and the system restoration can be applied.
In this way, a backup program – MiniTool ShadowMaker – was born for safeguarding people's data integrity and preventing data loss.
It is not only a backup program but also a multi-purpose tool for disk clones, data sync, universal restore, bootable media, etc. Besides, more features are attached to those basic functions for a better and facilitated experience.
To try this excellent program, you need to download and install it and you will get a free trial version for 30 days.
Step 1: Open MiniTool ShadowMaker and click Keep trial to enter the program.
Step 2: Go to the Backup tab and click the Source section. Then you will see four options to be your backup contents - system, disk, partition, folder, and file, in which the system is set by default. You can directly click OK to save it.
Step 3: Go to the Destination part and four options are available to choose from, including the Administrator account folder, Libraries, Computer, and Shared. Choose your destination path and click OK to save it.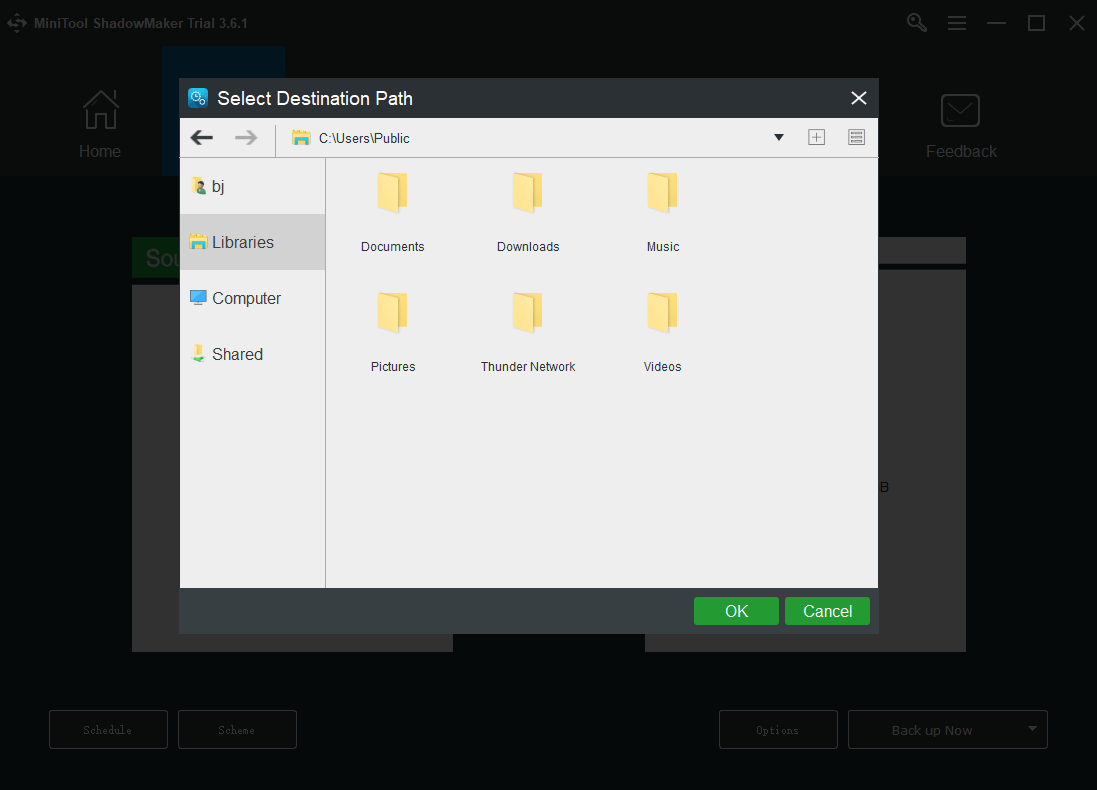 Tip: It is recommended to back up your data to your external disk to avoid computer crashes or boot failures, etc.
Step 4: Click the Back up Now option to start the process immediately or the Back up Later option to delay the backup. The delayed backup task is on the Manage page.
Besides, you can enjoy other features, such as the Schedule feature and Scheme feature.
MiniTool has developed the Schedule option that can do your backup automatically as you want as long as you configure your backup schedule as once a day, a week, a month, or on an event.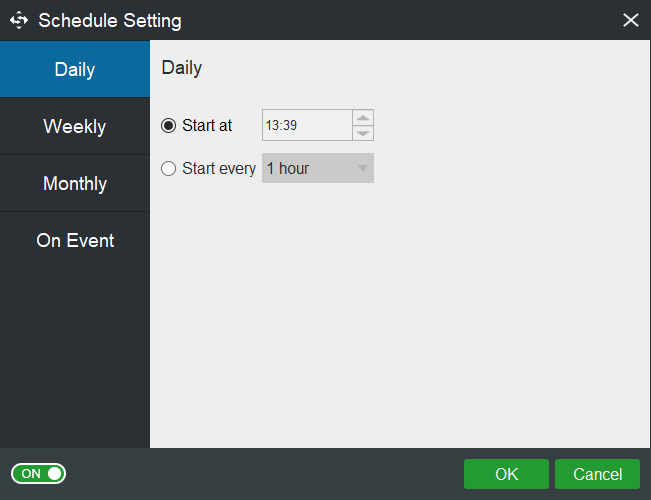 Another feature is the scheme that allows you to design your backup scheme, including full, incremental, and differential backup.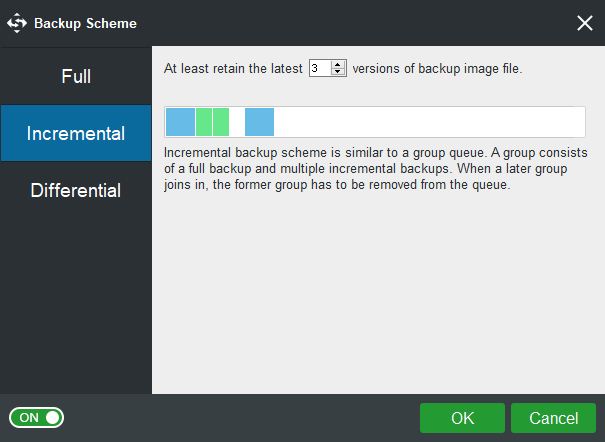 This article has introduced the ghost window in Windows 11 and a guide to fixing the ghost window issue in Windows 11. If you like it, you can share it on Twitter.Click to Tweet
Bottom Line:
Now, this article has given you a basic introduction to the ghost window. This issue can appear after your upgrading to Windows 11 or something else. You may be overwhelmed but after reading this article about Windows 11 ghost window, you can have a general grasp of this issue. Hope this post has successfully resolved your issue.
If you have encountered any issues when using MiniTool ShadowMaker, you can leave a message in the following comment zone and we will reply as soon as possible. If you need any help when using MiniTool software, you may contact us via [email protected].
Windows 11 Ghost Window FAQ
What is Ghost touch?
Maybe you've already experienced this: you want to write a message and suddenly your phone is typing on its own - without you having your finger on the display. Apps are opening and closing without your interaction. And your phone only responds to your touches sporadically. This phenomenon is called Ghost touch.
How do I stop ghosting?
The higher the refresh rate, the better your visual enjoyment. Response time, on the other hand, is how many milliseconds it takes your display panel to shift colors – from black to white, or vice versa. Contrary to refresh rate, lower response times reduce image issues, such as ghosting.
How do I get rid of a ghost on Windows 10?
Right-click and remove any excess generic PnP monitors from Devices and Printers in Control Panel. Right-click and uninstall any Generic PnP monitor(s) appearing in Device Manager. Install the latest video drivers (for either the onboard Intel graphics card or the add-on NVIDIA or AMD graphics card) from Dell.
How do I uninstall Ghost software?
Use Registry Editor (Regedit.exe) to view the following registry key: HKEY_LOCAL_MACHINE\SOFTWARE\Microsoft\Windows\CurrentVersion\Uninstall. Double-click the UninstallString registry value, copy the contents of the Value Data box by selecting the contents and pressing CTRL+C, and then quit Registry Editor.