RAID helps to improve the transmission rate and provides fault tolerance, so it is widely used throughout the world. A lot of enterprises choose RAID to ensure the security of important data. Yet, data loss still happens on RAID disk. And according to statistics, among all the disk array environment data disasters, RAID information loss accounts for a large proportion.
No matter which the reason is that leads to RAID data loss, the first thing people will think of would be RAID data recovery. Today, I will lay my emphasis on how to recover data from hardware RAID. People who are suffering from RAID data loss dilemma are strongly advised to read this article to figure out how RAID file recovery can be finished and how RAID data loss issue is generated.
After reading the following chapter 1, you'll be able to handle with RAID data loss problems independently with the help of MiniTool Power Data Recovery – a piece of RAID recovery software enjoys a high reputation. And in chapter 2, I will mainly show you two things:
One is the differences between hardware RAID and software RAID.
The other is the possible reasons for RAID data loss.
Chapter 1 – How to Recover Data from Hardware RAID
In this part, I will offer detailed solutions to recovering RAID data with MiniTool Power Data Recovery V9.1 – the new version. This will be helpful enough for even inexperienced users to recover data successfully.
You ought to get MiniTool Power Data Recovery (which is considered as a powerful and easy-to-use recovery program by lots of people) to scan the RAID disk without any delay once your important files/folders are lost due to the following reasons:
Careless deletion: files are deleted from RAID disk by mistake and then cleared from recycle bin. One or more partitions are deleted accidentally during disk management.
Partitions damage: a partition may be damaged due to virus attack, system crash or other reasons. And the file system of it may become RAW sometimes.
Reformatting: reformatting a partition or the entire disk will destroy all data inside, so you'll also lose access to them after a wrong formatting action.
Partition loss: sometimes, you may delete a partition in hardware RAID by mistake; while in other cases, you don't know how but the partition gets lost suddenly and lead to data loss.
I decide to teach you how to recover files from RAID drive after files were missing from a hardware RAID. First of all, you should get the MiniTool Power Data Recovery and then install it on the computer (not install it on the drive which includes files to recover).
MiniTool Power Data Recovery TrialClick to Download100%Clean & Safe
Recover Data from A RAID Array after Accidental Deletion
Step 1: start the RAID data recovery software you have just installed on the computer and then choose "This PC" from the starting interface by clicking on it (you must make sure that the RAID is connecting to the same computer).
It is also available when you need to recover data from a corrupted, inaccessible, RAW or formatted partition.
How to Recover Data From RAW File System, RAW Partition & RAW Drive
You can click on the "Settings" button on the bottom right in this step to scan and show only specified types of files. This helps to reduce the time spent on needed files search and selection.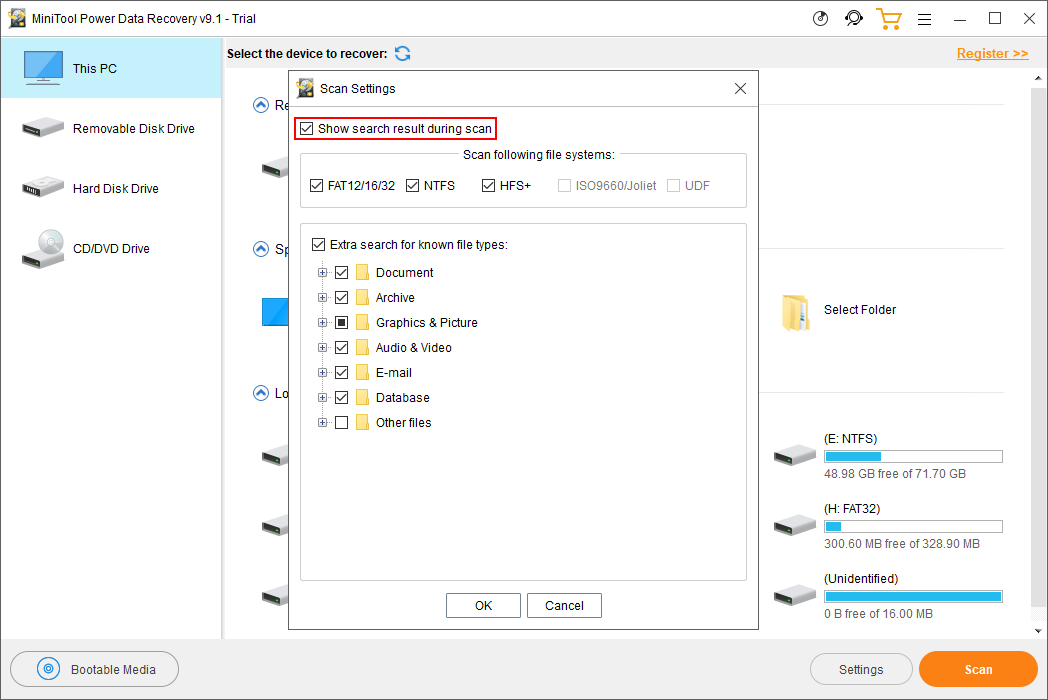 Please check the file systems and file types you need.
Please click on the "OK" button to confirm your selection.
Step 2: select the partition which was used to store the deleted files from the partition list on the right side of the software interface. Then, double click on it or press the "Scan" button to start the scan process.
Step 3: there will be more and more files and folders found by the software and they will be listed in the software interface as the scan continues. When you are seeing this, you should browse the found items (by opening them one by one) in order to pick out the files you really need.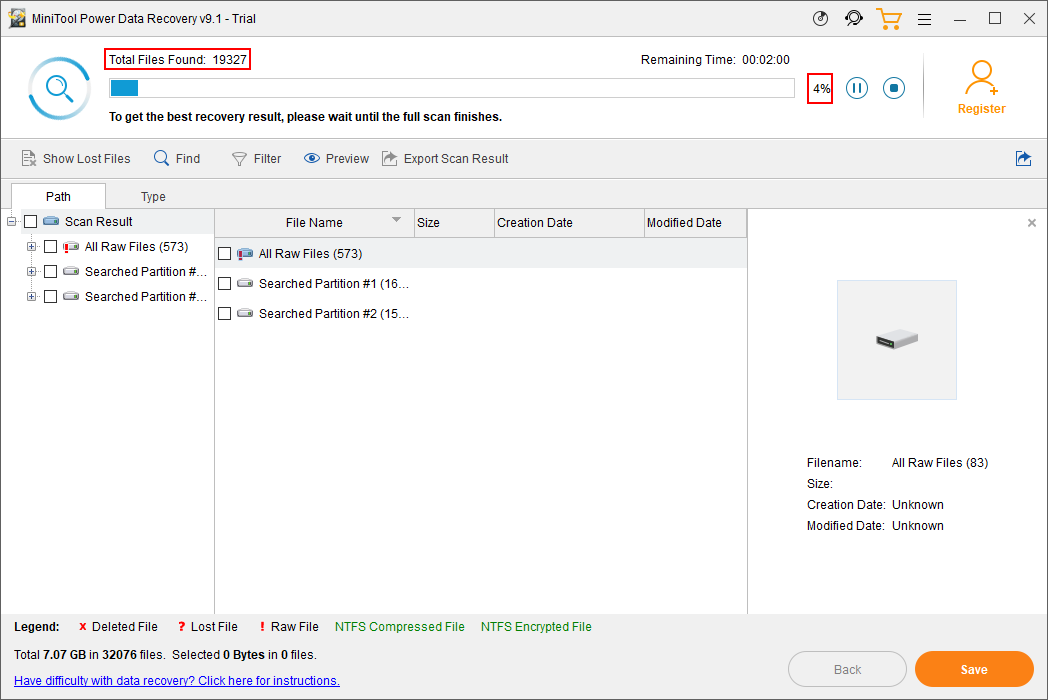 Step 4: you should check all the files you need and click on the "Save" button to recover them to a safe place.
Please note that:
You'll see a prompt window after clicking on the "Save" button if you're using the trial edition. This is simply because this edition is only designed to help you scan the disk and preview found files.
What about permanently deleted files recovery?
Recover RAID Data from Lost Partition
Step 1: start the software and select "Hard Disk Drive" (show all the disks connected to the computer) or "Removable Disk Drive" (show only portable disks mounted on the computer).
Step 2: you need to do two things in this step.
The first thing you should do in this step is to select the disk that includes the lost partition.
The second thing is to press the "Scan" button to detect files in the selected disk.
Note: Since a lot of files are often stored on a disk, you can also click on the "Settings" button to search for only specified file systems and file types to accelerate the scan process.
Step 3: wait patiently for the full scan and look through the found files and folders one by one to check what you need. Considering that a large number of files will be found after a full scan, I advise you to use the following functions to locate and find needed files accurately and quickly:
"Find": it is able to search for files by file name.
"Filter" function: it is able to search for files by file extension, file size, creation date, and modification date.
Step 4: click on the "Save" button to set a storage path for the files you have selected to recover. The target drive must have enough free space to store the recovered files. You should click on the "OK" button in the path setting window to confirm.
Recover Data from RAID When OS Won't Boot
If the system refuses to boot after a crash, you'll lose access to all the data saved in computer hard disk. At this time, I don't suggest that you rely on RAID rebuild unless you're an expert in this; also, I don't think it's a great idea to take out the disk from RAID array cabinet/card unless you're running a RAID 1.
As a result:
You can follow the tutorial given above or below when you need to perform data recovery on RAID 1.
You have to refer to the tutorial given in the following content to recover data from RAID 0 or other RAID types.
Here are my suggestions:
Get a MiniTool Power Data Recovery license which contains the snap-in WinPE Bootable Builder.
Then, you should register the software with that license and click to make a bootable USB/CD/DVD.
After that, use the bootable device to access and recover data easily.
How to recover data:
Step 1: find another computer, register the software and insert a USB flash drive or CD/DVD to the computer. After that, run the software and click on the "Bootable Media" to create boot disk under guidance.
Please make sure there is not useful file included in the USB flash drive or CD/DVD since the boot disk creating process will destroy all data on it.
Step 2: click on the "Finish" button at the end of disk building and then eject it from the current computer.
Step 3: insert the bootable disk you have just made into your computer which can't boot and restart your computer afterward. Press the corresponding button to enter BIOS.
Step 4: change the boot order of device to make the MiniTool Power Data Recovery Boot Disk the first boot device. Then, save changes in BIOS and exit.
Step 5: choose the first option (MiniTool Power Data Recovery) when you see the following window.
I advise you to connect a removable disk to the computer before RAID data recovery in order to save recovered files on it so as to avoid data overwriting.
Step 6: now, you'll enter the main interface of the data recovery software. Please repeat the steps mentioned in the above methods to complete RAID recovery with the software easily.
Chapter 2 – Why RAID Is Using
Most people know that RAID is widely used, but only a few of them know the exact benefits of it. Here, I will show you the main advantages of the RAID, the comparison between hardware RAID and software RAID and the common causes for RAID failure.
Benefits of RAID
Better storage performance and higher availability are the most obvious benefits of using RAID. Apart from this, I also want to share the following merits of the RAID.
Fault tolerance: backup of the data in the storage array will be created with RAID and this can be useful for the normal running of OS when a disk failure occurs.
Continuous system running: if one of the drives in a RAID array fails, you can properly use the system. Then, find an appropriate time to swap out the drive for a new one.
Parity check: the parity check will be increased by using RAID so as to check for any potential system crash.
Fast speed: the reading and writing of data will be done simultaneously so as to increase speed.
Hardware RAID & Software RAID in Windows
Hardware RAID: on a hardware RAID, the processing will be done completely on the motherboard or a separate RAID card/cabinet. Besides, the logical disks will be configured (for example, mirrored) outside of the system. What's more, a physical controller will be there to help manage the disk array.
Software RAID: on a software RAID, the processing will be done on the server motherboard. Besides, it is made of several disks attached to servers and those disks are managed by using built-in features on a number of operating systems. What's more, the physical controller is not required; all you need to do are connecting the disks and configuring them into the RAID level you prefer to.
Common Causes of RAID System Failures
Disk order error.
MBR/DBR damage.
The system can't boot.
Partition information is missing.
RAID information is broken or missing.
Improper RAID array information configuration.
Database of the dynamic disk is missing or corrupted.
RAID rebuilding failed midway.
RAID rebuilding succeeds, but the partition can't be found or the system can't be started.
Bad sectors on one or more hard disks (both physical and logical).
System crashes due to RAID card/cabinet damage.
System crashes due to the replacement failure after one or more hard drives are dropped.
Chapter 3 – Bottom Line
RAID is of great help to enhance performance and stability, so many people especially business managers choose to take advantage of it. However, you also need to aware that great potential danger is hidden during RAID using process. Any improper operations or unexpected attack/damage will lead to serious data loss problems.
As a result, I strongly suggest that:
You or other people who're running your PC pay enough attention to the security of data, avoid human error and damage as much as possible.
Besides, if you're in face of RAID data loss predicament unluckily, please obtain and rely on a professional recovery tool like MiniTool Power Data Recovery at once. Then, look at the tutorial that is most suitable for your case and follow the steps to recover data from hardware RAID carefully.
MininiTool Power Data Recovery is regarded as one of the best RAID recovery software. If you don't trust it, you can first use the trial edition to experience. If you're satisfied with it, you should acquire a license.
After mastering the way to recover data from RAID disk, you also need to read the common causes of RAID system failures; this will help you greatly avoid RAID data loss in the future. By the way, you can also navigate to benefits of the RAID to know what you can achieve by using RAID. Finally, hope you all can solve your problem without trouble.