The Method For RAID Recovery You Wish You Know Before
Have you ever heard of RAID? How much do you know about RAID recovery? Now, we'll unveil them for you.
RAID recovery refers to the process of data recovery from a RAID array which encounters a problem for whatever reasons (maybe it happens due to uses' improper/wrong actions, a controller problem, the virus attack or something else). The RAID recovery mainly consists of two aspects: recover data from RAID and rebuild RAID. Here, we'll focus on the first aspect.
Let's start with a specific case in which RAID data recovery is needed.
"I'm in a bit of a tough spot. I have 3 drives that were configured in a RAID 5 array that I need to get some data off of them. I don't have the original server equipment available or controller card that was attached to them. The array is complete; none of the disks are in a failed state. They were just removed from the previous server.
Is there any way possible to recover the data from them? Possible using a USB connection of some sort?"
Maybe you're familiar with this kind of case, maybe you're troubled by such problem right now; either way, it indicates that RAID recovery becomes a topic which can't be ignored.
In fact, if you search "RAID recovery", "RAID data recovery" or related keywords in Google, you'll get lots of results within one second.
According to this, you can easily find users' urgent demands for RAID data recovery/RAID file recovery. Taking this into account, we plan to show you in detail how to recover data from RAID with the best RAID recovery software – MiniTool Power Data Recovery (please choose Mac Data Recovery instead if you need to finish RAID recovery on Mac).
After that, we'll talk about causes of RAID data loss and more information about the RAID itself including the composition of the RAID, common RAID types and benefits brought by the RAID. Please skip to the content you're interested in to read by clicking on subtitle in the directory.
How to Recover Data from RAID
Earlier, when users meet RAID data loss, unfortunately, they have no choice but to pay much money for the RAID recovery services (either get help from professional recovery companies or data recovery software).
Now, the good news is users have a better choice: use MiniTool Power Data Recovery – which perfectly supports common RAID types – to complete data recovery from RAID drives. Please note that we'll take only RAID file recovery on Windows as an example in the following content. The RAID recovery on Mac is similar (you only need a different version of software).
Though in RAID 5, the disk array can work well even when over two or more disks are damaged, RAID 5 data recovery from damaged or corrupt RAID arrays is still important. That is because the data saved on RAID are often too significant to lose.
Now, we're going to focus on RAID 5 recovery on different platforms.
RAID Recovery for Windows
For the purpose of recovering a RAID-5 volume that is damaged, users should choose "Damaged Partition Recovery" function from the main interface of MiniTool Power Data Recovery.
After that, the following interface will appear and ask you to select the volume you'd like to recover. Now, you should choose New Volume H and press "Full Scan" in order to search for the lost files from RAID 5 volume.
Then, found files will be displayed one by one in the interface below, in which you are supposed to select all you need to recover. If there're too many files waiting for you to choose from, you could make use of "Find" or "Filter" function to narrow the search scope.
Besides, if the data need to be recovered are pictures, photos or *.txt files, you can select a file and click on "Preview" button to see the real content so as to determine whether it is the one you need or not.
When all needed files are selected, you should recover them by pressing "Save" button and setting a safe storage location. This method works for both hardware RAID data recovery and software RAID recovery.
Note 1:
If the RAID 5 array with lost data is running on a Windows Server system, you need to buy a Business License since:
a). The Free Edition only allows you to scan lost files on Windows Server (not recover).
b). The Personal License doesn't support Windows Server at all.
Note 2:
To recover lost data in Windows under other circumstances, you should choose another function from the 5 different functions shown on the main interface. For example, if you plan to restore completely deleted files in Windows 7, please choose "Undelete Recovery".
Note 3:
MiniTool Power Data Recovery is also a great choice for mirrored volume recovery (it is a piece of wonderful RAID 1 recovery software). Besides, it is a popular tool to help people recover data from RAID 0 or other common RAID types.
RAID Recovery for Mac
If you are running the RAID array on Mac, you need the help of another program – MiniTool Mac Data Recovery. Also, you can try the free edition firstly and then decide to get an advanced edition or not. But you have to notice that the free Edition of Mac Data Recovery only allow you to scan lost files for free. Therefore, if you find what you need after the scan, you have to acquire a license to complete the RAID recovery on Mac.
There's no difference in using this Mac data recovery software for RAID file recovery; you should also choose a suitable function from the main interface, select the target drive to scan and check needed data to recover.
In short, what you should do after you found data loss on RAID are stopping using the RAID, closing computer, downloading specific MiniTool data recovery software and performing RAID recovery step by step under guidance. Doubt about the RAID recovery services provided by MiniTool? Please try the free edition yourself.
How Data Get Lost from RAID
As we mentioned before, RAID offers a high performance to computer users, especially those who're handing with servers. But in the meantime, it is also likely to bring troubles to them. There's a typical point of view – when system crash, virus attack, power failure/surge or other unknown reasons lead to data loss on RAID disk, things will be more complicated than data loss on a single disk.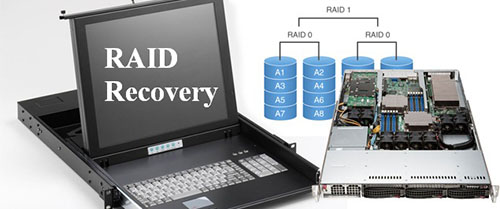 That is because data recovery from RAID drives seems to be more difficult for ordinary users. They don't know at all what to do or what they shouldn't do at that moment. Some of them are even like ants on a hot pan and would do whatever is said possibly to rescue their RAID.
But what we want to say here is: this is totally wrong! Any operations performed after data were lost from RAID could bring secondary damage and this may result in a devastating result – permanent loss of data. Even the best RAID recovery software or the most professional data recovery experts can do nothing once lost data are overwritten. Well, what are the exact reasons that will lead to RAID data loss? Please keep reading.
6 Causes for RAID Data Loss & 3 Suggestions
Common reasons responsible for RAID data loss:
1. RAID array card fails.
2. Physical disk failures, such as bad sector, disk error and long disk responding time.
3. Sudden power outage on array cabinet or server without UPS protection.
4. Booting system with wrong disk order or unreasonable change of array configuration data.
5. Improper reconfiguration of RAID disk array information.
6. Unstable power supply, leading to the loss of RAID information.
Please take following measures immediately when failure is detected on RAID disk array:
1. Save all pending files & documents and power off the system properly.
2. Report the situation to disk array manufacturers or resort to professional disk array data recovery company/RAID data recovery software.
3. Please don't attempt to do data recovery operations, such as rebuilding and synchronization.
What Is RAID Exactly
A RAID consists of several cheap disks, so it is a disk group with huge capacity. The principle is: RAID uses the individual disk to provide data, producing an additive effect so as to enhance the comprehensive effectiveness of the entire disk system.
On RAID, same data will be saved respectively to different places of different disks in the array. In this way, the input and output operations can overlap in a balanced manner to improve disk performance. By taking advantage of parity check concept, RAID is able to read data even when a disk in the array is failed. What's more, data on the failed disk will be transferred to new hard disk after reconstruction and calculation.
As a result, the MTBF (Mean Time Between Failures) is increased due to multiple disks; at the same time, redundant data storage increases fault tolerance as well.
FYI, the full name of RAID is originally Redundant Array of Inexpensive Disks, now Redundant Array of Independent Disks.
Common RAID Types
According to different classification methods, RAID array can be divided into different types. The 2 most important classification criteria are creating way and function. RAID is divided into following types: software RAID and hardware RAID, RAID 0, RAID 1, RAID 2, RAID 3, and so on. Different RAID levels have different pros and cons.
A brief comparison of software RAID and hardware RAID:
Software RAID is created by software totally (there is no need for the hardware to be actually configured as RAID drive) while hardware RAID is really a hardware-based mechanism. But, they have no difference in function.
Common RAID levels:
RAID 0: based on Data Stripping, RAID 0 is the earliest RAID mode. It is also the simplest form of disk array which needs at least 2 disks. Though RAID 0 has a low cost, it's able to improve the overall disk performance and throughput.

Deficiency: it does not provide redundancy or ability to fix bugs.



RAID 1: it is also known as disk mirroring, which provides data redundancy. The principle is to mirror data from one disk to the other one. That is to say, when data is writing to one disk, the corresponding image file will be generated and saved on the other disk. This could ensure maximum system reliability and repairability without affecting performance.

Deficiency: only half of the disk capacity is effective, which increases cost indirectly.



RAID 0+1 (also known as RAID 10): it's the combination of RAID 0 and RAID 1. RAID 10 can be simply understood as the mirroring of RAID 0 arrays. It has the following features.


a). Offer fast read/write capability.
b). Offer full redundancy capability.
c). Data are distributed across multiple disks.
d). Each disk has its own physical mirroring disk.
e). Allow disk failure without affecting data availability.



RAID 5: its parity code exists on all disks in the array, so the reliability is increased. The principle is cutting data parity on each disk into pieces and saving them to all disks in the array. This eases the bottleneck problem arising from parity data storage at the price of sacrificing speed.

Deficiency: data transmission parallelism and the design of controller are hard to handle.
Why People Set up RAID
3 main purposes of creating RAID array are:
a). Gain data redundancy.
b). Provide fault tolerance via data parity.
c). Improve transmission rate (so as to achieve better disk performance).
Besides, when users get their hands on deploying an enterprise-class server, RAID is essential for them. Why? It is simple to explain – redundancy is very important for a server system since the drive may be failed and the server may be crashed, resulting from many unexpected issues.
In a word, RAID is necessary in some cases to help people increase disk performance in the way they want. And the creating process of disk arrays is not so complex that most of the users can actually finish by referring to an online tutorial.
Summary
Believe it or not, RAID data loss happens now and then due to different reasons. In this case, people will naturally give top priority to RAID recovery. But how? Our suggestion is using omnipotent RAID data recovery software.
Please stop using the RAID and corresponding system immediately, and then get the reliable software to start RAID recovery without any delay. The tutorial mentioned above in "How to Recover Data from RAID" part is going to get you through the process easily.
Related Articles