Skype is a very popular application for video chatting and voice call. It is a small app that can be installed on different devices: computers, laptops, tablets, mobile phones, smartwatches, Xbox One console, and so on. People are wondering whether they can find the Skype chat history or not after it was deleted from a certain device.
You may not have used Skype, but it's almost impossible not to have heard of it. Skype is a world-famous telecommunications application for providing video chat and voice calls (online calls, messaging, affordable international calling to mobiles or landlines, etc.). Like other similar programs, Skype will keep the chat history for a certain period of time on your device or in the Cloud.
Here is some MiniTool software available for data recovery, file backup, and problems troubleshooting.
Deleted Skype Chat History Windows 10
Many users share the same experience on the internet: the Skype chat history is deleted by them mistakenly or lost suddenly due to application crash, freezing, or other reasons. Users are eager to know how to find deleted Skype chat history since it contains important information they need.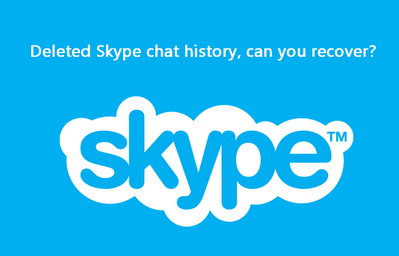 Let's take a look at 2 true examples found in Microsoft Community.
Case 1: Recover Deleted Skype Call/Message History.
Does anyone know how I can recover my skype chat and message history? Nothing was backed up. I can't find a way that I can contact skype directly about this.

- from PeterCraven1
Case 2: Urgent help required! How to retrieve deleted Skype Chat history?
I am looking to retrieve my chat history from 3 years back with one of my contacts and I have been using Mac to get in contact with them. However, on my Mac, Skype has default chat history up to 1 year but I want all the history from 2014 onwards. Is there any way that I can get my history back. Can Skype help me retrieve this information?

- from IamZo
Can You Recover Skype Chat History Windows 10
Does Skype keep chat history?
In fact, Skype will keep users' text-based chats in the cloud for at most 30 days. If you want to keep the Skype conversation history for a longer time, you'll have to make backups manually. MiniTool ShadowMaker can help you finish files & folders backup and system backup & restore easily; it also allows you to perform an automatic backup. (The detailed steps will be mentioned later in this article.)
Can you recover Skype chat history?
Your Skype chat history may be lost in several cases: users deleted the chat history accidentally; malicious applications or software downloaded on the device deleted the Skype messages; the operating system is corrupted; the Skype application freezes, crashes, or stops working suddenly. You have a good chance to retrieve deleted Skype conversations before the data has been overwritten.
Where does Skype save files?
If you're using Skype on a Windows computer, there will be a main.db database file in the AppData folder to save Skype messages, voicemails, call logs, videos, documents, and other information. If the Skype chat history is deleted, the corresponding interactions will be hidden so that users can't view or access them. However, the fact, they still exist on your PC for a period of time.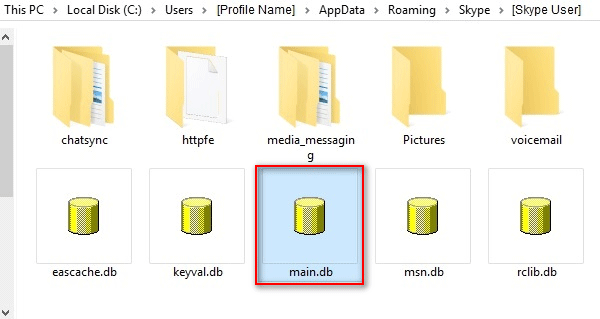 The default Skype chat history location is: C:\Users\WindowsUsername\AppData\Roaming\Skype\SkypeUsername.
Tip: There will be a My Skype Received Files folder in C:\Users\WindowsUsername\AppData\Roaming\Skype\ to store all the files and documents sent by your contacts through Skype.
How to Recover Deleted Skype Chat History
As mentioned above, the real data of deleted Skype chat history is saved in the main.db database file on your device. However, the database file is a special type of data file that can't be accessed by just double clicking. You need to use applications like Skyperious and SkypeLogView (also known as Skype Log Viewer) to recover deleted Skype chat history Windows 10.
Visit a specific page to download Skyperious or SkypeLogView.
Install the application on your computer properly.
Launch it and open the main.db file located in C:\Users\WindowsUsername\AppData\Roaming\Skype\SkypeUsername.
Use the browser of the application to search for the conversation containing the chat messages which have been deleted.
How to Access AppData Folder
Users were experiencing the same problem while trying to recover deleted Skype chat history by using the method mentioned above – can't find the AppData folder. There are 2 simple fixes for it.
Fix 1: access via Run.
Press Windows + S to open Windows 10 search bar.
Type run into the textbox and hit Enter. (You can also select Run from the WinX menu of the Start button.)
Type %appdata% into the textbox after the word Open.
Click on the OK button below or press Enter on the keyboard.
This will open the Roaming folder inside the AppData directly.
Fix 2: show hidden files and folders.
Open File Explorer (also known as Windows Explorer) on Windows 10.
Click View in the menu bar at the top.
Click on the Options icon directly or click on the downward arrow button & choose Change folder and search options.
Shift to the View tab in the Folder Options window.
Check Show hidden files, folders, and drives under Hidden files and folders option.
Click on the Apply button in the lower right corner to confirm changes.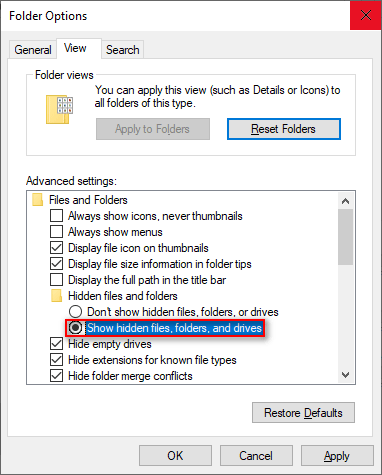 How to recover missing files on Windows 10?
How to show hidden items more easily?
Also, you need to open File Explorer.
Select View from the menu bar.
Navigate to the Show/hide section which is on the left side of Options.
Add a checkmark into the square box in front of Hidden items.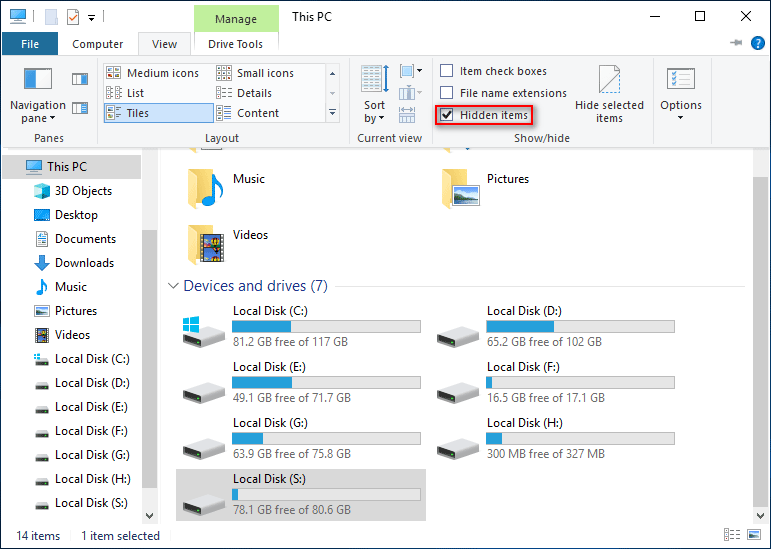 Some people said that their File Explorer is not responding or stops working suddenly, here's how to fix the problem in different ways:
How to Fix Corrupted/Missing Database File
Some users said that they can't find database files in the Skype folder under AppData\Roaming, so they are not able to use it to recover the deleted Skype chat history. On this occasion, users should go to recover the database file itself and then use it to recover the deleted conversations and messages.
Software like MiniTool Power Data Recovery should be used to recover a damaged/lost file from storage devices like computers, external hard drives, USB sticks, and SD cards. Here's how to recover deleted history.
Stage one: download the software and install it properly.
Visit the official website to get to know about the data recovery software.
Choose a license for the software. If you don't know the differences between those license types, please click here.
Get & save the setup program to a safe location. Don't store the installer to the drive that contains lost data waiting to be recovered in order to avoid data overwriting.
Wait for the downloading to finish. It won't last too long unless there is a network or other problems.
Navigate to the folder that saves the installer and double click on it to open the Setup wizard.
Follow the on-screen instructions to finish installing the software easily.
Stage two: run the software to recover the database file.
Run MiniTool Power Data Recovery by checking the option at the end of the installation or double clicking on the software icon manually.
Copy & paste the license you have into the textbox at the bottom part of the Registration window.
Click on the Register button and wait a few seconds until you see the message – Thank you for your registration!
Click OK to continue.
Wait for the disk information loading process to finish (it only lasts for a few seconds).
Make sure This PC option is selected in the left sidebar.
Choose C drive under the Logical Drive section in the right-hand pane. (As mentioned earlier, the database file is saved in Local Disk C: by default.)
Double click on the C drive or click on the Scan button at the bottom right to start a full scan.
Wait for the scan to progress. You can see and browse the found folders and files during the process.
Considering that there are a lot of files found during the scan, I advise you to make use of Find feature to locate files quickly: click Find from the menu bar -> type db into the textbox after File Name -> click on the Find Next button or press Enter (repeat this action to find more files you need).
Check the db file and click on the Save button in the lower right corner.
Choose a local drive or external storage to store the recovered data (make sure there's enough free space left). Then, click on the OK button to confirm your selection.
Wait until you see a prompt window telling you that the selected files have been saved to the location you appointed.
Click OK to close the prompt window; you can also click on the Backup Now button to get MiniTool ShadowMaker for backing up important data to avoid future data loss.
If you're worried about the performance or other things, please get the trial version before purchasing a license.
But you show know that the Trial Edition only allows you to scan the drive and preview found data; it can't be used to recover data in the real sense – you'll be prompted to upgrade to the full version.
Don't ask how to recover deleted Skype for business chat history; the methods and steps are the same.
How to recover deleted Skype chat history on iPhone?
Download MiniTool® Mobile Recovery for iOS to your computer.
Install the recovery software properly and then launch it.
Connect your iPhone to the computer and make sure it's showing up.
Operate according to software prompts to finish data recovery from iPhone.
How to recover deleted Skype messages on Android
Download MiniTool® Mobile Recovery for Android to your computer.
Install & launch the software.
Connect your Android device to the PC properly.
Follow the on-screen instructions to finish recovering data from Andriod.
That's all about how to recover deleted Skype chat history.
Extended reading:
View Skype Chat History
Skype users are not able to see old Skype messages in the chat window; this helps to keep the screen clean. However, those old messages are not really deleted; instead, they are kept in the Skype download folder by default: C:\Users\WindowsUsername\AppData\Roaming\Skype\My Skype Received Files.
How to view Skype chat history:
Sign in with your Skype account which contains the conversation you want to see.
Choose CONTACTS to see a list or click RECENT to see recent personal and group conversations.
Scroll down to find & select a certain contact/chat.
Click Conversation from the menu bar.
Select View Old Messages from the drop-down menu.
Choose a time period according to the actual situation: Yesterday, 7 days, 30 days, 3 months, 6 months, 1 year, or From Beginning.
Tip: The names of the options may vary slightly depending on the Skype version.
How to Export Skype Chat History
Users can export Skype chat history manually; this is an easy way to backup conversations and messages.
Open this link in your browser.
Sign in with your Skype account that contains needed chat history.
Select Conversations, Files, or both of them.
Click on the Submit request button below.
Click Continue and wait for notification with a link to view/download the file.
Click on the Download button and wait for the process to complete.
Tip: If the Download button doesn't appear, you should keep refreshing the "Export files and chat history" page until you see it.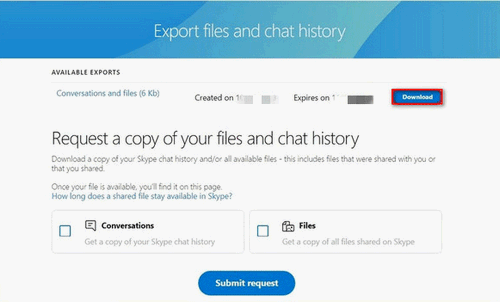 Well, some users are wondering how long they should wait to export Skype chat history. Actually, there is no accurate answer to the question - how long does it take to export Skype chat history.
According to Microsoft, it can take up to, but no more than 3 working days to complete the process.
According to users' feedback, the export process may be completed in several minutes, hours, and even days.
Warm Tip: you should backup your Skype chat history at fixed periods. It's a good idea to have MiniTool ShadowMaker back up data for you automatically.
Final Words
It's a usual way to communicate with families, friends, and colleagues via Skype, which is a worldwide application. This is both convenient and economical. The Skype chat history will be generated during the process; it may contain only daily conversations, but it may also include very crucial information.
The Skype chat history can be deleted due to a lot of reasons, such as human error and sudden crash. Once the important information is missing, users want to find it back. That's why I'm talking about how to find deleted Skype chat history. You should follow the tips and steps mentioned above carefully to recover Skype chat history on Windows 10 or other systems. Besides, it tells you how to view old Skype chat history and how long it will take for you to export your history.