Skype is used widely to keep in touch with colleagues, friends, and family members. You can run this communication app on different platforms: Windows, Android phones, iPhones, Mac, etc. However, a lot of Windows 10 users said their Skype keeps crashing on the computer and they desperately want to find the useful fixes for it.
Skype, the world's famous telecommunications application, offers convenient video chat service, voice calls, and the basic instant messaging service across different devices (computers, laptops, mobile phones, the Xbox One console, and even smartwatches). You can contact your colleagues, friends, or other people anywhere in the world easily over the internet by using Skype.
It's true that Skype makes video/voice chatting with people far away a simple task, but there are problems with it. Skype keeps crashing is one of the popular issues mentioned by people, especially those who have Windows 10 computers.
Tip:
Lots of software is provided for users to solve Windows 10 problems,
improve Windows 10 performance
, and finish special tasks on Windows 10. The following is a professional data recovery tool for all Windows versions. If you need more, please go to the
Home Page
to have a look.
Skype Keeps Crashing or Closing on Windows 10
It's a very terrible experience that your Skype crashes when you're talking with your friends or having meeting calls with colleagues. You may find the Skype application freezing, closing, or even providing an error message window. For example:
Skype has stopped working
A problem caused the program to stop working correctly. Please close the program.
You have no choice but to click on the Close the program option when seeing this prompt. After that, you can restart Skype to see what happens, if the Skype keeps closing or Skype keeps crashing, you should try to fix the problem by using different ways.
You need to know that lots of reasons could cause this error (system update, compatibility issues, sending a certain message, etc.), but no matter what the one is, you should settle down the problem ASAP!
Fix 1: Update Skype
Run the Skype app on Windows 10.
Select Help from the menu bar at the top.
Click on the Check for Updates option in the drop-down list.
Just wait since Skype will check for updates automatically.
Please download and install the updates under guidance if any update is available.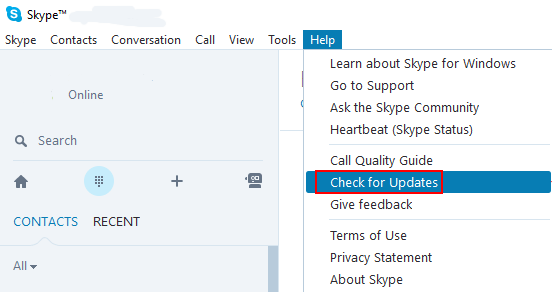 Microsoft has been always working on fixing the bugs (including the Skype app bug) it found by publishing patches and updates regularly. So you can also try to fix Skype crashing Windows 10 by updating the operating system.
Press Windows + S.
Type Windows update into the search box.
Select Check for updates from the search results.
Click on the Check for updates button.
Wait and follow the on-screen instructions to finish updating.
How to recover files lost after Windows update?
Can you enable automatic updates on Skype:
Run Skype.
Sign in with your account.
Select Tools from the menu bar.
Choose Options from the drop-down list.
Go to the Advanced tab and then select Automatic updates.
Turn on the Automatic updates feature.
Fix 2: Reset Skype
Press Windows + I to open Settings.
Select Apps from the pop-up window.
Scroll down to locate the Skype app and select it.
Click on the Advanced options link appeared.
Look for the Reset section.
Click on the Reset button under it.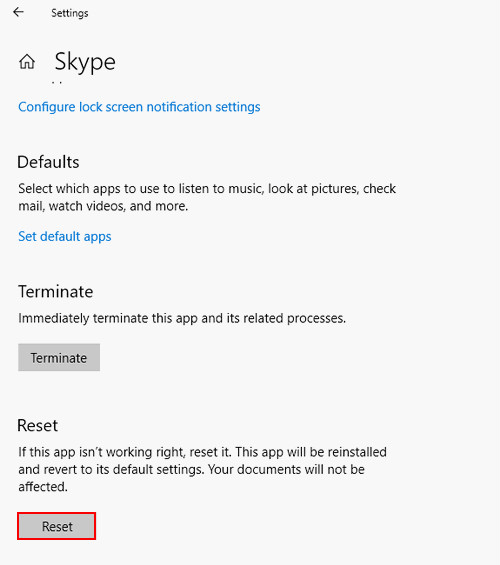 [SOLVED] How To Recover Permanently Deleted Files In Windows?
Fix 3: Reinstall Skype
Repeat step 1 to 3 mentioned in fix 2.
Click on the Uninstall button.
Click Uninstall again in the pop-up confirmation window.
Follow the instructions to uninstall Skype completely.
Download the latest version from the Skype website.
Install Skype properly under guidance.
In addition, you can open Control Panel and click Uninstall a program to uninstall Skype.
Fix 4: Run Windows Troubleshooter
Press Start on the keyboard.
Click on the Settings icon (like a gear).
Click Update & Security.
Select Troubleshoot from the left-side menu.
Scroll down to find and select Windows Store Apps.
Click on the Run the troubleshooter button.
Wait and follow the on-screen instructions to fix any found errors.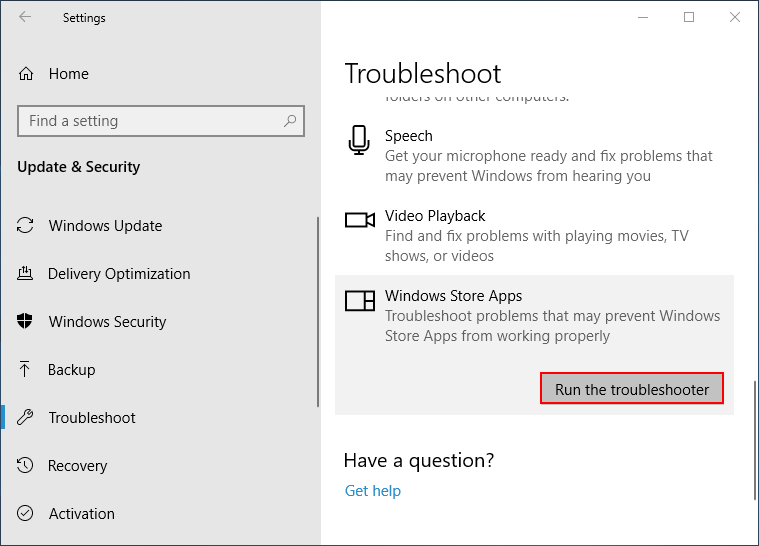 Fix 5: Install Media Feature Pack
Go to this Microsoft webpage.
Look for the Download information
Click on the Media Feature Pack for N versions of Windows 10
Scroll down to the Downloads
Select a proper edition and then click Confirm.
Follow the on-screen instructions to finish rest steps.
Restart your computer.
That's all about what you should do when your Skype keeps crashing.