Can I recover formatted/wiped/erased partition? This is a question asked by lots of people. Here, in the following content, I'll demonstrate how to recover erased hard drive and how to recover lost partition step by step.
Undeniably, everybody has made a lot of mistakes in the lifetime. The difference lies in: some of the mistakes are irretrievable, while the rest of them could be remedied through other ways. After you performed improper operations on the hard drives, such as formatting a partition accidentally and deleting a partition by mistake, what will you think of?
Practical Ways to Recover Wiped Partition
Of course, you'll naturally find yourself wiped a drive when trying to access it. And at this time, if you realized you may lose the entries to all important data forever (like a precious collection of music and pictures), what will you do?
Be crazy about looking for possible ways to recover wiped partition data
Hire professionals to help you
Just try to recover the lost partition, regardless of data?
Different people will give different answers. But to be honest, the former two solutions are both adopted frequently to recover files from wiped hard drive. Although not common, the third solution may also be chosen. It's hard to tell which is better since that really depends on the actual needs.
How to Recover Erased Hard Drive with Recovery Tool
If you would like to get back data from wiped hard drive or partition without worrying about privacy leakage, grabbing MiniTool Power Data Recovery seems to be a good choice.
MiniTool Power Data Recovery TrialClick to Download100%Clean & Safe
5 steps to recover wiped hard drive data with this data recovery software:
1. Install MiniTool Power Data Recovery V8.1 to your computer (not choose the wiped drive as the destination where the installation will be performed).
2. Choose to run the software automatically after installation or by double-clicking on the app icon. Then, select an option to continue data recovery.
Select "This PC" to recover data from a wiped partition.
Select "Hard Disk Drive" or "Removable Disk Drive" to recover data when the entire disk has been wiped.
3. Specify the target partition or disk from the right side of the software Then, scan it by following ways:
Double click on the drive directly.
Press the "Scan" button located on the bottom right.
4. Browse the items found by the software carefully in order to pick out the files you need by adding a checkmark in front of them. Then, click on the "Save" button to choose a storage path for them.
5. At last, you should click on the "OK" button in the directory setting window so as to start recovering those files immediately.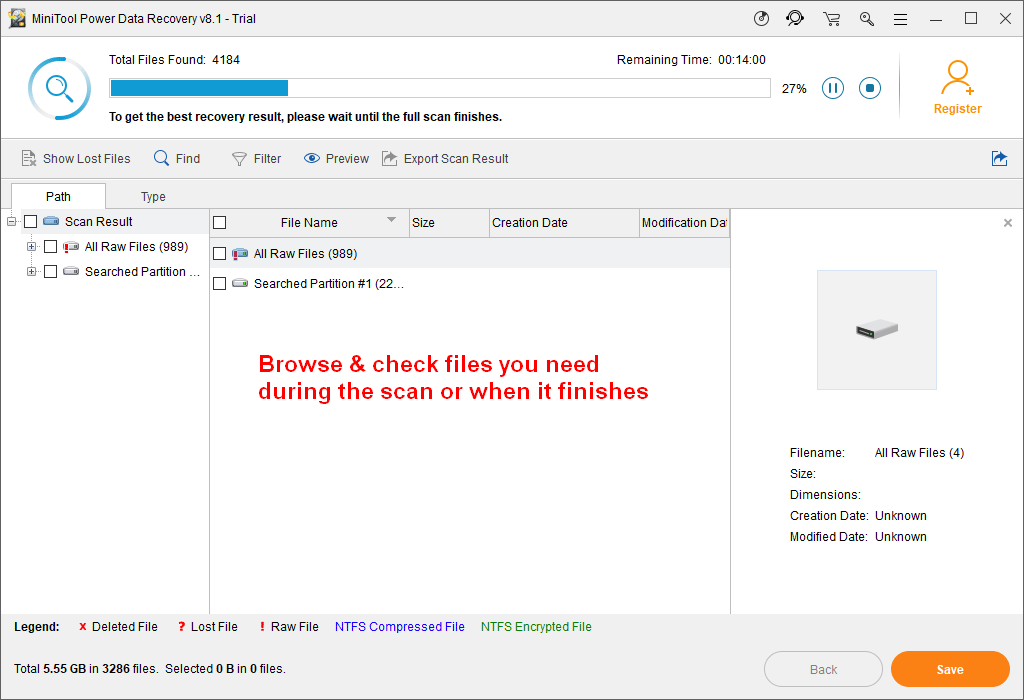 Please note that the trial edition used in the screenshot only allows you to scan disk and preview data; it will not recover data for you. To break this limit, you should obtain a license for a full edition.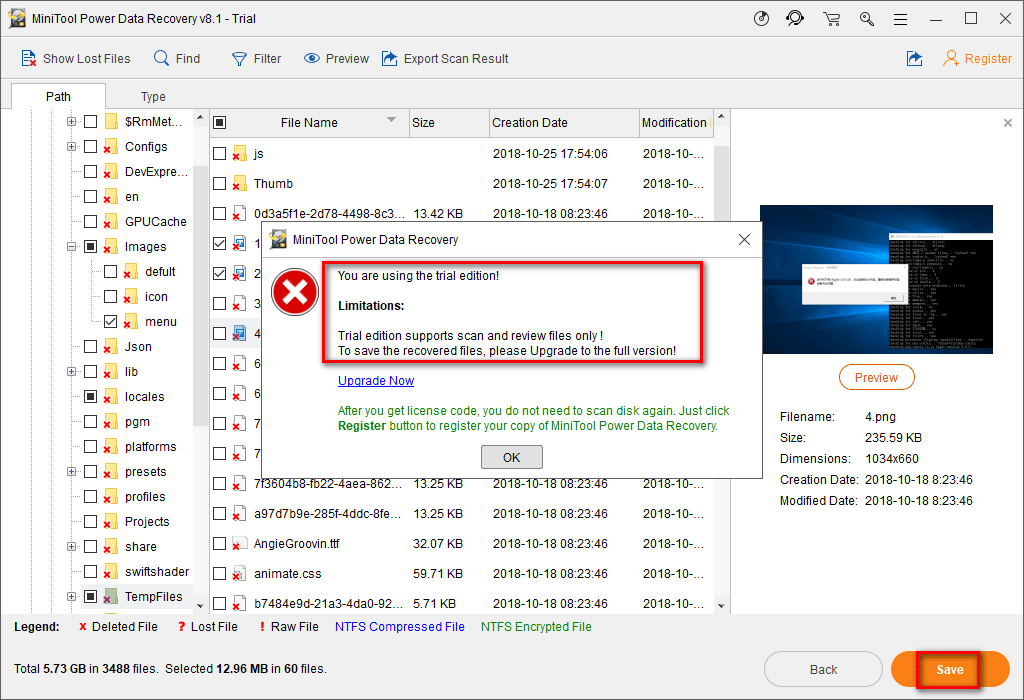 How to Recover Lost Partition Only
As I have said before, if you prefer to let others do the recovery job completely for you, then you should hire professionals (but the cost may be high). If you only want to get missing partitions back, you should just use "Partition Recovery" function of the following tool.
6 steps to recover lost partition with this disk manager:
1. Install MiniTool Partition Wizard V10.3 to your computer (not choose the wiped drive as the destination where the installation will be performed).
2. Launch the software to see its main interface, in which you should select the target disk that has been wiped.
3. There are two ways to initialize the "Partition Recovery" function.
Right click on the disk and choose "Partition Recovery".
Select "Partition Recovery" from the left panel under Check Disk.
4. Set a scanning range and scanning method respectively and then wait for the scan.
5. Check all the partitions found by the software and click on the "Finish" button to confirm.
6. Click on the "Apply" button in the upper left corner of the main interface and then choose Yes from the pop-up window. Then, the software will recover the lost partitions for you automatically.
Note:
this function is not supported by the free edition; please
buy a license
for an advanced edition to achieve this.
When all the operations are done, you can end the work to recover wiped partition.
Now, can you recover a wiped hard drive on your own?
Extended Reading
Even if you have wiped your partition by using Diskpart, you still have a chance to get back the files included in that drive. As for how to do exactly, please read the following passage:
If you need to wipe a hard disk or a disk partition completely (don't want the content to be recovered by any means), you may as well make use of the "Wipe Disk" and "Wipe Partition" of MiniTool Partition Wizard; both functions are easy to use and have a good effect.
Recover Wiped Partition FAQ
Can a wiped hard drive be recovered?
That depends on how you wipe the drive. If you only formatted the entire hard drive or deleted partitions from it, it can be recovered. If you have used special tools to write zero and one to the hard drive, you won't be able to recover it.
Can overwritten data be recovered?
Similarly, the answer depends. If you only delete files and folders from the hard drive and save new data into it. It's possible to recover the data. However, if the real content stored in the
disk sector
has been
overwritten
by new data, the data can't be recovered.
What happens when you delete a partition?
The direct result of deleting a partition is it will disappear from disk and you can't get access to it anymore. The root reason is: the corresponding part Master Boot Record (the hidden area that contains all information about disk partitions) will be deleted.
Is it OK to delete recovery partition?
Yes, it is; you can delete the
recovery partition
. This will not affect the operating system. However, I don't suggest ordinary users to delete recovery partition since mistakes during the process may cause serious problems and the partition only takes up little disk space.