Do you know what is ExpressCard? If you don't know, then you should read this post carefully. In this post, MiniTool will introduce ExpressCard's definition, standards, form factors as well as its availability.
There are multiple interfaces that can be used to connect the devices to a computer, such as HDMI, and this post from MiniTool will give you some information about the ExpressCard.
Definition of ExpressCard
What is ExpressCard? It is formerly known as NEWCARD and it is an interface that connects devices to a computer, usually a laptop computer. The ExpressCard technical standard specifies the design of the computer's built-in slots and the design of the expansion cards inserted into the slot.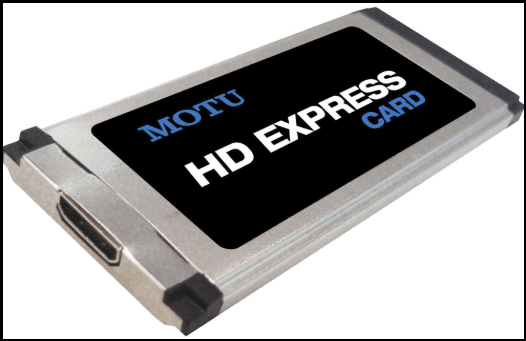 These cards consist of electronic circuits and sometimes connectors for external devices. And the PC Card (also known as PCMCIA) standard has been replaced by the ExpressCard standard.
ExpressCard can connect various devices to the computer, such as mobile broadband modem (sometimes called connection card), IEEE 1394 (FireWire) connector, USB connector, Ethernet network port, Serial ATA storage device, solid-state drive, wireless network interface controllers (NICs), sound cards and so on.
Standards of ExpressCard
The ExpressCard standard was originally developed by the Personal Computer Memory Card International Association (PCMCIA) and is maintained by the USB Implementers Forum (USB-IF).
The host device supports PCI Express, USB 2.0 (including high speed), and USB 3.0 (super high speed) (ExpressCard 2.0 only) connections through the ExpressCard slot; the card can be designed to use any of these modes. The card is hot-swappable. The ExpressCard standard is an open standard defined by ITU-T and can be obtained free of charge from the USB-IF website.
USB-IF manages the ExpressCard Compliance Program, under which the companies have the right to obtain a license to use the ExpressCard logo on their compliant products.
Form Factors of ExpressCard
The ExpressCard standard specifies two form factors:
ExpressCard/34: 34 mm (1.3 inches) wide
ExpressCard/54: 54 mm (2.1 inches) wide, in an L-shaped
The standard length of the ExpressCard is 75 mm, and it will protrude 5 mm above the surface of the holder (for example, the surface of a laptop), while the variant with a length of 70 mm remains flush with the surface.
Availability of ExpressCard
High-end notebook computers manufactured since 2006 are usually equipped with ExpressCard slots:
In November 2004, Hewlett-Packard began using the ExpressCard issuing system.
In May 2005, IBM integrated the slot into its flagship product ThinkPad T43.
Dell Computers has also integrated this feature in its Precision, Inspiron, Latitude, Studio, Vostro and XPS notebook product lines.
In mid-2005, Fujitsu Siemens began shipping systems using the ExpressCard.
From January 2006 to June 2009, Apple Inc. included an ExpressCard/34 slot in every MacBook Pro laptop. At the Apple Worldwide Developers Conference on June 8, 2009, the company announced that the 15-inch and 13-inch MacBook Pro models would replace the ExpressCard slot with a Secure Digital card slot while retaining the ExpressCard slot on the 17-inch model. In June 2012, Apple discontinued the 17-inch model, and no other Macbook offers ExpressCard slots.
On many of its new models, Asus has also replaced the PC card slot with an ExpressCard slot.
Sony also started to sell the system with ExpressCard in its new notebook computer VGN-C, VGN-SZ, VGN-NS, VPC, and FW product lines.
In most new models, the Acer Aspire laptop series also has an ExpressCard / 54 slot.
Panasonic has integrated ExpressCard/4 slots in all fully rugged and semi-rugged models of its Toughbook brand laptops.
The Gateway notebook (ML3109 and later) also comes with an ExpressCard/54 interface.
Eurocom notebooks Panther 3.0, Panther 2.0 currently come with ExpressCard/34, and Leopard 2.0 comes with ExpressCard/34/54. Older models like Panther, Leopard, Xcaliber, Montebello also support the ExpressCard interface.
Overam has integrated ExpressCard slots in Mirage 7283 and 9570 laptops.
Due to the lack of backward compatibility, some notebook computer manufacturers initially released models with both CardBus (PCMCIA, PC Card) and ExpressCard slots. These include certain models of Acer Aspire, Acer Extensa, Toshiba Satellite, Dell Latitude, and Precision, MSI S42x, and Lenovo ThinkPad Z60m, R52, T60, R61, and T61.
In March 2005, the Personal Computer Memory Card International Association (PCMCIA) presented the first ExpressCard products at the CeBIT trade show in Germany. A large number of ExpressCard devices appeared.
In November 2006, Belkin announced that it was launching the first ExpressCard docking station, which uses the PCIe part of the ExpressCard connection to enable 1600×1200 video, while uses the USB part to provide USB, audio, and network ports. This shows that ExpressCard can provide a more powerful non-OEM docking station for laptop computers.
In 2007, Sony launched its Vaio TZ model, which integrates ExpressCards. The Sony Vaio FZ and Vaio Z series also integrate ExpressCard/34 slots. Sony also uses the ExpressCard/34 form factor for flash memory modules in its XDCAM EX/SxS based camcorders, making it easier to copy video data between these cameras and ExpressCard-equipped laptops. Therefore, Sony also provides USB-based SxS readers for desktop computers.
Since April 2007, the new Toshiba Satellite P and X 200/205 series laptop and desktop replacements have ExpressCard/34 slots. In the P200 series, its size is/54, not /34.
Since the dissolution of PCMCIA in 2009, notebook computers updated since 2010 usually do not include an ExpressCard slot, except for some business-oriented models (for example, some Lenovo models use it to support smart card readers). For WWAN connection cards, mini-PCIe slot or USB connection variants have become the preferred connection method.