Nowadays, you can use modern digital technology to capture, create, adjust, and share audio content. There are many audio file formats to choose from, and they all have specific features and benefits. This post is focusing on the M4A format.
What Is M4A
What is M4A file? M4A is the file extension of audio files encoded using Advanced Audio Coding (AAC), which is a lossy compression. M4A is usually the successor to MP3. MP3 was originally not only used for audio design but was the third layer of MPEG 1 or 2 video files. M4A stands for MPEG 4 audio. If you are interested in M4A, you can continue to read this post from MiniTool.
Both M4A and MP3 file extensions are used for pure audio files. Audio-only MPEG 4 container files usually have an M4A file extension. M4A files are not protected. Protected files usually have the M4P file extension.
iTunes Store provides songs in M4A format. These songs are encoded using AAC compression, which greatly reduces the size of each file. Songs containing copyright protection have the .M4P extension.
Compared with MP3 files, AAC or M4A files have better quality and smaller file size. Maybe, you are interested in this post – M4A VS MP3: What Are the Differences and Which One Is Better.
Some audiobooks and podcast files use the M4A file extension, but since this format does not support bookmarks to save the location you last visited in the file, they are usually saved in M4B format, which can store this information. The MPEG-4 audio format is used by the Apple iPhone as ringtones, but they are saved with the M4R file extension instead of M4A.
How to Open M4A
Then, you may wonder how to open the M4A file. If you are a Windows or Mac user, you can try the following programs to open the M4A files – VLC, iTunes, QuickTime, Windows Media Player, Media Player Classic, Winamp, and possibly other popular media player applications.
Android tablets and phones and Apple's iPhone, iPad, and iPod touch can also be used as M4A players, and audio files can be opened directly from emails or websites without any special applications, regardless of whether the file uses AAC or ALAC.
How to Convert M4A
Although M4A files may be a common file type, they certainly won't outperform the MP3 format, which is why you might want to convert M4A to MP3. Even, you want to convert M4R to other common file formats. Then, here are some popular converters for you.
If you want to convert M4A to MP3, you can use iTunes to finish that. Here are the details.
Step 1: Launch iTunes. Then, click the Add File to library… option. After that, select your M4A folder, then click the Open option to add the files.
Step 2: Now, it's time to change the preference settings by clicking the iTunes > Preference… > General > Import Settings options. Then, you need to choose the MP3 Encoder option, then click the OK button on both windows to confirm the settings.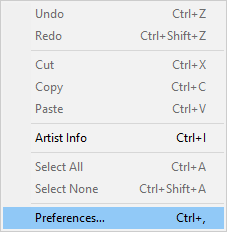 Step 3: Now select the Library option, then choose Music from the drop-down list on the left. Next, choose the M4A album, then select the M4A file that you want to convert to MP3.
Step 4: Finally, click the File button before clicking the Convert button. Then, click the Create MP3 Version option to begin converting M4A to MP3.
Note: After the converting process is finished, both files will be available in your iTunes library.
You can also use some online converters to convert M4R to MP3. It's convenient to use the online convert since you don't need to download any software. Now, I will take Zamzar as an example.
It supports more than 1200 file formats and it can work with any operating system. Besides, it has a remarkable conversion speed and the uploaded file can be as large as 150 MB.
Step 1: Go to the Zamzar official website and choose Add File… to add the M4A file.
Step 2: Click Convert To to select the MP3 format and click the Convert Now option.
Step 3: Then, it will start the converting process. You just need to wait for it. After that, you can click the Download button to save the MP3 file on your PC.
Also see: How to Convert M4A to MP3? 3 Free Ways You Can't Miss
Final Words
To sum up, this post mainly introduces the definition, the opening ways, and the conversion of the M4A file. Besides, some free M4A file converters and online M4A file converters are also talked about. So, you can open your M4A files in different ways.