Microsoft Wireless Display Adapter allows you to easily stream videos from mobile devices to large screens and provides excellent video quality. If you want to get the basic information about Microsoft Wireless Display Adapter, you can read this post.
Microsoft Wireless Display Adapter
Design
The Microsoft Wireless Display Adapter is a small HDMI stick, thinner than Chromecast, but wider to the touch. It is powered by a short (approximately 12 inches) connected USB cable. Therefore, if your old TV lacks a nearby USB port, you need to purchase an extension cord and power adapter yourself.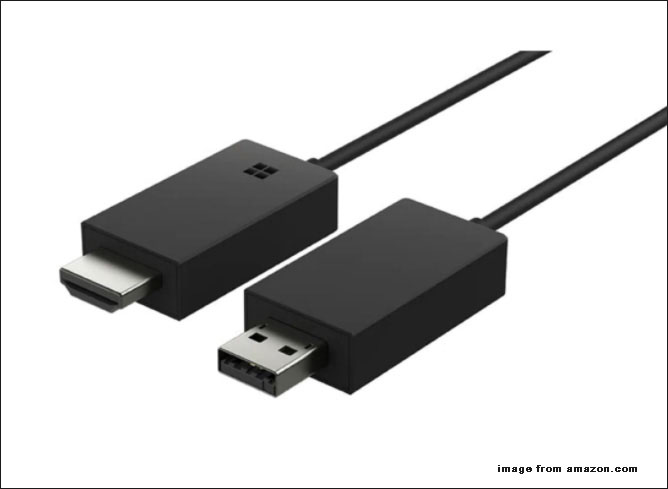 Tip:
If you want to learn some information about HDMI, you can go to the
MiniTool
official website.
The wireless display adapter can be used with many newer Intel-based Windows 8.1 PCs and mobile devices running Android 4.2. Any Windows Phone with Miracast function can also use it. Maybe, you are interested in this post – It's Very Easy to Enable and Use Miracast on Windows 10.
Performance
Wireless Display Adapters are better than gaming peripherals in general screen projection. The Wireless Display Adapter of each device performs well. They can play videos, games, and productivity software smoothly, only a fraction of a second behind the source device. However, not all games perform equally well.
Also see: 11 Methods to Make Games Run Faster on Computer [Work Fast]
Application
The following are the applications of Microsoft Wireless Display Adapter.
View everything on the big screen
You can share content on a tablet, laptop, or smartphone on HDTV or monitor with Microsoft Wireless Display Adapters. Stream movies, view personal photos or show presentations on the big screen-all wirelessly.
Modern meeting
By plugging the Microsoft Wireless Display Adapter into the projector or monitor in the meeting room, you can project your ideas and collaborate in real-time. You can even use ink to highlight a point in PowerPoint and make this large screen your collective workspace.
Advantages
There are advantages of Microsoft Wireless Display Adapter Windows 10:
It is compatible with both Android and Windows devices.
It's easy to set up and use.
It has fantastic audiovisual quality.
It has a small, sleek form factor.
Disadvantages
Now, there are also some disadvantages of Microsoft Wireless Display Adapter:
It has a non-detachable short power cord.
It's expensive.
Top 5 Wireless Display Adapters
Now, let's see the top 5 Wireless Display Adapter.
1. Nvidia Shield
Nvidia Shield is approximately $179. It is highly praised, such as its official Android TV operating system and powerful graphics processor. Its screen mirroring is more effective than most mirroring, and if you have a lot of media, this is an excellent way to watch it.
2. Google Chromecast
Google Chromecast is about $35. It is one of the most popular options, which is perfect for people who don't have an internet subscription but can watch many movies and TV shows. Its maximum resolution is 1080p, which is more reliable than the new UHD version. Besides, it has broad device compatibility.
3. ScreenBeam Mini2
Thanks to its dual-band radio, you can use a less congested frequency to connect to ScreenBeam Mini2, thereby minimizing lag and packet loss due to interference. It is approximately $35. It can be used for almost all Android and Windows devices, but not for Apple products.
4. IOGear GH60
By using high-frequency bands, IOGear GH60 can provide ultra-high-definition images to the TV without degrading signal quality or introducing any noticeable delay. It is approximately $220. It can reach 60 feet without interference from any existing networks.
5. IOGear SharePro
IOGear SharePro consists of transmitters and receivers, each of which is plugged into an HDMI USB port, forming a temporary network between the computer and the TV or monitor. It is approximately $115. Unlike many other operating systems, it can work seamlessly with almost all operating systems (including Linux and macOS).
Also see: Windows 10 vs. macOS vs. Chrome OS: Pick One for Students
Final Words
It's time to make a conclusion. From this post, you can know some basic information about Microsoft Wireless Display Adapter. Besides, you can learn the top 5 Wireless Display Adapters. I believe that this post is helpful to you.