It is recommended to create a recovery disk with a removable drive to prepare for fixing computer running error if you are using a Windows operating system such as Windows 10 so that you can repair or reinstall Windows whenever necessary.
Windows, as the most widely used operating system in the world, is used by countless people and organizations to conduct business, complete their studies, read what is happening in the world, or talk to friends and family.
While you must be aware that there is no perfect operating system, you might need a reliable way to solve potential problems. The Windows recovery disk is such a tool.
A recovery disk is a tool used when the operating system won't boot or it is running with errors and you want to restore it to the previous normal condition by using a backup you have created earlier.
If you are unable to restore your computer, the Windows 10 boot recovery disk gives you the opportunity to reinstall Windows 10. If your system crashes before creating a recovery drive, you can create a Windows 10 recovery USB disk from another computer to save the problem computer.
However, the recovery drive will not work in different versions of Windows 10. In other words, you cannot restore Windows 10 using the Windows 8 recovery disk, nor can you use a Windows 10 64-bit recovery drive to restore a 32-bit computer.
How to Create a Recovery Disk?
After knowing what a recovery disk is, now here comes the question: how to create a recovery disk? We guess you might be concern about this. Here we will provide you with a demonstration with Windows 10.
Before you do this, we have to let you know that when you create a recovery drive, the program will copy a large number of files to the USB drive, so you need to prepare a flash drive with a capacity of at least 16GB. Prior to this, please note that all data on the USB drive will be deleted during this process.
1. Insert the USB to the computer.
2. To open the recovery disk creation tool, you need to type recovery drive into the search box which is next to the Start, and then choose Recovery Drive.
3. In the Recovery Drive window, you have a choice to check the Back up system files to the recovery driveby default which will cause the creation time a bit longer, or you can untick it. Of course, the decision should be made depending on your own situation.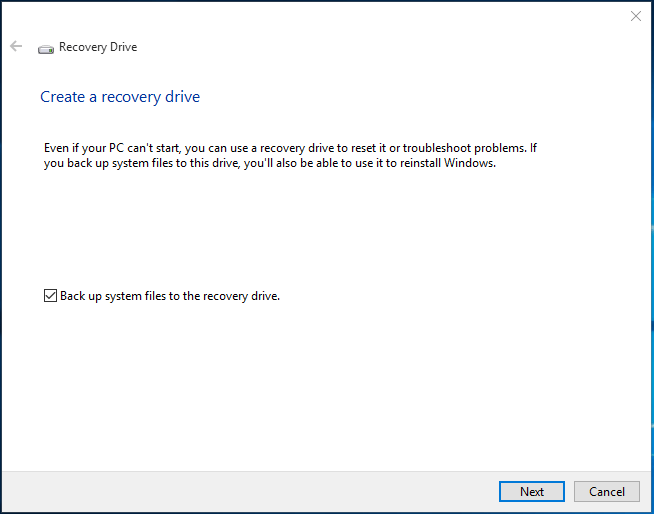 4. Select the USB drive you insert, keeping in mind that the drive will be erased and become a disk formatted with FAT32 file system. When you've made your selection, click the Next button to continue.
5. Click Create to let Windows format your USB drive to create the recovery drive. This step can take a while to complete.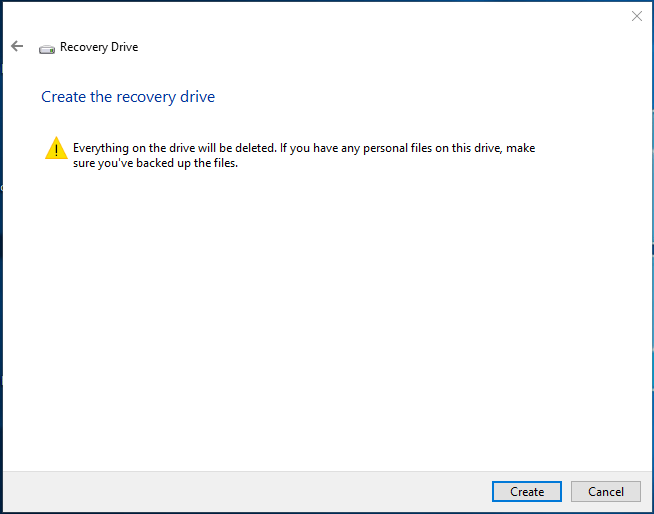 6. Click Finish when the drive finishes creating.
After completing this process, if you have a Windows Recovery Partition on your hard drive, you will see the Delete the recovery partition from your PC option. You can click on it to remove the recovery partition to free up some space on your computer.
Now if your computer fails to boot, you can plug in this Windows 10 recovery USB drive to recover your operating system.
How to Use the Recovery Disk
Now you have a recovery disk, that means you have the chance to save your computer if there is anything wrong with it or it fails to boot. If you have no idea how to use the recovery disk, you can take the following demonstration as a reference.
Follow these steps to use the recovery disk:
Turn off the computer.
Insert the recovery disk into the computer and turn the computer on.
Press F11 as soon as your computer turns on until your system loads System Recovery.
Boot from the optical disc.
Obey the prompts on the screen for restoring your PC.
If you think this is a little difficult, there is another alternative way. For a recovery media to boot any versions of Windows 10/8/7, you can use MiniTool ShadowMaker to back up system files to recovery drives. This can also help you when your computer is running with errors or cannot boot.