This knowledge base displayed by MiniTool official website mainly introduces a kind of motherboard chipset driver called SM Bus Controller and provides several solutions to resolve its unrecognizable problem.
Have you ever heard of SM Bus Controller or seen such a name in your system Device Manager under Other devices section? How do you react if there is a yellow exclamation mark and a question mark (which indicates there is something wrong) located on it? Let's see our solutions!
What Is SM Bus Controller?
SM Bus Controller, also called System Management Controller or SMBus Controller, is an Intel chipset on the computer motherboard. The general purpose of it is to monitor the board's voltage and temperature. SM Bus Controller servers for low-speed, system management communications. It is integrated into most Intel chipsets.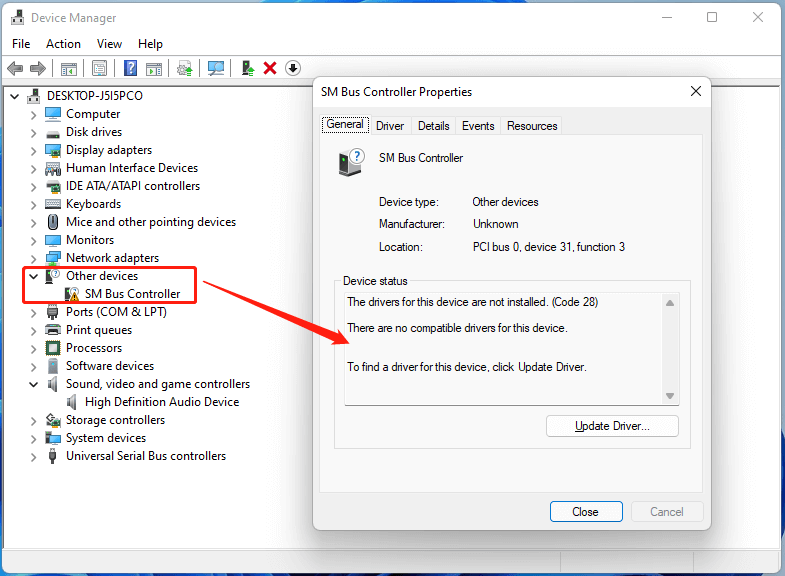 Why There Is an Exclamation Mark on Driver in Device Manager?
Usually, this is seen after you reinstall or update the operating system (this is my situation), or roll back/downgrade Windows. Windows doesn't have native driver support for the chipset that is included on the system board. That is to say, SM Bus Controller doesn't have a driver, Intel SM Bus Controller missing driver, or SM Bus Controller driver not found.
How to Resolve SM Bus Controller Exclamation Mark Issue?
To remove the exclamation mark on the System Management Bus Controller Intel, you need to get drivers for SM Bus Controller. You can download and run the Intel Chipset Software Installation Utility.
The following will teach you how to perform Intel SM Bus Controller driver download for some popular computer brands and the methods apply to Windows 11, Windows 10, Windows 8/8.1, Windows 7, Windows Vista, as well as Windows XP, both 32/64 bit.
SM Bus Controller driver Dell
1. Go to the Dell Support webpage.
2. Identify your Dell product.
Select your Dell product from the list.
Input your Dell Service Tag, Serial Number, or Model and click Search.
Click Browse all products.
Click on the Download & Install SupportAssit button.
Tip:
SupportAssist
will identify your Dell computer automatically.
3. On the product support page, select Drivers and downloads.
4. Toggle the Show drivers for Service Tag button to retrieve a list of the drivers for your OS' factory-installed hardware and other recommended drivers. Detect Drivers option scans the PC and presents a concise list of recommended drivers and software that requires updates.
5. Select Change OS and make sure that the correct version of Windows that is installed on your computer is selected.
6. Find the Intel or AMD Chipset Device Software Driver that is applicable for your machine.
7. Click Download.
8. If you are warned to run or save the file. Choose Save and select a preferred location.
9. When the download finishes, run the .exe file.
You may need to restart your computer to complete the process.
SM Bus Controller Driver Lenovo (Ideapad)
If the Intel SM Bus Controller is not recognized in Device Manager in your Lenovo computer, you can solve the problem with the following steps.
Move to Lenovo support website.
Search for your product.
Set Component as Chipset.
Find the Chipset Driver and select the correct system.
Choose Download.
SM Bus Controller Driver HP
If you change your system version, no matter upgrade or downgrade, you may receive a yellow exclamation mark on the SM Bus Controller whose general properties saying "The drivers for this device are not installed. (Code 28) There are no compatible drivers for this device. To find a driver for this device. Click Update Driver."
However, when you try to update its driver, you may get an error showing that:
Cannot Install this Hardware
There was a problem installing this hardware:
SM Bus Controller
An error occurred during the installation of the device:
The driver installation file for this device is missing a necessary entry. This may be because the INF was written for Windows x or later. Contact your hardware vendor.
Just follow the below instructions to handle the issue.
Connect your PC to the Internet.
Find the SM Bus Controller It is usually under the Other devices section. If not, try to look for it within the System devices section.
Right-click on SM Bus Controller and select Update driver.
If the updating driver can't fix the issue, continue with the following guide.
Open Windows DirectX Diagnostic Tool.
Navigate to its Display
Find your Chip Type in the Device
Search and find the official website of your chip.
Download and install the proper drivers for your chipset.
Below are the official websites for common chip drivers:
General Solutions for SM Bus Controller
Besides the above fixes for different brands of PCs, there are some general methods that apply to all kinds of computers including other brands of PCs like Asus, Toshiba (Satellite), and Gigabyte.
Update SM Bus Controller driver.
Uninstall and reinstall SM Bus Controller driver.
Rollback SM Bus Controller driver.
Update Windows.
Windows 11 Assistant Software Recommended
The new and powerful Windows 11 will bring you many benefits. At the same time, it will also bring you some unexpected damages such as data loss. Thus, it is strongly recommended that you back up your crucial files before or after upgrading to Win11 with a robust and reliable program like MiniTool ShadowMaker, which will assist you to protect your increasing data automatically on schedules!