This article reviewed by MiniTool Software Limited introduces 7 methods to restore your computer to an earlier date, including the ways relying on system restore utility, system image recovery, system updates uninstallation, Backup and Restore app, as well as MiniTool ShadowMaker program.
Most of the methods in this article also applied Windows 10, Windows 8.1/8, Windows 7, Windows Vista, and Windows XP.
About Restore Computer to Previous Date
To restore the computer to the previous date refers to recovering the PC to its earlier state, usually when it is in the good working condition that preferred by you. People need to do that when they encounter some problem under current situation or find the system environment not suitable for them. This often happens after they upgrade the operating system (OS), change some system settings, or install some unremovable applications/services/drivers.
Back up Import Data with MiniTool ShadowMaker
Before restoring your PC to an earlier date, it is strongly recommended that you back up crucial files/folders, applications, etc. in case of unexpected data loss. Here, you can rely on a robust and easy-to-use program called MiniTool ShadowMaker to help do that work.
MiniTool ShadowMaker TrialClick to Download100%Clean & Safe
Next, let's see how to carry out the restoration in different methods.
#1 How to Restore Computer to Earlier Date Windows 11 from System Restore?
System restore is a legacy function embedded in Windows 11 that enables you to create a snapshot of the state of the current OS and save the snapshot as a "restore point". Once needed, you can go back to the previous time in point relying on this restore point.
How do I restore my computer to an earlier state? The following are the steps. You can refer to them and conduct your system recovery.
1. Open Windows 11 Control Panel and view its contents by the icon.
2. Find and click to select the Recovery
3. Next, choose the Open System Restore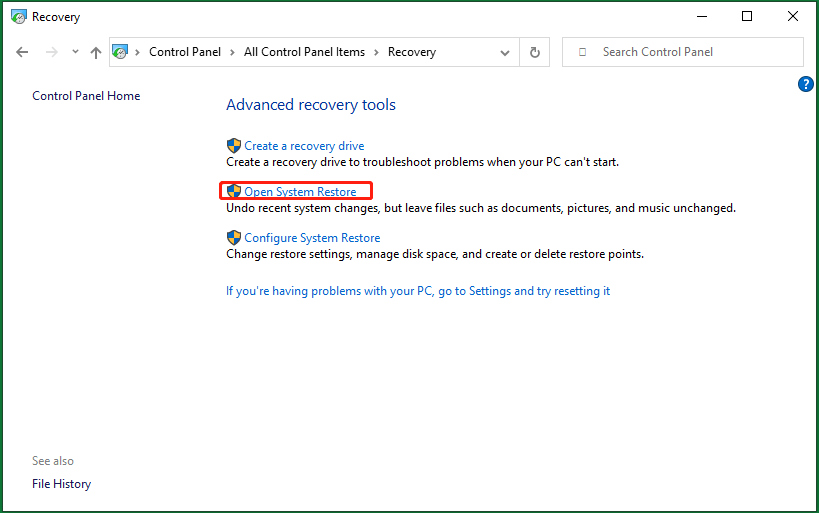 4. Then, a new window will pop up telling you that system restore doesn't affect any of your documents, pictures, or other personal data. Yet, recently installed programs and drivers might be uninstalled. Just click Next to continue.
Tip: You can also get this System Restore page through Windows 11 Settings > System > About > Advanced system settings and go to the System Protection > System Restore in the new popup. Or, just type "rstrui" and press Enter in a command platform (CMD or PowerShell).
5. Select a system restore point to go on.
6. Review the action that will be taken to your running PC. If you have changed your Windows password recently, you are recommended to create a password reset disk. Besides, system restore needs to restart your machine to apply the changes. Before starting the restoration, save all your open files and close all apps. Then, click the Finish.
7. It will warn you about the un-interruption of the system restore process. You can undo system restore when it finishes. Yet, if this system restore is carried out in Safe Mode, it can't be undone. Just click the Yes button to confirm.
Then, it will begin to restore your computer to an earlier date. It will take some time to complete. Just take your patience and wait until it finishes. Or, you can leave it and do your other business. Remember to come back and check for the result.
#2 How to Restore Computer to Previous Date Windows 11 Within WinRE?
You can also conduct system recovery within Windows Recovery Environment (WinRE or Windows RE), which is also known as Windows Advanced Startup Options.
1. Enter into Windows RE. If you boot into WinRE from within Win11, you must be signed in as an administrator to perform a system restore. If you access the Window recovery environment through Windows 11 installation disk, there is no such requirement.
2. Select the Troubleshoot choice on the Choose an option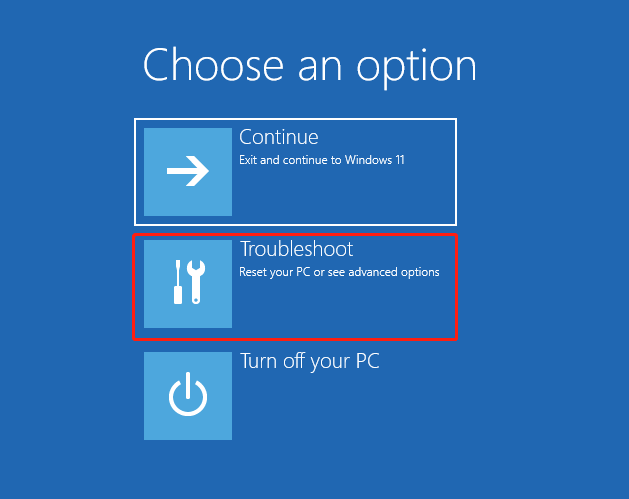 3. Choose the Advanced options on the next page.
4. Next, select the System Restore
5. If you reach this Window recovery environment via current Windows 11, you may need to pick up an administrator account and sign in with a username and password. If you get into this Windows RE through an OS installation device, just select the Windows 11 option.
6. Then, you will be directed to the System Restore window that is the same as the above. From now on, just obey the steps above to complete the ystem restore.
7. When it finishes, click the Restart button to reboot the PC. Once restarted, sign into Win 11 and close the system restore result information popup.
#3 How to Restore Computer to Earlier Time in Windows 11 Safe Mode?
In the above part, it mentions system restore in safe mode, which is a special diagnostic mode in the Windows system usually for troubleshooting PC problems. Here, we will teach you how to restore the computer to its previous state under Safe Mode.
In general, it is easy and just like the process in normal system mode. First of all, you need to boot your computer into WinRE, navigate to Trouble > Advanced options > Startup Settings, and choose an entrance to enter Windows 11 in Safe Mode.
You can enter Windows 11 Safe Mode with one of the three options:
Enable Safe Mode: Normal and brief Windows environment with a desktop.
Enable Safe Mode with Networking: Normal and brief Windows environment with desktop and Internet access.
Enable Safe Mode with Command Prompt: Windows environment with no desktop but a command prompt window. (Not suggested for common users)
If you are a common user and don't know how to perform a system restore via commands, you are not recommended to choose the third option to enter Win11 Safe Mode.
Once entered the system Safe Mode, just carry out the system restore task like in your normal OS environment in the first method.
#4 How to Restore Computer to Earlier Date Without System Restore?
The above three ways all make use of system restore to restore the computer back to an earlier date. Yet, is there a solution that does not rely on system restoration? Of course! If you have ever created a system image in Windows 11, you can easily restore your system to the date when you create the image using the image.
The following will show you how to perform system image recovery when you are in Windows RE.
1. Go to Troubleshoot > Advanced options.
2. Select the System Image Recovery
3. Choose a system image backup to perform the recovery. You can either Use the latest available system image or Select a system image.
4. If you choose to select a system image in step 3, then, you need to select the location of the backup for the computer you want to restore. If the system image is on an external device, just attach the device to this machine and then click the Refresh Then, the image should appear in the list. You can also click the Advanced button to add a network location where the system image is saved or install a driver for a backup device if it does not show itself in the list.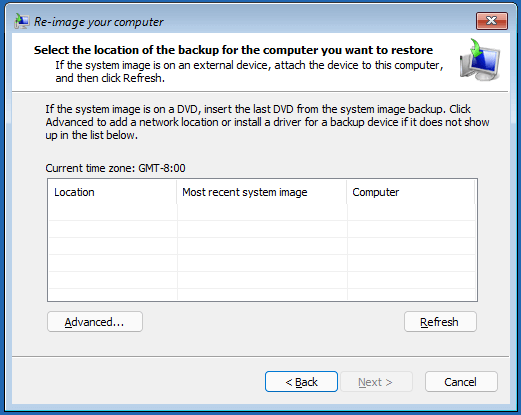 Next, just follow the on-screen instructions to finish system recovery.
#5 How to Restore Computer to Previous Time Windows 11 by Uninstalling Updates?
Besides, you can also recover your PC to an earlier time by uninstalling the system updates you have downloaded and installed recently. If you haven't done any OS updates recently, this method may not available.
1. Reboot your computer into the Windows recovery environment.
2. Navigate to Trouble > Advanced options.
3. Select Uninstall Updates.
4. Choose a way to uninstall your updates.
Uninstall latest quality update: This action will not affect your personal files, apps, or settings.
Uninstall latest feature update: This action will not affect your personal files, but you will lose any changes you've made to apps and settings since your most recent update.
5. Confirm the selection by clicking the Uninstall quality update or Uninstall feature update.
Wait until the task completes.
Tip: If you have recently upgraded to Windows 11 from Windows 10, within 30 days, you are allowed to go back to Win10 through Settings > System > Recovery > Go back.
#6 How to Restore This Computer to an Earlier Point in Windows 11 Time with Backup and Restore?
Moreover, you are able to return back to the previous system condition relying on the Windows Backup and Restore application if you have ever created a system backup with it. Generally, go to Control Panel, find and open the app, and perform a restore with its backup images.
Learn more about Windows 11 Backup and Restore >>
#7 Restore Computer to Previous Date Windows 11 Relying on MiniTool ShadowMaker
Lastly, you can ask for help from third-party programs to restore your machine to an earlier date like MiniTool ShadowMaker, a professional and reliable system backup and restore tool.
To restore OS to the previous date in Windows 11, you need a system backup image created before just like all the above methods. How to make a system backup with MiniTool ShadowMaker >>
Please note that you should carry out the restoration task in WinRE that is triggered by bootable media created by MiniTool Media Builder. Just create a bootable device, connect it to the target PC, reboot the PC into BIOS, change the first boot device to the bootable device, and boot from it. Then, under the bootable media-based WinRE, the MiniTool program will automatically launch itself. If not, just manually open it.
MiniTool ShadowMaker TrialClick to Download100%Clean & Safe
Then, you can freely conduct system recovery with the help of this program.
1. Go to its Restore
2. Find the system backup task in the list and click the Restore button for it. If you can't find the related task, just click the Add Backup button in the upper right to find and add the system image build by this software before. Then, you will see the task reappears in the list.
3. Then, select the backup version, backup volumes, and destination to restore.
Data on the destination location will be overwritten. Make sure you have all the important items backed up. Finally, confirm the operation to begin the restoration.
When the system restoration completes, reboot your computer into BIOS, change the first boot device back to the original hard drive, and boot up the machine.
Besides system backup and restore, MiniTool ShadowMaker can also back up and restore files/folders, partitions/volumes, and the entire hard disk; as well as many other useful features.
Ok, that is all the knowledge we plan to share in this article, if you have any idea about restoring a system to an earlier date, feel free to write it down in the below comment zone.