This post will introduce a Western Digital 500GB hard drive - wd5000aakx to you. The whole post contains the overview, specifications of the hard drive. After reading this post, you will know more details about the drive.
An Overview of Western Digital Hard Drive WD5000AAKX
There are multiple 500GB hard drives on the market. Which one should you pick? No matter what drive you would like to pick, wd5000aakx is worth considering. Before buying one hard drive, you need to read its description carefully. Here, MiniTool will show you wd5000aakx specs to let you have an overall understanding of this drive.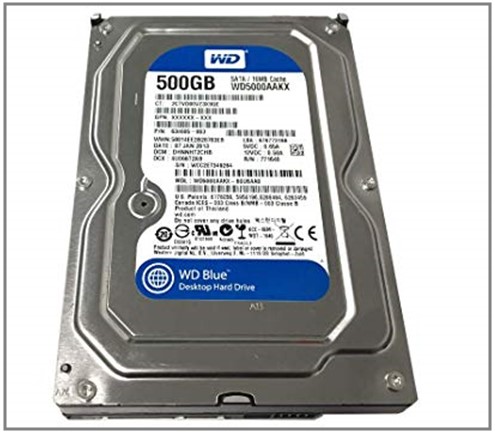 -image from westerndigital.com
The hard disk model of Western Digital wd5000aakx is WDC wd5000aakx. It belongs to Caviar Blue disk family. Its capacity is 500GB (500* 1000 000 000 bytes). The Western Digital wd5000aakx series drives are built utilizing the tried and true proven technology of the original award-wining WD Caviar 3.5-inch hard drives for desktop computers.
Though SATA has become the industry standard interface, Western Digital still continues to produce desktop drives with PATA interface for unique or legacy systems. Built to the highest standards of quality and reliability, these wd5000aakx drives provide features and capacity at an affordable and reasonable price.
More importantly, the drive is compatible with any of SATA hot-swap trays. That's general information of the WD 500GB hard drive – wd5000aakx. Are you still obscure about WD blue 500GB hard drive – wd5000aakx? You can get the detailed information of the hard drive in the next wd5000aakx specs section. Please move on.
WD5000AAKX Specs
To know the performance and overall benchmark of a hard drive, you should read its specifications. The specs of wd5000aakx will be divided into several parts. They are performance specifications, transfer rates, physical specifications, physical dimensions, environmental specifications, acoustics, temperature, power dissipation. Now, let's explore them together.
Performance Specifications
Rotational Speed: 7200 RPM
Average Rotational Latency: 4.17ms
Buffer Size: 16MB
On-board cache: 16MB
Transfer Rates
Buffer to Disk (Serial ATA): 126 MB/s (maximum)
Physical Specifications
Formatted Capacity: 500, 107 MB
Capacity: 500GB
Interface: SATA 600MB/s
User Sectors Per Drive: 976,773,168
Sector Size: 512/512e
Electrical Interface: SATA 600 – 6Gbps
Form Factor: 3.5inch * 1.0inch LFF hard drive
Number of disks: 1
Number of heads: 2
Average Seek Time: 8.9ms
Track to Track Seek Time: 2ms
Full Stroke Seek Time: 21ms
Physical Dimensions (English)
Height: 1.028 inches (Max.)
Length: 5.787 (Max)
Width: 4 inches (+/-0.010 inch)
Weight: 1.52 pounds
Environmental Specifications
Operational Shock (Read): 30G, 2ms
Non-operating Shock: 300G, 2ms
Acoustics
Idle Mode: 28dBA (average)
Seek Mode 0: 33dBA (average)
Acoustic: (Min performance and volume): 3.0 Bel
Acoustic (Max performance and volume): 3.0 Bel
Temperature (English)
Operating: 32° F to 140° F
Non-operating: -40° F to 158° F
Power Dissipation
Required Power for Spinup: 1770mA
Read/Write: 6.8 Watts
Idle: 6.1 Watts
Standby: 70 Watts
Sleep: 70 Watts
Read here, you may have a clear understanding of Western Digital wd5000aakx. In fact, when talking about 500GB hard drives, there are some hard drives from Seagate such as Seagate st500dm002-1bd142, Seagate st500lt012-1dg142, Seagate st1000dm003-1ch162, etc. If you hesitate to buy wd5000aakx, you can compare it with the above listed drives.
After all, all the information in above are objective facts of the Western Digital wd5000aakx hard drive. By making a comparison, you can know which hard drive is most suitable for you.
After comparing them carefully, you can pick one freely. In fact, every hard drive has its own advantages and disadvantages. Based on that fact, you can select a drive that satisfies your demand at most.
Western Digital and Seagate are top 2 manufacturers in the HDD field. Therefore, you don't have to worry about the quality of hard drive. The elements that you should consider are data transfer speed, rotational speed and other factors that can affect your use.
Final Words
To sum up, this post mainly introduces you the general and specific information of WD blue 500GB hard drive – wd5000aakx. Besides, other 500GB hard drives from Seagate are also talked about. In this way, you can have more alternatives when buying a hard drive.
Both the two hard drive manufacturers are famous for their high drive quality. Hence, the key point is that you would like to choose what kind of hard drive. So, are you satisfied with Western Digital wd5000aakx? If so, you can buy the drive on online shopping websites such as Amazon, eBay at any time.