You may have heard of Ethernet cables related to Internet connection but don't know about it exactly. Don't worry. This post introduces a full introduction to it. You can know the definition, types, and work principles of Ethernet cable.
Ethernet cables are everywhere and they are the main force in the wired network world. These cables are essential when creating a home or corporate network or establishing an Internet connection. But what is an Ethernet cable? What are they doing? Why do you need them?
What Is an Ethernet Cable?
What is an Ethernet cable? Ethernet cables can connect your electronic devices (computers, tablets, game consoles, etc.) to the network so that you can access the Internet and interact with shared network resources. Think of it as connecting WiFi to the device by manually connecting to the network instead of wirelessly.
Tip:
If you encounter some WiFi issues, you can go to the
MiniTool
official website to find some solutions.
Ethernet cables come in various lengths and colors, but both ends of the cable are the same, regardless of the brand or equipment of the cable you want to hardwire. The size usually starts at about 0.3 meters and can reach up to 30 meters or more. You can also cut the cable to the length you like.
Ethernet cables are similar to traditional telephone cables, but are larger and have more wires. Both cables have similar shapes and plugs, but Ethernet cables have 8 wires, while telephone cables have 4 wires. The Ethernet cable connector is also larger.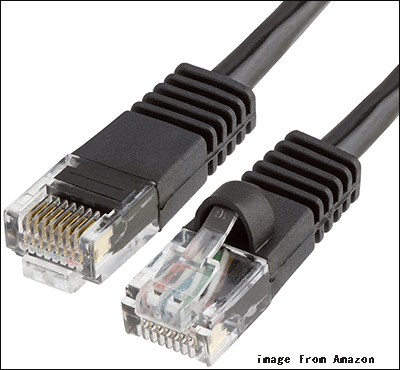 Why Use Ethernet Cable?
After knowing "what is an ethernet cable", In the past few years, WiFi has become more and more popular. Advances in technology have led to WiFi providing faster speeds and more reliable coverage. However, WiFi signals can only handle so many devices at a time. Many WiFi-enabled devices are competing for signal, and you may find that the service is weak or unstable.
Besides, WiFi landing zones are common in older homes. When passing through the wall, the WiFi signal will be weakened. Besides, other daily household items will also affect the WiFi signal, such as microwave, baby monitor, wireless camera, etc.
Types of Ethernet Cable
Ethernet cables support one or more industry standards, including Category 5 and Category 6. Most technicians refer to these standards as CAT5 and CAT6 respectively.
Ethernet cables are manufactured in two basic forms:
Rugged Ethernet cables provide better performance and provide better protection against electrical interference. They are also commonly used in commercial networks, wiring in fixed locations in office walls or under laboratory floors.
The twisted Ethernet cable is not prone to physical cracks and breaks, so it is more suitable for travelers or home network settings.
Advantages and Limitation of Ethernet Cable
Advantages
The advantage of a hardwired Internet connection is that it is faster and more consistent. No walls or other objects are blocking the Wi-Fi signal, and you don't have to worry about a sudden drop in Internet speed.
Using an Ethernet cable for gaming means reduced latency for multiplayer games and faster loading times.
Besides, the great advantage of Ethernet is that it is an internationally recognized Internet technology standard. Therefore, it is supported by all network equipment manufacturers and can be used with any hardware. Another great feature is that the Ethernet cable is very long, so you will never run out of space when creating a setup.
Limitations
A single Ethernet cable has the largest distance capacity, which means that the cable has an upper limit on how long it can last before the signal is lost (called attenuation). The reason for this problem is that the resistance of long cables affects performance.
The two ends of the cable should be close enough to each other to receive signals quickly, and the distance from external electrical interference should be far enough to avoid interference.
However, this precaution does not limit the size of the network, because hardware such as routers or hubs can connect multiple Ethernet cables on the same network. The distance between two devices is called the network diameter.
Before attenuation occurs, the maximum length of a CAT5 cable is 100m (328 feet). CAT6 can rise to 700 feet. Ethernet cables can be longer, but they may lose signal, especially when they pass through large appliances.
Final Words
What are Ethernet cables? Now, you may have got the answer. I hope that this post can be helpful to you.