Sometimes, when trying to install, update or launch an Xbox Game Pass game on your Windows 10, you may encounter an error message with error code 0x80073d26. This post of MiniTool Website will focus on how to remove it from your device.
Gaming Service Error 0x80073d26
When trying to install or update Gaming Services, you may find the following error code and message:
0x80073d26
Something Unexpected Happened
Reporting this problem will help us understand it better. You can wait a bit and try again to restart your device. That may help.
After restarting your computer according to the message, the error code: 0x80073d26 is still there. In this post, we will spare no effort in helping you to get rid of this error code. Some of the fixes are proven fruitful by quite a few people.
How to Fix Gaming Service 0x80073d26?
Fix 1: Log into Another Windows Local Account
The easiest way is to try to log out of your current Windows user account and log into another one.
Step 1. Click on the Windows icon at the lower-left corner of your screen.
Step 2. Hit the profile icon and choose Sign out.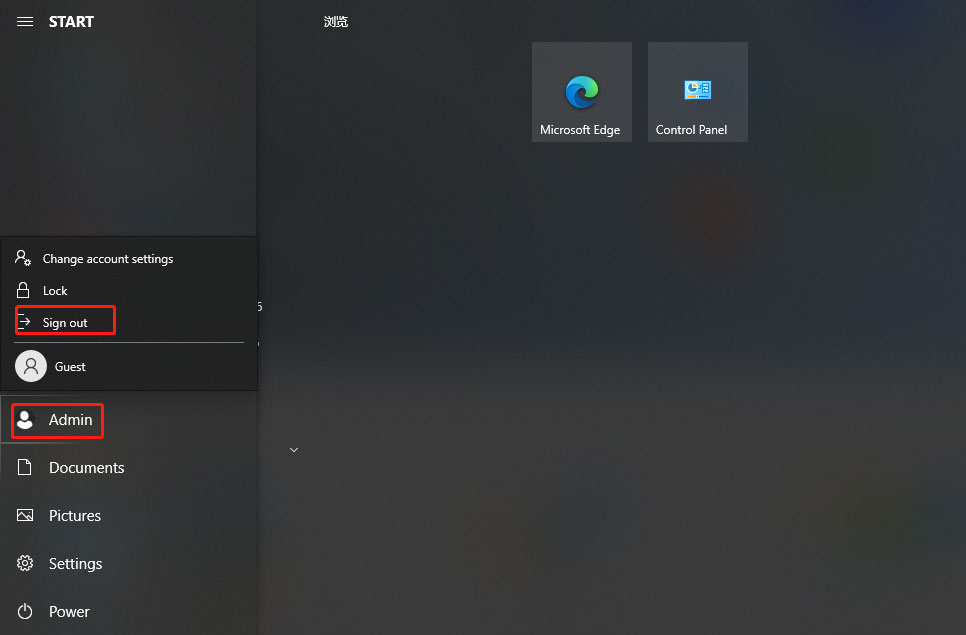 Step 3. After a while, switch to your previous account and launch/install/update the game to show if it works fine for 0x80073d26 gaming services.
Fix 2: Repair Gaming Services via PowerShell Script
The second solution to 0x80073d26 is to reinstall the gaming services via PowerShell script.
Step 1. Open Notepad and copy & paste the following PowerShell script into the empty Notepad document.
Get-AppxPackage *gamingservices* -allusers | remove-appxpackage -allusers
Remove-Item -Path "HKLM:\System\CurrentControlSet\Services\GamingServices" -recurse
Remove-Item -Path "HKLM:\System\CurrentControlSet\Services\GamingServicesNet" -recurse
Related article: Notepad++ Download/Install for Windows 10/8/7 [32-bit & 64-bit]
Step 2. Press Ctrl + S at the same time to evoke the Save As dialogue box and name it as RepairGamingServices.ps1.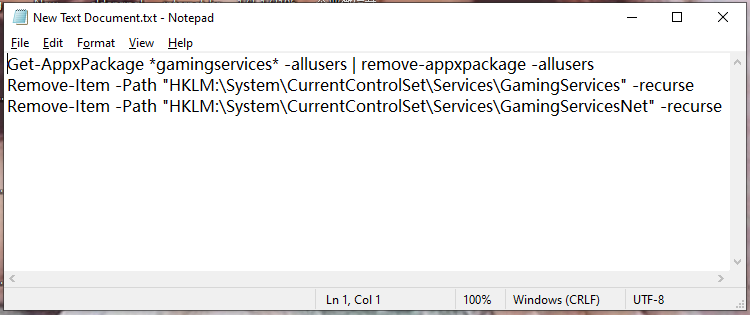 Step 3. Change the Save as type box to All files (*.*) and hit Save.
Step 4. Right-click on the RepairGamingServices.ps1 PowerShell script and choose to Run as administrator.
Step 5. Reboot your computer and then launch Xbox again. You will see a blue banner with the following message:
This app needs an extra component. Gaming Services is needed for playing some games. Administrator approval required. Install
Step 6. Hit Install to reinstall Gaming Services. After installing it successfully, you can install and launch games without error.
Fix 3: Remove GamingServices Key & GamingServicesNet Registry Key
To get rid of 0x80073d26, you can also reinstall Gaming Services via deleting the corresponding registry keys.
Step 1. Press Win+ R at the same time to evoke the Run dialog.
Step 2. Type regedit and hit Enter to open Registry Editor.
Step 3. In the navigation bar, copy & paste the following path and hit Enter to locate GamePlatformService.
Computer\HKEY_LOCAL_MACHINE\SYSTEM\CurrentControlSet\Services\GamePlatformService
Step 4. Scroll down to find the GamingServices and GamingServicesNet registry key, and right-click on them one by one to choose Delete.
Step 5. Reboot your computer and open Microsoft Store.
Step 6. Go to Library and hit Get updates to check for additional updates. Then, Gaming Services will be installed and you will be able to install & start games on Xbox.
Fix 4: Install KB5004476 Optional Quality Update
It is reported that installing KB5004476 out-of-band Windows optional update is also helpful to remove gaming services 0x80073d26.
Step 1. Make sure that you have installed KB5003173 cumulative update or later.
Step 2. Go to Windows Settings > Update & Security > Windows Update > Check for updates.
Step 3. Under Optional updates, look for the KB5004476 optional quality update and install 2021-06 Cumulative Update for Windows 10 Version 21H1 for x64-based systems (KB5004476).