Windows Update error 0x8024001b means that the corresponding update is installing. However, most of you might find that the update doesn't get installed after pretty a long time. What's wrong with it? This post on MiniTool Website will provide you with some causes and solutions for you.
Windows Update Error 0x8024001b
Like any other process in Windows, Windows Update might not run smoothly. Sometimes, you might search for Windows updates, you may get the following error messages:
0x8024001b – 2145124325 WU_E_SELFUPDATE_IN_PROGRESS. The operation could not be performed because the Windows Update Agent is self-updating.
The error might crop up when your system encounters the issues below:
Temporary internal glitches.
Faulty system files.
Threats of viruses or malware.
After figuring out the causes of error code 0x8024001b, now you can try the following workarounds to get rid of it step by step.
To secure your data, you had better back up your important files in advance via a free and reliable backup software – MiniTool ShadowMaker. When your files are lost by accident, you can restore your files using the backup images easily.
How to Fix Windows Update Error 0x8024001b?
Fix 1: Reboot Your Device
Sometimes, you may fail to update your Windows because of some small bugs and glitches. A simple reboot of your device might help to solve Windows Update error 0x8024001b. If the problem is still there after rebooting your system, please move to the next solution.  
Fix 2: Run Windows Update Troubleshooter
Since error 0x8024001b is connected to Windows Update, you can run Windows Update Troubleshooter to recognize the cause of it and rectify it.  
Step 1. Press Win + I to open Settings.
Step 2. Go to Update & Security > Troubleshoot > Additional troubleshooters.
Step 3. Scroll down to find Windows Update, hit it and then click on Run the troubleshooter.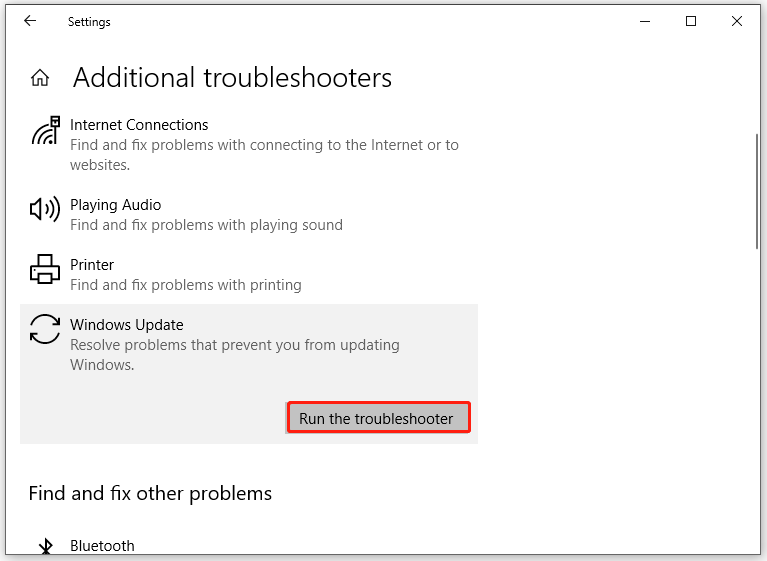 Fix 3: Reset Windows Update Components
The Windows Cache folders might be filled with some irrelevant data and information, triggering the occurrence of error code 0x8024001b. If this is the case, you can try to reset Windows Update components to delete these files.
Fix 4: Run SFC & DISM
If your computer suffered from the attack of viruses or malware, there might be some corrupted system files in your system. These faulty system files will trigger Windows Update error 0x8024001b.
Step 1. Press Win + S to open the search bar.
Step 2. Type cmd to locate Command Prompt and right-click on it to choose Run as administrator.
Step 3. In the command window, type sfc /scannow and hit Enter. This process will take about 15 minutes.
Step 4. After the process is done, type the following command and hit Enter.
DISM /Online /Cleanup-Image /RestoreHealth
Step 5. Once the process is complete, reboot your computer to check if Windows Update error code 0x8024001b disappears.
Wrapping Things up
That's all about the causes and solutions about Windows Update error 0x8024001b. Sincerely hope that you can update Windows without this error anymore. Welcome to share your joy with us in the comment area below! Have a nice day!