Quite a few people reported that they failed to create a shadow copy with an error code 0x80780034. How to create a system image without this error? Don't worry! This post on MiniTool Website will demonstrate some workable workarounds for you.
Volume Shadow Copy Error 0x80780034
Have you created a system backup with Windows inbuilt backup tools? Does the backup process complete successfully? In this post, we will discuss one of the error codes you might meet during the backup process – Volume Shadow Copy error 0x80780034. Meanwhile, you will also receive the following error message:
Windows backup failed to create the shadow copy on the storage location. Please review the event details for a solution, and then rerun the backup operation once the issue is resolved.
In the second part of this guide, we will show you three possible solutions to help you get rid of VSS 0x80780034 error from your Windows devices.
How to Get Rid of VSS Error 0x80780034 on Windows 10/11?
Fix 1: Enable VSS Service Manually
At first, you should make sure that the Volume Shadow Copy service is enabled. Even if it is not enabled, you can disable it and enable it again.
Step 1. Press Win + R to open the Run box.
Step 2. Type services.msc and hit Enter to open Services.
Step 3. Scroll down to find Volume Shadow Copy and right-click on it to choose Properties.
Step 4. Set Start type to Automatic and hit Start > Apply > OK.
Step 5. Reboot your computer and create a backup again to see if backup error code 0x80780034 is still there.
Fix 2: Perform a Clean Boot
Then, you should exclude the interference of third-party applications. Also, you need to disable your antivirus software temporarily. In this case, performing a clean boot allows you to start your computer with a pre-selected minimal set of drivers and setup programs. Here's how to do it:
Step 1. Press Win + R altogether to open the Run dialog.
Step 2. Type msconfig and press Enter to launch System Configuration.
Step 3. Under the Services tab, check Hide all Microsoft services and hit Disable all.
Step 4. Go to the Startup tab and click on Open Task Manager.
Step 5. Now you are in the Startup tab of Task Manager, right-click on all the startup programs one by one and choose Disable.
Step 6. Go back to System Configuration and hit Apply & OK.
Step 7. Reboot your computer.
Fix 3: Fix Corrupted Files
If there is any corruption in the system files, you can make use of the combination of SFC & DISM to scan and repair faulty system files.
Step 1. Type cmd in the search bar to locate Command Prompt and right-click on it to choose Run as administrator.
Step 2. Type sfc /scannow and hit Enter.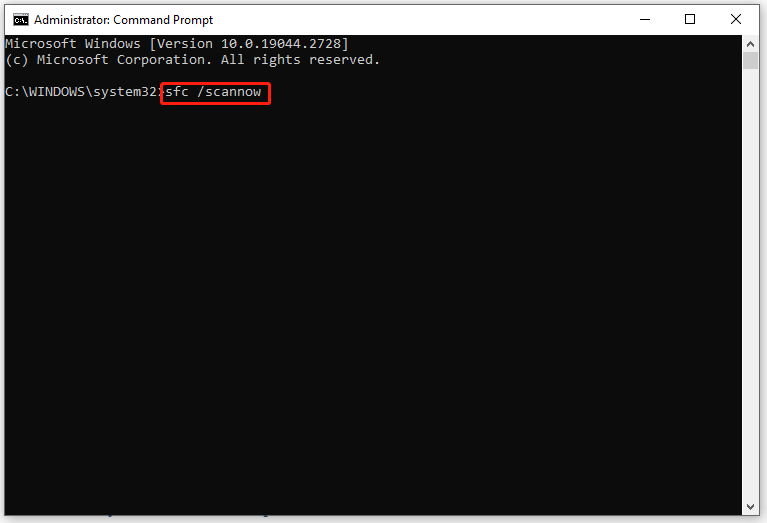 Step 3. After the process is done, run the following commands one by one.
Dism /Online /Cleanup-Image /CheckHealth
Dism /Online /Cleanup-Image /ScanHealth
Dism /Online /Cleanup-Image /RestoreHealth
Step 4. Restart your PC.
Try Another Free Backup Solution
If you have trouble in creating a system backup with Windows inbuilt backup tools, why don't you try another professional and free backup program? When it comes to system backup solutions in Windows devices, MiniTool ShadowMaker is usually considered the top choice for you. This reliable backup software is famous for providing you with a one-click system backup solution on Windows 11/10/8/7, that is to say, you can use this tool to back up your system with just a few clicks. Follow the steps below:
Step 1. Run this tool and then go to the Backup page.
Step 2. In the Backup page, the operating system is selected by default in SOURCE, so you can only go to DESTINATION to choose a destination path for the backup image files.
Step 3. Click on Back Up Now in the lower right corner to start the process at once.