Are you troubled by the server couldn't complete this action with error code 0x88ffc009 in Microsoft Word? This is pretty frustrating because it can hinder your work productivity and create delays. Luckily, this post on MiniTool Website will show you some helpful solutions on that.
Microsoft Word Error Code 0x88ffc009
The error code 0x88ffc009 indicates that there is a communication failure between Microsoft Word and the server. Once it occurs, you will be unable to share a Word document with others.
The possible culprits of Microsoft Word error 0x88ffc009 might be cache issues, unstable network connectivity, corrupted files, conflicted documents and more. In this post, we try our best to find several methods that can help you solve the error code 0x88ffc009 in Microsoft Word for you.
Before proceeding, it is strongly recommended to back up your word documents with a free backup software – MiniTool ShadowMaker. Once they are lost by accident, you can use the backups to restore your files easily and quickly.
How to Fix Microsoft Word Error Code 0x88ffc009?
Fix 1: Relaunch Microsoft Word
Restarting Microsoft Word will clear any temporary bugs and help to solve the error 0x88ffc009.
Step 1. Save all the opened word documents and close them.
Step 2. Right-click on the taskbar and select Task Manager.
Step 3. Under the Processes tab, right-click on Microsoft Word and hit End task.
Step 4. Relaunch Microsoft Word to see if the error code 0x88ffc009 is gone.
Fix 2: Repair Microsoft Office
Another solution to fix Microsoft Word error code 0x88ffc009 is repairing Office. During the repairing process, all the corrupted or missing files, settings, or components in Microsoft Word will be repaired.
Step 1. Press Win + I to open Windows Settings.
Step 2. Find Apps and hit it.
Step 3. Under the Apps & features tab, you will see a list of applications installed on your computer.
Step 4. Scroll down to find Microsoft Office or Microsoft 365.
Step 5. Click on it > choose Modify > click on Online Repair > hit Repair to start the process.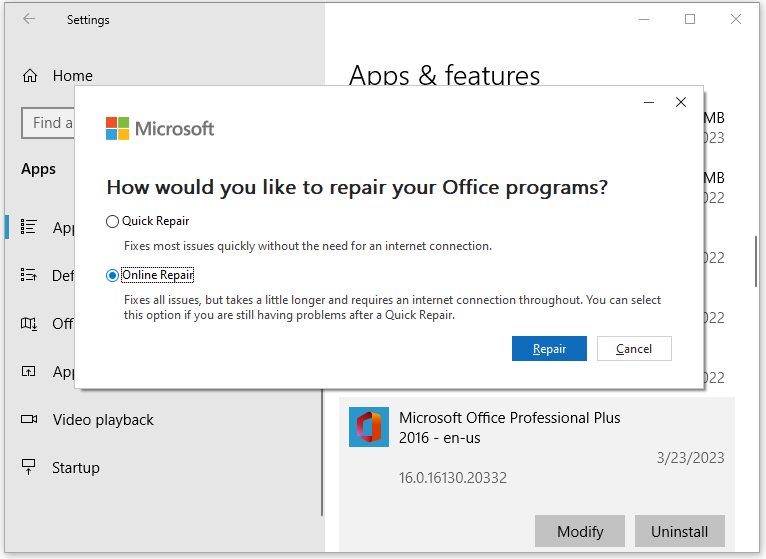 Fix 3: Flush DNS Cache
Make sure that your internet connection is active and stable. If the network connection is unstable or the server is unresponsive, you can try rebooting your modem and router. Meanwhile, clearing the DNS cache can also improve connectivity.
Step 1. Open Command Prompt and run it as an administrator.
Step 2. In the command window, run the following commands one by one and don't forget to hit Enter after each command.
ipconfig /flushdns
ipconfig /registerdns
ipconfig /release
ipconfig /renew
netsh winsock reset
Step 3. After the execution is complete, restart your computer.
Fix 4: Change the OneDrive Location
There is a chance that the targeted files are stored in an unrecognized or incorrectly labelled folder. If it is the case, Word will be unable to access them properly and trigger errors like 0x88ffc009.
Step 1. Press Win + E to open File Explorer.
Step 2. On the left side, find OneDrive and hit it.
Step 3. In OneDrive, look for any folders that are unrecognized or labelled differently from others. Check if the target file is located in them and cut the file to the folder labelled Documents in OneDrive.
Step 4. After the file is moved safely, reopen the document to inspect if the error 0x88ffc009 is fixed.