What does 192.168.0.2 stand for? If you want to configure the router, how to log in to the admin panel? Besides, how to change the default Wi-Fi password? To find details about this default router IP address, refer to this post from MiniTool now.
What Is 192.168.0.2
When it comes to an IP address, you should know the IP could be public and also private. A private IP is often used for offices, LANs, enterprise environments, and more. A public IP is an address accessed directly over the internet and provided by your Internet Service Provider (ISP). To know more about these two categories, refer to our previous post - Public VS Private IP Address: What Are the Differences?
When talking about 192.168.0.2, you should know it is a Class B private IP address used to access the admin panel of network routers. It is the default admin login IP used by the router manufacturer. Usually, some routers like D-Link, Netgear, Linksys, Tenda, Belkin, Comtrend, etc. use this IP address.
In addition, there are some other private IP addresses used by other routers, for example, 192.168.1.100, 192.168.1.254, 192.168.254.254, 192.168.10.1, 192.168.1.1, 192.168.2.1, etc.
If you need to change your Wi-Fi SSID, the login password, or the Wi-Fi network's password or configure some other essential settings of the wireless router and the wireless network, just log into the management interface of 192.168.0.2.
192.168.0.2 Admin Login
So, how to login into the admin panel of 192.168.0.2? The operation is quite easy.
Open your Google Chrome, Firefox, Edge, Opera, or other browser and visit the IP – 192.168.0.2 to enter the login page.
Then, enter the username and password of your router. By default, the combination could be admin & admin, admin & (blank), and (blank) & (blank). Sometimes you can find the login information from a sticker on the side/back of your router.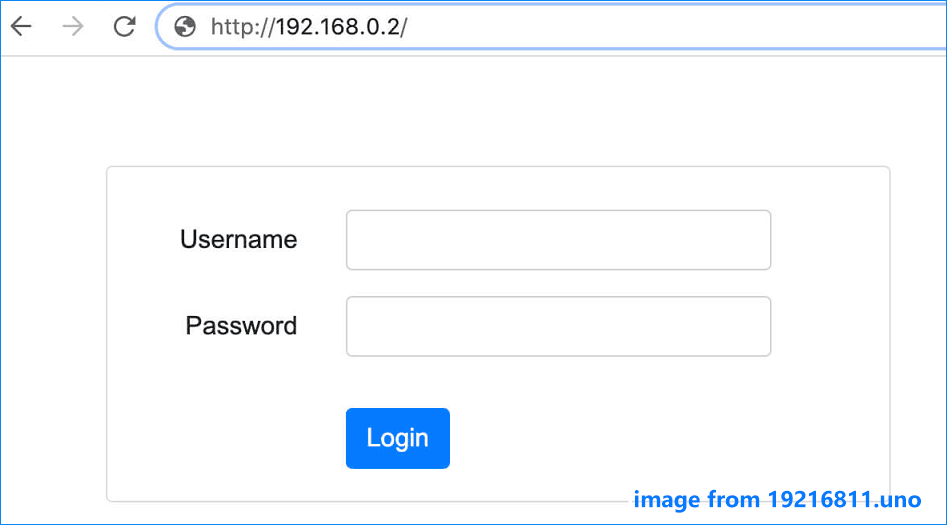 Note that make sure the IP address you type to the address bar of a browser is correct. It is 192.168.0.2 or you can type http://192.168.0.2. If you try the incorrect address like 192.168 0.2 or www 192.168.0.2, you cannot enter the login page.
Change 192.168.0.2 Wi-Fi Password & SSID
After entering the admin interface of your router, now you can change some settings, and here we will show you how to change the login password and SSID of the 192.168.0.2 default gateway.
On the page, look for the wireless section.
Go to the Wi-Fi password field and enter the new password. To change the Wi-Fi network name (SSID), locate the corresponding field and change it.
Save the changes.
In addition to 192.168.0.2 Wi-Fi password & SSID change, you can modify other settings based on your need.
192.168.0.0 Reset Router
If sometimes the username and password don't match since you change the password but forget it, what should you do to get rid of this situation? Resetting your router is a good solution since this can reset the device to its default settings including resetting the login password.
Just press the reset button on the back or at the bottom of your router and hold it for approximately 20 seconds, then it will be reset to default settings.
Bottom Line
That's the basic information about 192.168.0.2, its admin login, password change, and router reset. If your router uses this IP address, just log in to the admin panel. If you need, change the Wi-Fi password or reset it by following the above instructions.