How to download the Opera browser and install it on your computer or tablet/phone? Read this post and MiniTool will show you much information on Opera download for PC (Windows 11/10/8/7), Mac, Linux, Chromebook, Android, or iOS as well as the steps of Opera installing.
Overview of Opera Browser
Opera is one of the best browsers on the market. Since it can offer fast and secure browsing due to its ad-blocking and privacy protection (Ad blocker and Tracker blocker are built-in), many users choose to install this browser on the device. Perhaps you are also a user of Opera.
Besides, Opera offers two modes – light mode and dark mode. You can use this browser to organize tab groups according to your interests, chat with your friends and browse simultaneously without switching between tabs or programs, browse the pages in privacy mode (after closing the private window, all data is deleted), reduce online tracking due to the built-in free VPN, and more.
To sum up, Opera is the popular browser that is the choice of millions of persons. So, if you want to use it, follow the guide below to download and install it on your device.
Opera Free Download & Install
Opera allows you to use it on multiple platforms including Windows, Mac, Linux, Android, iOS, and Chromebook. See how to download Opera for these devices.
Opera Download for PC (Windows, Mac, or Linux)
Step 1: To get Opera, visit the Download the Opera Browser for Computer, Phone, Tablet official page.
Step 2: Click the corresponding Download now button to get the version you want - Opera Browser for Windows, Opera Browser for Mac, and Opera Browser for Linux.
Tip: In terms of Opera download for Windows 11/10/8/7, the file is the Setup.exe. For Opera download Mac, you get a .dmg file. For Linux, the download file is in .deb format.
Opera Install on Windows
After getting the Opera Browser download file, you can install it on your machine by double-clicking the file and following the instructions on the screen. Here, we take Opera installing for Windows as an example.
Step 1: Double-click the exe file on your Windows 7/8/10/11 PC.
Step 2: Click the Accept and Install button.
Step 3: The installation process starts. After a while, it finishes the installation and you can launch the browser to browse something.
Tip: If Opera goes wrong due to some reasons, you can choose to uninstall it from the PC and reinstall it. To remove it, go to Control Panel > Uninstall a program, right-click the browser app and choose Uninstall. Next, download Opera and install it again.
Opera Download for Android/iOS
Opera can be also used on iOS or Android devices and you can visit the official website, then navigate to the Opera Browser for Android or Opera Browser for iOS section, respectively get the browser via Google Play or App Store.
Opera Browser Download for Chromebook
Opera is also available on a Chromebook. If you want to use it on your machine, go to the official download page and click Google Play next to the Opera Browser for Chromebook section to get the browser.
Opera GX Download
Opera GX is a special version browser of Opera that is designed for game players and it can bring an unparalleled gaming and browsing experience. If you are a player, you can download and install it on your Windows/macOS PC and Android/iOS device. Also, visit the Opera download page, expand Opera GX, and get the download file by clicking the corresponding button.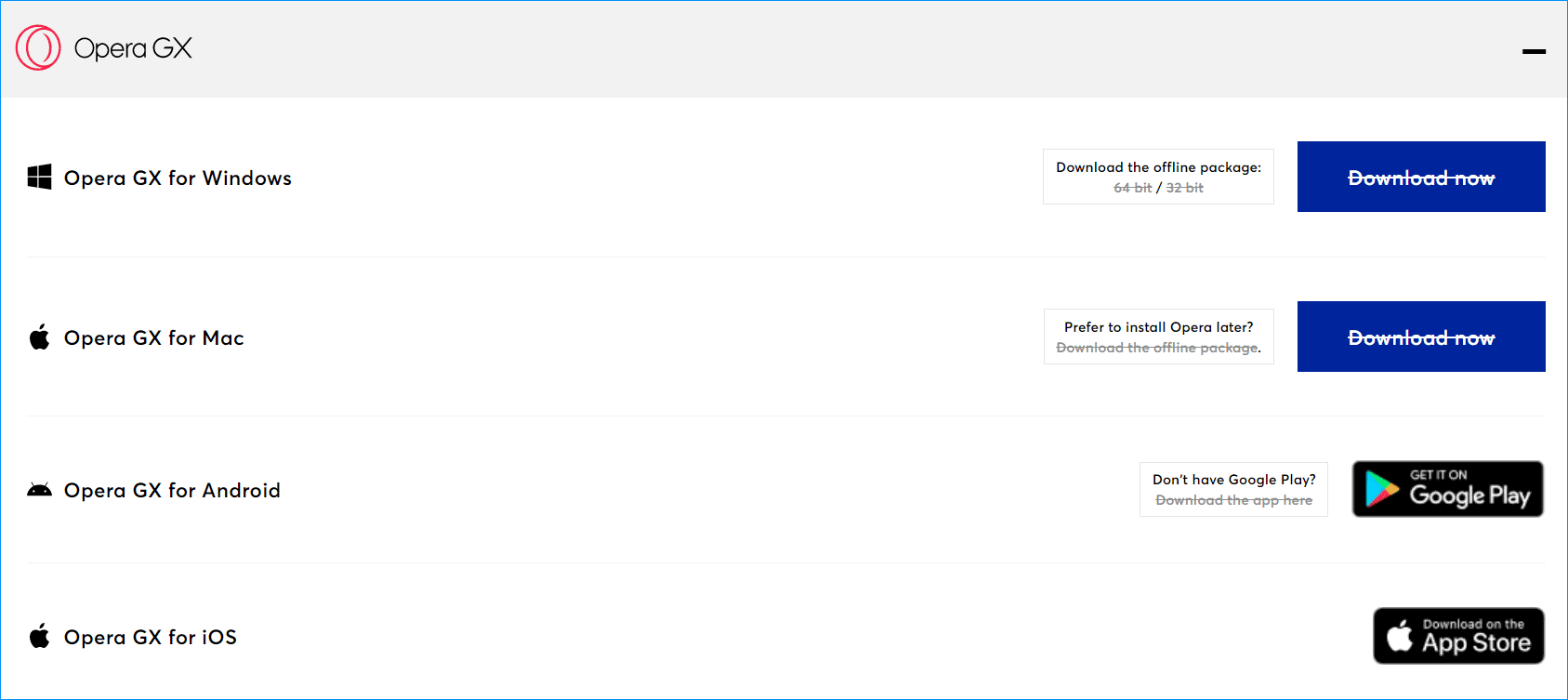 Opera Mini Download
Opera Mini is a lightweight & safe browser that is only available for Android. Due to its substantial data savings, ad blocker, fast speed in all circumstances, etc., it is popular. If you want to download Opera Mini, go to Google Play to install it.