What is ALZip? How to download and use ALZip for Windows 10, 7, 8/8.1 (64 Bit/32 Bit)? This post from MiniTool provides a full guide for you to download ALZip. Now, keep on your reading.
What Is ALZip?
ALZip is a free extraction and archive tool that helps you open and create zip files. It is compatible with Windows 10, 7, 8/8.1. ALZip has a user-friendly interface that helps you quickly view archived content. It supports up to 40 different zip formats and has a range of useful features including password protection, antivirus integration and context menu additions.
Items in archive files can be easily searched with ALZip. This is because the program provides users with 14 different types of filters and classifiers. You can find any document or file by its name, format, file size, and other similar criteria. The app also allows users to leave comments so they can go back to the archive at any time.
ALZip application download supports almost all archive formats available, such as ZIP, RAR, B64, ISO, BIN, CAB, ARJ, PAK, ICE, GZ, WAR, UUE, ZOO, BZ, JAR, TAR, etc. The free application also allows you to compress files, supporting up to 8 file formats.
How to Download ALZip on Windows
How to download ALZip on Windows 10? There are two ways:
Way 1: Via Microsoft Store
You can free download ALZip and install it on your PC. Follow the steps below to download it.
Step 1: Launch Microsoft Store on your computer via the search bar.
Step 2: Type ALZip to the search box of Store and press Enter.
Step 3: To download ALZip, click the Get button.
Then, the downloading and installing processes begin. After a while, the installation is completed and you can launch AlZip.
Way 2: Via Online Website
In addition to Microsoft Store, you can go to some third-party websites (safe) to download ALZip.
How to Download ALZip on Android
ALZip on Android is not only a tool to compress or decompress files, but also a file manager to open, copy, move, delete or rename files. ALZip includes all the features of a file management application and a file compression application. You can go to Google Play Store to download it.
How to Use ALZip on Windows
After completing the download of ALZip for PC, the application integrates itself into the Windows context menu. This means that whenever you right-click a file, you'll see an option to compress or decompress it using ALZip. The app is also available as a separate app that you can open when you need to access other features.
When opening the ALZip application on a Windows 10 computer, you can choose to create an archive file or open a file that already exists on the device. After opening the archive, you can simply add or remove items as needed or extract all items at once. Additionally, the app allows you to find specific files using filters, classifiers, and a keyword-based search bar.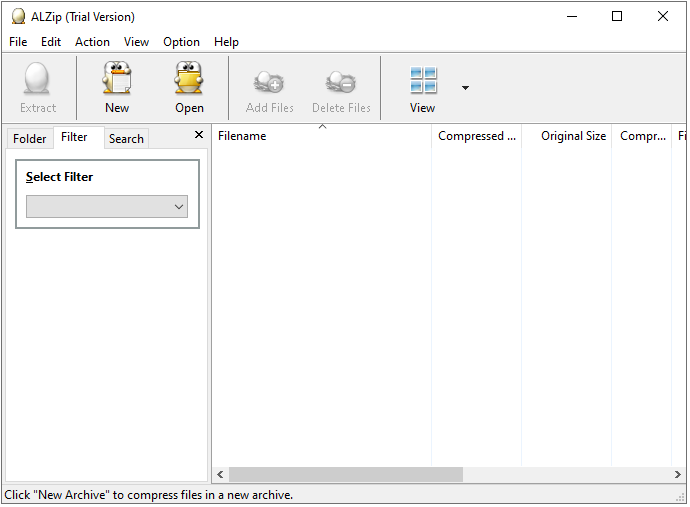 Final Words
What is ALZip? How to get the ALZip download? You can find the answers in the content above. I hope that this post can be helpful to you.