Avast is a piece of reliable software to safeguard computer and keep data safe. Besides Avast, there are lots of other antivirus programs to secure your computer. This post from MiniTool will list several Avast alternatives.
To safeguard computer, people always choose antivirus software or anti hacking software, such as Avast. There is no doubt that Avast is a reliable tool to secure the computer and files. At the same time, there are lots of Avast alternatives on market and this post shows some of them.
10 Best Avast Alternatives for Windows 10/8/7
1. Windows Defender
Windows Defender is Windows built-in program to protect your computer from virus, spyware, and other malicious malware in real-time. The Real-time protection feature Windows is able to monitor when it is detected, minimizes interruption, and helps you to stay productive.
In addition, the Windows Defender is free and does not have advertisements.
2. Malwarebytes Anti-Malware
Another Avast antivirus alternative is the Malwarebytes. Malwarebytes Anti-Malware is the anti hacking software that runs under Microsoft Windows and Apple OS X operating system. The Malwarebytes Anti-Malware is able to repair the damaged files, remove rootkits, and remove malware.
3. Avira Antivirus
As for Avast alternative, the Avira Antivirus is a good choice. It provides the basic protection for your computer against dangerous viruses, worms, spyware, Trojans and costly dialers. The Avast antivirus alternative – Avira Antivirus is a capable security app which uses Avira's top-rated engine to detect and block even the latest malware.
4. Norton Security Premium
The fourth alternative to Avast is the Norton Security Premium. It is the Symantec's antimalware suite and can be used for Windows, Mac, and Android. The Norton Security Premium uses a combination of detection methods, including virus signatures, cloud-based analysis, and machine learning as well.
5. AVG AntiVirus
The AVG AntiVirus Free provides basic antivirus and antispyware protection for home users. Virus database updates every day including the innovative LinkScanner for web-protection, Real-time protection, automatic updates, low-impact background scanning for on-line threats, and instant quarantining or removal of infected files so as to protect maximum protection for your computer. In addition, every interaction between your computer and the Internet is monitored, so nothing can get onto your system without your acknowledge.
6. Bitdefender Antivirus 
The sixth Avast alternative is the Bitdefender Antivirus. The Bitdefender Antivirus comes with real-time scanning that is called Virus Shield and an auto-scan mode that checks your system when the computer is idle. Bitdefender Antivirus can be used for Windows OS, Mac OS X and Android. It comes with the blazing speed and is free to use.
7. ESET NOD32 Antivirus
ESET NOD32 Antivirus is another Avast alternative. ESET NOD32 Antivirus is the entry-level version of ESET's security services. It provides a comprehensive scanning solution and provides protection for computers. Most importantly, it will not slow down your PC. It is easy to use and install. The ESET NOD32 Antivirus offers proactive protection against all types of online and offline threats, and prevent malware from spreading/
8. Comodo Internet Security
The eighth Avast alternative is the Comodo Internet Security. It is a free Avast antivirus alternative. It is a very voluminous and multi-layered security application that keeps hackers out and personal information. This Avast alternative is able to provide good protection for your computer.
9. Microsoft Security Essential  
Now, the ninth Avast alternative – Microsoft Security Essential, it provides real-time protection for home or small business PC that guards against viruses, spyware, and other malicious malware. It is a free Avast antivirus alternative and it is easy to use, always kept up-to-date so you can be assured that your PC is protected by the latest technology.
And you can click here to download the free Avast alternative – Microsoft Security Essentials.
10. HitmanPro
The last Avast alternative we want to mention is the HitmanPro. HitmanPro is a portable antimalware program that is designed to detect and remove malicious files and registry entries related to rootkits, Trojans, viruses, worms, spywares, adware, rogue antivirus program, ransomware and other infecting computers. In addition, HitmanPro can work with other antivirus programs without any conflict.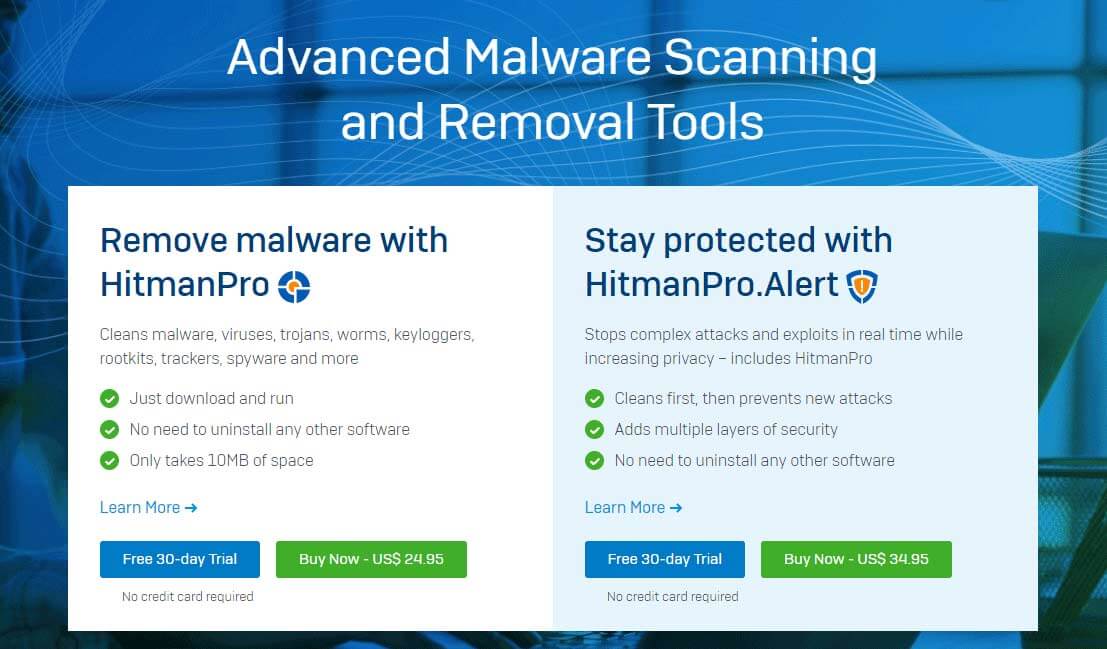 Note:
Besides the antivirus software, you had better
create a system image
to safeguard your computer and files.
Final Words
To sum up, this post has introduced 10 Avast alternatives. In order to safeguard your PC and provide protection for your files, you can try these Avast antivirus alternatives. If you have any different idea of the best alternative to Avast, you can share it in the comment zone.