What is Avast Secure Browser? How to download Avast Secure Browser and install it? Just follow the guide from MiniTool to get this browser to use in Windows/Mac/iOS/Android. If you need, you can choose to uninstall it.
What Is Avast Secure Browser?
What is Avast Secure Browser? Avast secure browser was launched by Avast in April 2018. With the Avast browser, you can access your Chrome account, bookmarks, and most other browser-based access features related to your Chrome account. This browser is available on Windows, macOS, iOS, and Android.
It can keep your online privacy protected by tracking you and can block websites from identifying you based on your unique browser profile. Besides, it can monitor your email address to ensure your passwords are not leaked online.
Download Avast Secure Browser on Windows/Mac
It is easy to free download Avast Secure Browser for Windows/Mac and follow the steps below:
Step 1: Go to the Avast Secure Browser official website.
Step 2: If you are a Windows user, you need to click the FREE DOWNLOAD button. If you are a Mac user, you can click the bottom Mac link. Then, it will start to download Avast Secure Browser automatically.
Step 3: Double-click the exe file to install Avast Secure Browser. Then, click ACCEPT AND INSTALL.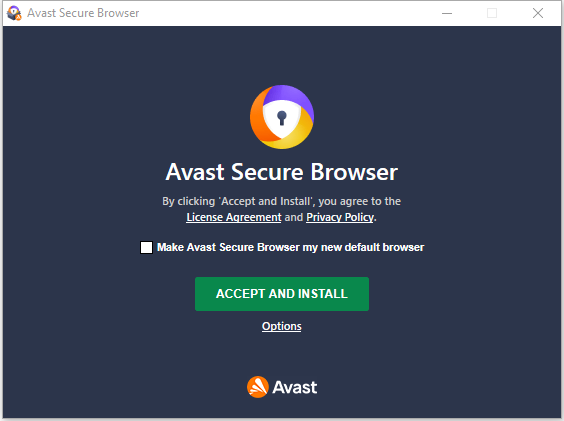 Step 4: Then, follow the on-screen instructions to finish the installation.
Download Avast Secure Browser on iOS/Android
If you want to install this browser on your iOS or Android device, you need to download this app from App Store and Google Play Store. Just open your application store on your phone or tablet, search for Avast Secure Browser and click the Install button.
thunderbird-download
Uninstall Avast Secure Browser
Sometimes you don't want to use this browser when it goes wrong and you need to uninstall it. So, how to uninstall AVG Secure Browser from your PC? Try the following steps:
Windows:
Open Control Panel in Windows 10/8/7 via the search menu.
View all the items by Category and click Uninstall a program from Programs.
In the new window, right-click on AVG Secure Browser and choose Uninstall.
Mac:
Click the Launchpad icon in the dock to open it. You can also open Launchpad from the Applications folder.
Find Avast Secure Browser. You can also type the app name into the search box at the top to locate it directly.
Click the app and hold until it jiggles.
The x button will appear next to the target app and you need to click it.
Click the Delete button in the pop-up window to confirm the action.
iOS/Android:
To uninstall Avast Secure Browser quickly, you can press the app icon on your Android/iPhone screen for several seconds and then tap the Uninstall option.
Final Words
That's all the information about Avast Secure Browser. To have safe browsing, free download Avast Secure Browser and install it for use. Of course, if you need to uninstall it, follow the given steps.