Why does Battle.net download so slow when you download a game like Destiny 2, Warzone, Modern Warfare, etc.? How to fix Battle.net slow download on a Windows 11/10 PC? MiniTool gathers some useful solutions in this post and you can have a try now.
Battle.net Download Slow
Blizzard Battle.net is one of the popular online game platforms that you may use. This game service offers you high-quality games and you can download this desktop client and install it on your Windows 10/11 PC. Then, launch it and sign in to your account to start downloading games.
However, sometimes the download speed is very slow. Why is Blizzard download so slow? The common reasons for this include bandwidth throttling, old network adapter driver, multiple downloads stuck in the download queue, and downloading games during peak hours.
If you get a slow download when downloading Destiny 2, Warzone, Modern Warfare, etc., you want to take action to get out of the annoying issue. Fortunately, you can find some effective methods in the following part.
Related article: Battle.net Not Opening? Here Are Top 5 Solutions
How to Fix Battlet.net Slow Download Destiny 2/Warzone/Modern Warfare
Avoid Downloads During Peak Hours
Usually, in many regions globally, the peak internet usage time is from 9:00 AM to 11:00 PM. If you download games via Battle.net during that period, the download speed is slow. So to avoid Battle.net launcher slow download, don't download games during peak hours.
Instead, you can download games between 4:00 AM to 9:00 AM. At this time, fewer people are online and more bandwidth is for individual users.
Note:
Windows 11/10 may go to sleep after hours of inactivity. You can disable the sleep mode by tying power & sleep settings to the search box, clicking the best match, and choosing Never from Sleep.
Close/Suspend Background Downloads and Disable Windows Automatic Updates
If you download multiple games in Blizzard Battle.net simultaneously, the download speed is certainly slow. Thus, close or suspend background downloads.
Besides, if you turn on Windows automatic updates, Windows can automatically download and install the available updates without your consent. During the process, your internet will be influenced, leading to throttled download speed.
To avoid this case, you can choose to disable Windows automatic updates. This won't turn off Windows Update but tell you when available updates can be downloaded.
Step 1: Type gpedit.msc to the search box of Windows 11/10 and click Edit group policy.
Step 2: Navigate to Computer Configuration > Administrative Templates > Windows Components > Windows Update.
Step 3: Double-click on Configure Automatic Updates, choose Enabled and Notify for download and auto install.
Step 4: Click Apply > OK.
Use a VPN for Windows 11/10 PC
The current server may cause bandwidth throttling, as a result, Battle.net download slow happens. To fix this issue, you can try a VPN to use another server. On the market, there are many various VPNs and here we recommend using NordVPN, ExpressVPN, CyberGhost, Surfshark, etc. Just get one to have a try.
Turn off Limit download Bandwidth
Sometimes Battle.net slow download is caused by capped download speed. Thus, you should disable the option of Limit download bandwidth to fix Blizzard app download slow.
Step 1: Launch the Battle.net app in Windows 10/11.
Step 2: Click the down arrow and select Settings.
Step 3: In the Download tab, scroll down to find Limit download bandwidth, and untick this option. Then, click Done.
Update Network Adapter Driver
If Blizzard launcher download slow appears on Windows 10/11 when you download a game like Destiny 2, Warzone, Modern Warfare, etc., a possible reason is an outdated network adapter driver. So, you can try to update to see if the download speed is increased.
Step 1: Go to Device Manager via Win + X shortcuts.
Step 2: Expand Network adapters, right-click on your adapter, and choose Update driver.
Step 3: Click the first option to let Windows automatically search for an updated driver and install it.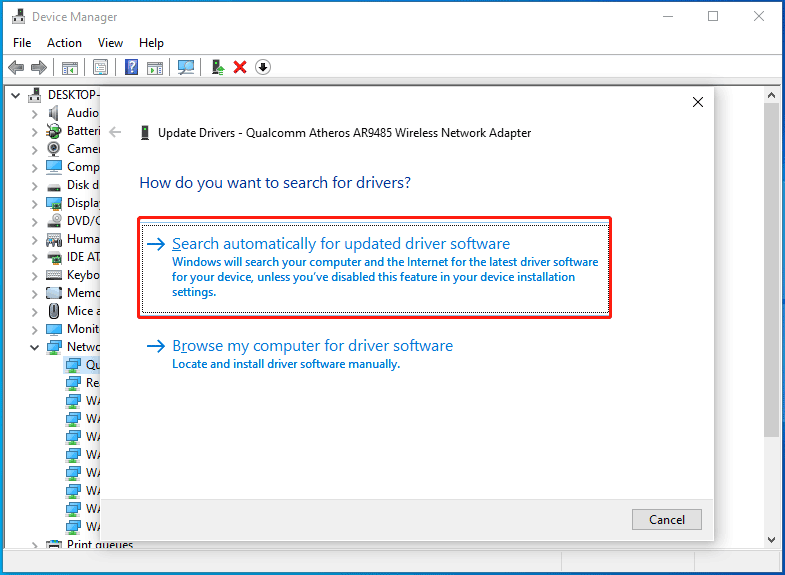 Change a Region
When updates are available, many players may schedule the downloads at a similar time, which can cause a certain server to overload. You can choose a different region to increase Battle.net download speed for all games.
Step 1: Launch the Blizzard laucher and click the download arrow beside your profile picture to choose Log out.
Step 2: Upon login, click the globe icon and choose another server.
Final Words
That's all the ways to fix Battle.net download slow on Windows 10/11. If you are bothered by this annoying issue, try these fixes to increase Battle.net download speed. If you find some other useful solutions, tell us in the comment below. Thanks.